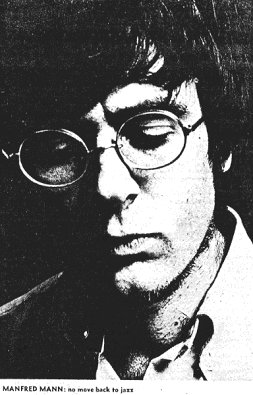 There is no excuse for failure
Melody Maker – 14 June 1969
Bob Dawson talks to Manfred Mann about the future of Chapter Three
MANFRED MANN'S decision to disband his pop group and form his new Manfred Mann Chapter Three can hardly rank as the biggest surprise of the year.
The Manfreds — or Manfred and Mike Hugg, were hardly your stereotype pop stars.  Rightly, or wrongly, I always got the impression they were musically slumming despite their ability to turn out a succession of massive hits.  The commercial world of the Pop 30 must have seemed very restricting to musicians with their jazz and academic backgrounds.
But is there any reason why the break should come at this moment of time.
"Not really," Manfred told me this week.  "I wasn't getting any more fed up with what we were doing than I have ever been.  In fact like pop music — these last five years have turned me into a pop fan.
"It was lust a case of thinking: So I make pop records, but what is in it for me, musically."  I've played every single we have made and tried to figure out what I've done.  "There I am playing the organ but what does it amount to?  It's nice to be successful, of course, but what is there in it musically for either Mike Hugg or myself?
"I think you have to make fundamental decisions more than once in your life if you are going to achieve anything.  Every musician makes one when he decides to give up being an insurance clerk — or, in my case, giving up being the son of a successful printer in South Africa to come to the UK as a musician.  You have to give up something to achieve something else.
"I felt this was the time for a fundamental change.  Also, for the first time in years, I'm interested in writing a few things, though think of myself more as a musician than a writer."
Will the new group mean a move back to the jazz world from which Manfred came?
"It's a case of going more towards jazz," he agreed.  "But I certainly wouldn't call it a jazz-band.   I would like to think that the music will be in the nature of a synthesis of ourselves and everything we have dug or been involved in. 
"When it came to forming the new group I realised I didn't really want to go back to jazz.  I wanted a funky rhythm section, but not an Elvin Jones type thing.
"It will be a mixture of everything we dig — Ornette Coleman, the Beatles, Archie Shepp, the Beach Boys — without really being any of them.
"In a funny sort of way I feel rather sad about giving up the pop group.  Mike D'Abo, Tom, Klaus and the rest of us were not friends in the sense of always hanging about together but we got on rather well.
I asked if Manfred felt relieved that certain pressures, like searching for chart material, would now be off him.
"That's true," he said, "but the pressure is on now in a much more fundamental way.  If we failed before people could just think were bored cynics with big heads.  But this is something we want to do and there can be no excuses for failure.  In a way the pressure is much greater because of that."
The new group will restrict the amount of work they do "to the point where we can still feel like human beings."
"We've done some gigs with a larger unit, Emanon, already," says Manfred.  "Some of them were — not disastrous exactly — not particularly successful.  But we got it together much better and learned a lot from our mistakes.  Towards the end it was getting good."
Manfred and Mike Hugg will continue to work on TV commercials but seem unlikely to do another film score.
"The basic thing is that I want to sit down and just play — preferably on piano, although I seem to be still lumbered with the organ."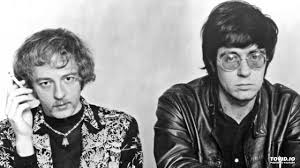 IF YOU LIKE RAGAMUFFIN YOU'LL HATE CHAPTER THREE
says Manfred
New Musical Express – 21 June 1969
MANFRED MANN (right), with MIKE HUGG who form the nucleus of the very different sounding Chapter III
If in the next few months, the British Steel Corporation find their sales graph shooting up, you can bet the Manfred Mann and Mike Hugg will be among the first to be congratulated.  Why?  Because Manfred and Mike have written a piece of music which is to be used on a forthcoming TV advertisement for BSC.
The sales of Woodpecker cider and Ski yoghurt also owe much to the ultra-commercial jingles produced by the twosome.
I went along to the Maximum Sound recording studios in the Old Kent Road to see Manfred and Mike and found them deep in thought listening to a play back of the music.
"It's supposed to sound eighteenth century," Manfred in tropical shirt and bare footed told me, "but harder like steel.  I think it should be even more electronic."
Manfred and Mike take this facet of their work seriously.  It has given them money which means freedom to do just what they want, which at the moment is to launch Manfred Mann Chapter III, chapters I and II being the era's of Paul Jones and Michael d'Abo.
"Of course we take it seriously," said Manfred, "that's the only way to do it well.  I don't know how many more ads we'll do … as long as people want us to do them and as long as we need the money I suppose.
"What happens is the company give us a brief and we enlarge on that.  T makes a change, writing music to order."
Shock
Although not unexpected, the news that the Manfred Mann group had finally broken up still came as a shock.  I asked Manfred how difficult it had been to break up such a successful outfit.
"There was nothing to break up," he replied, "as the group had really broken up a long time before.  We only came together to record, do a couple of television promotion spots and then all go our own ways until it was time to start thinking of another single.
"We have never been the sort of people to hang around together all the time even though we get on well together.
"Obviously I do feel a slight regret but that's only temporary.  The thing is, everything I've done up until now has been a stepping stone.
"Its been the same for everyone in the group.  We never expected to have a long string of hit records.
"After 5-4-3-2-1 got into the charts, we were quite prepared to vanish into obscurity again.  But we didn't, the whole thing snowballed, and we quickly changed from the jazzy r and b group we were, to the op group we became.
"We heard and played so much pop, we fell under its influence, and today I quite like a lot of it.  But we very seldom recorded any of our own material, because it wasn't commercial enough, and you couldn't really say our records needed to be listened to."
I was about to interrupt but Manfred knew what I was going to say.
"Not that I didn't like our records," he smiled, "but that's all they were, just good pop records.
"We had become the grand old men of the charts, and I'm sure people were getting fed up with is, I know I did."
Time
"I wouldn't say I have been messing about up till now, but the time has come to commit myself to doing something which I think is artistically worthwhile.
"The group is the same as Emanon, there haven't been any further line-up changes.  Emanon was really a way of getting in some rehearsals without too much attention being focused on us."
Couldn't the Manfred Mann group, complete with Mike d'Abo have switched to playing and recording "better" music?
"It wouldn't have worked," Manfred replied.  "It just isn't something we all wanted to do.  Klaus, Michael and Tom all have their own things going, and they'll do well and be happy.  Mike and I seem to have ideas that compliment each other, that's why we've stayed together."
Jelly
Mike Hugg who was looking forward to the prospect of a jelly and ice cream party for his little girl's birthday later on told me how he felt about the break.
"We could have stayed together and probably gone on having hits for a long while, but as Manfred said, there comes a time when you've just got to really get down to what you want to do.
"I look back on the last few years favourably.  It has given us some money and a lot of laughs and experience, but I think it's only really beginning now.
"I'm not sure how long Chapter III will go on, as long as we feel it is good.  I do know that we will be working far more than the old group did.
"Well, we couldn't really work much less, could we?  It will be very much like starting all over again, but for the fact that people will be watching out for us, trying to see what we are up to."
What I asked will Chapter III be doing musically?
Manfred looked at Mike, who looked back at Manfred who finally said, "I can't explain it
"All I can do is play you a track, and let you decide for yourself.  But one thing is certain, the people who liked Manfred Mann won't line Chapter III."
I've always thought the bearded one a bit of a cynic where his career is concerned.  Does Manfred see himself that way?
"Me, a cynic," he said, tapping out a tune on a piano.  "I don't think so.  Let's just say I realise things where others may not.  For instance you wouldn't be here talking to us if our last few records had been big flops.  Nobody would be interested in Chapter III if Manfred Mann hadn't been successful
"Personally, I don't think the old group had more than a handful of fans.  It was only because we made such catchy records that we were successful.  Anyway music must come from yourself, for yourself.
"I don't think, in fact I know, that nobody liked Manfred Mann for their personalities, except Michael, he had some sort of fan following."
Into the control room and Manfred prepared to play me a tape of their new sound.  "I'd much prefer to get an LP out and let them make up their own minds," he said, "rather than talk now."
The music blared forth, and instantly I knew that the teenies who bought "Ragamuffin Man" were going to think twice about these strange, heavy sounds.
The number dies away and I could only murmur something like "well, it's different."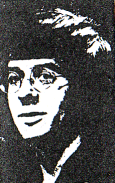 The Life and Times of Manfred Mann Chapter Three
Melody Maker December 6 1969 - (Thanks to Mick Maloney)
MANFRED MANN and Mike Hugg were holding court on Chapter Three.
"I suppose it sounds like a cross between a big band and small group. It doesn't sound like Blood Sweat and Tears or Chicago, which have the same kind of line-up. It doesn't, sound anything like that, or perhaps it does!
Not exactly illuminating, but the important thing is, Chapter Three is with us, having made its first stage appearance in Newcastle last Friday, and with its first LP "Manfred Mann Chapter Three" out tomorrow on the new Vertigo label. Chapter Three had been in the minds of Mann and Hugg for several years and Mike confesses honestly that he was fed up with Manfred Mann, pop group, 'nearly five years ago when they were number one in the chart.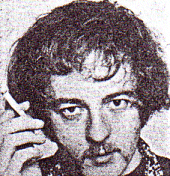 "The real frustration," said Mike, "was that we were, aware what the possibilities were for Manfred Mann, yet we always ended up with just another jolly chart single." '
'It would be terribly wrong," adds Manfred, "to say we never liked, Manfred Mann.
"A lot of our singles were very nice and catchy tunes that we would never be ashamed of, but on the other hand some of them we found somewhat embarrassing.
"Why did we keep going for so long? Why do you think'!"  But this year we felt the time had come for Mike and me to do what WE wanted to do . . . and we also felt that people now might accept what we wanted to do.
We both (Mike and I) wanted to get back on the road again. We had stopped Manfred Mann making public appearances because we simply never felt happy with the reaction we got . . . masses of screaming at the beginning and nothing when the curtains closed.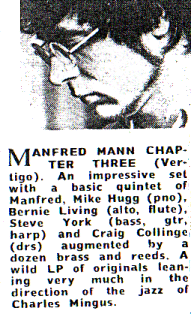 Style
"But we've absolutely no grouse about the rest of the old group, either as people or musicians."
"We all got on very well, and even if it had been possible musically to change our style we still, couldn't have done it. Partly because, apart from Mike and myself, we all had different ideas, so there would have been the inevitable clash of temperaments and partly because our audience would not have allowed it. Manfred Mann was a very democratic group, whereas Chapter Three is ruled by the two of us!"
Amazingly, Mike Hugg ends up as featured vocalist "simply because there was no one else. I've been writing the words and singing them, all the time thinkin' that a real vocalist will turn up soon… and no one has!" He also reverts at last to his original instrument, piano this time of electric variety;' Manfred stays on organ, and the hub of the group is completed by Australian Craig Collinge on drums,
former jazzman Bernard Living on alto and Steve York on bass guitar.
These five are augmented by. a further five brass instruments for live appearances. Manfred stresses that Gerald Drewett (trombone), David Coxhill (baritone), Sonny Corbett (trumpet) and Clive Stephens and Carl Griffith (tenor and flute) ARE an integral and permanent part of the group, but are not so involved in the musical ideas and aims; of the band.
Nervous
"I really am very nervous about the success of Chapter Three," he adds. "In the past, whatever we've done and however bad we've been, people have always come up with the phrase, `but they're good musicians underneath!'
"Well, our heads are really on the block now for the first time. If so many- people really thought we were good musicians underneath, now is the time when we have to prove that we are!"
AUDIENCES who go to hear Manfred Mann Chapter Three had better be prepared for anything - including formless, themeless, chordless, tempoless freak-outs.
But in the jungle of widely ' varying sounds created-by the band there is almost' certain to' be something for everyone to enjoy, because that's one result of the very liberal policy Manfred and Mike Hugg have: towards their new band.
"1 like to think that what`, we're doing sounds different and original," says Manfred, at the same time explaining that he didn't want the statement to sound pompous or egocentric. 1
Chapter Three have already i been described, with some ` justification, as typical of the new synthesis of jazz and t rock. How does Manfred feel about the jazz tag?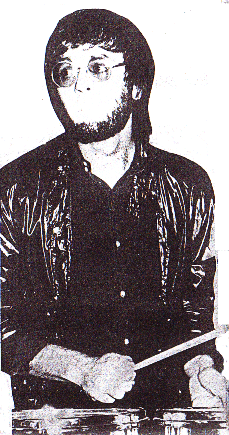 Dancing
"I don't think of it as a jazz outfit. We've all got past trying to prove to everybody
that we can play.  "The sort of musicians we have in our band don't think of themselves as jazz or pop musicians any more.  "The beautiful thing is that the guys come out of the Archie Shepp side of jazz, rather than the Ben Webster side.
" They're notplaying1950s jazz any more, and Bernie Living, our altoist, says that he doesn't even want to play in a jazz group again.
' His record collection contains albums by people like Pink Floyd and the Mothers, and ' Mike and I are the same.  We dig Ornette and so forth, but then we might also dig pretty pop songs - after all we've been writing and recording .them for years.
"We're trying to put it all together and just play it. In rehearsal today we got into an Albert Ayler-ish thing, with everybody clapping along, and at Bath University recently, where the audience were in tuxedos and long dresses, we played a number on which the whole band freaked out, with no chords or rhythm - just noise.
"And the people dug it - because it didn't last too long and it was just a section of a set which also included rather more conventional songs.  "lf we freaked out for half an hour and then walked off they wouldn't have dug it at all, but as part of the set it was fine.  "At the Roundhouse last weekend we even got people dancing to it! ,
That's what I like about the album - it has a lot of contrast and songs like 'Ain't It
Sad' and 'Sometimes' are cute little numbers which take the edge off the rest.
"Out of context they'd probably be ridiculous, but in the album they're right."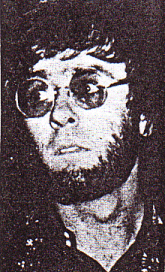 Embarrassed
Is he happy with the way the album turned out?
"Obviously there are things one would change or leave out, but overall it reflects what we wanted it to be. We're trying to go in and play without preconceptions."
After five years of pop  stardom, is he bothered about the sales of the album?
"Well, obviously one is concerned to a certain extent - and Philips seem to be happy about it, so I am too.
"You know this is the first time for years that I've been able to go on stage holding my head high and not come off embarrassed. For years I've been lying on stage."
How does he feel about being back 'on the road' again?
"Well it's funny, but for a long time we waited for the moment we could stop touring. Now Mike and I find ourselves sitting in a little cafe at four in the morning eating eggs and chips and really digging it".
Chapter Three's early gigs were not, however, without their hang-ups. Manfred reports:
"We had a lot of problems with the sound to start with. There was trouble with amplifying the brass, and Mike sings very softly anyway. '
" In fact to start with the response we got varied according to how good the sound was, but we seem to have it sorted out.
Happy
"And that's what it's all about, now, playing. live."
From the tone of his voice, - Manfred sounded happy to be: back in musical harness. And judging by the way the album is selling, the world seems ready to greet its wailing infant - Manfred Mann, Chapter Three.
David Hughes
Manfred Mann Chapter Three
Circus (Thanks to Mick Maloney)
There's security in selling records, security in being commercial and having the where-with-all to turn one's back on what's successful in hopes of finding a more rewarding outlet for creativity is commendable. Manfred Mann, chart toppers from England have done just that. Ignoring the sound that identified the group for so many years, Manfred Mann has added horns to his line-up and the name Chapter Three. The result isn't exactly causing fires to burn across the country, but the sound is intricate and experimental, a positive direction for any musical group.
The music is a blend of jazz and rock, but distinctly away from Blood, 'Sweat and Tears. One critic suggested that; like Pentangle in another area of music, Manfred Mann Chapter Three is far ahead of the usual rock audience. Manfred himself explains, "When I was in England I was much more trying to play strange music, but now I'm just sort' of getting into a funky groove and getting much less contrived. Listen to a jazz group, then listen to us," he suggested. "We sound like jazz next to a rock group, but next to a jazz band, it's all rock."
The band now consists of Mann, who plays organ, Mike Hugg on piano, Craig Collinge beating the drums, Bernard Living on alto flute, Steve York on bass and harmonica. The brass section is Sonny Corbett on trumpet, Carl Griffith playing tenor sax and flute, Paul Rutherford on trombone, and Dave Coxhill on baritone sax and flute. Conspicuously missing is a guitarist. John Mayall dispensed with drums, but a group without a guitarist? "As Mike was playing piano and I was playing organ," Mann reasoned, "it seemed like another chord instrument would be too much. What's the difference between a horn playing a part or a guitar playing the same thing? We just fiddled about for a long time trying various people and these guys just dropped in and out and we finally wound up with the right people. But we didn't want rock musicians and we didn't want jazz musicians; we wanted to find people who were willing to play rock yet they were playing horns. That's the thing we're looking for."
The group has recently released an album on Polydor with the new sound and have just completed touring the States.  They've had extraordinary success in England with a string of top twenty hits. Manfred says the reaction there ~ is "extremely mixed." He believes "there's a small amount of people who are really knocked out and quite a lot of people who are confused, or just don't like it. I think we're hindered in England to some extent by our name. It has associations. It's not hip to dig Manfred Mann. It's associated not with teeny bopper music but top twenty records. What we're doing now doesn't fall within that market and it's difficult to get the audience."
Mann has been around a long time. Back in 1963 he and Mike Hugg, always the nucleus of the group, had a hit song, "Do-Wah-Diddy." The group back then was far more standardized. With Manfred and Mike, who incidentally played the drums and vibes back then, and Tom McGuinness on lead guitar, Plastic Ono Band member Klaus Voorman on bass and Michael D'Abo singing, the group was on its candy coated way. But, had ideas for a  group crystallised. "We'd like to remain a pop group," he said a few years back, "but also develop the instrumental side of our work, especially for America where the market is so great."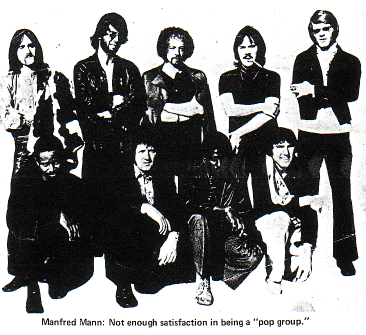 Now here, and having completely abandoned the idea of being a pop group, (the last American hit the group had was Bob DyIan's "The Mighty Quinn"). Manfred Mann is trying to make things work out of a difficult situation.
"We began to realize there must come some time in your life . . . I enjoyed what we were doing . . . I really must make that clear, we don't despise what we did, but the time had come to try something else. 'Mighty Quinn' is a very good record, but there's not much in it for me as a musician. I didn't sing it and I didn't write it, I just sat and helped to conceive it and played the piano. That's not enough."
On this tour, as on any other, there were good and bad nights. "This band varies very much," said Manfred. "I find that sometimes they are able to rise to the occasion and other times not. Other times we play much better when it's not important at all. I personally resent the idea that you have to be good tonight because of so and so. That brings me down," he explained. "You can compensate for off nights if it's not the wrong musicians," he continued. "If it's the bass player and the drummer, you simply cannot compensate. If I'm  having a bad night you can compensate for it. If Mike is having a bad night on piano it's all right, but if he's singing into his trousers, it's a little difficult. If the lead horn player is having a bad night it does affect things, the screaming and screeching hurts. It happens regularly. I have bad nights maybe three out of four."
The group was originally looking for a violinist, but they stumbled across this five piece horn section and decided to go ahead. "I don't particularly dig horns," said Manfred. "I wish we could have found the violin player. The idea is to find any instrument upon which good music can be played. What we're playing is by accident," he explained. "I think if we got tired of it we really would change it. We wouldn't stick with it like the old sound because of the money involved or the commerciality. But I think it's happening."
Jacob Atlas
---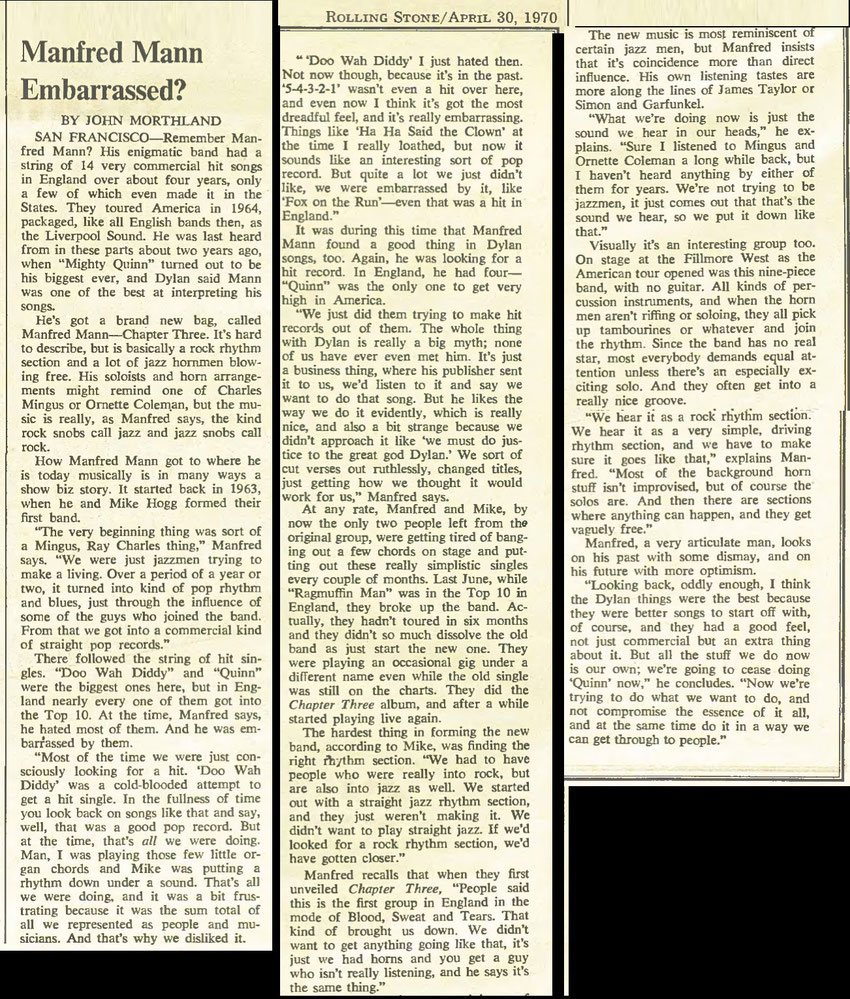 ---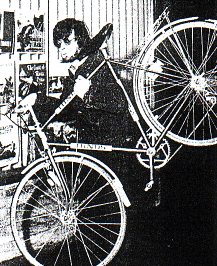 Manfred turns over a new leaf – once again!
Disc & Music Echo Jun 26 1971 - Thanks to Mick Maloney
MANFRED MANN is back on the road, and back on the singles scene-with a new band, an uncharacteristic record and some rather strange gigs.
The new group, a four-piece, made its British debut recently at Crystal Palace, which also had Desmond Dekker on the bill. And tomorrow (Friday they are playing at an accountants' ball in Swansea.  However, they'll soon be playing clubs and universities and the single "Living Without You" doesn't sound as much like the original Manfred Mann discs as he worries it does. It's commercial and the synthesiser noises give it a very up to date appeal.
"It's a little out of character. When I do singles my mind tends to work in a certain way. I seem to work in one kind of groove, or rut, if you like."
But the group's first album, due out in the autumn, will naturally give a broader impression of what it's all about, probably more so than their live appearances. 
Manfred will be using a small Moog on stage, while Mick Rogers will be on guitar and vocals, Chris Slade on drums and Colin Pattenden on bass.
So for the first time since 1963 Manfred and Mike Hugg are not in the same band together. Chapter Three was their last band, although they'll still be doing commercials together. "And I'll do sessions for him and he'll do sessions for me. But I don't think we'll ever have a live band together again.
"It's been a long association and we were very much in tune with each other, musically, especially at the start of Chapter Three. But that developed into cooler things, Mike's, which I like, but didn't particularly enjoy playing. I didn't think we were doing the right things for the musicians we had available. The brass section disappeared, then came back, and disappeared again, We both wanted to do different things.
"I think that doing the big brass section thing with freaky sax solos was something we had to get out of our system."
Chapter Three recorded three albums, the last, ("probably the best" says Manfred), wasn't released. Chris Slade was on those sessions end Manfred asked him to join his new band. "I asked him if he knew any good bass players and he said 'no' and I kept asking him and eventually he said he knew one (Colin Pattenden) who wasn't too bad."
Manfred had already found Mick Rogers. "I heard about him through Mike Hugg who said he was all right. He was in Australia and it could have been an expensive mistake bringing him over, but it turned out fine. It was preferable to having to listen to 500,000 guitarists, none of whom would be any good and even it they were, you aren't able to tell good from bad after hearing that many. I have nervous breakdowns about that sort of thing.
"I really didn't think it was going to work but we got together for a blow and it did. I don't mean that we all suddenly smiled at each other and it happened, but I'm working with guys I get on with very well and the group, musically, seems very together. The band I had with Mike D'Abo was terrible live, Chapter Three was inconsistent, and, to quote Jon Lord, 'This is the best band Manfred Mann's had'.'
The new group played five dates in Australia with Deep Purple and Free and broke themselves in with a week at a Rome dub.
Manfred is confident he has a good rock band and judging by some of the things that will be on the album there's quite a bit of variety to it, too, although they'll be doing heavy stuff live. The only question mark, therefore is whether people will like it.
"I don't think there's much interest at the moment, unless the single takes off. When one isn't doing anything interests fades, unless you are Bob Dylan, and then it seems to grow and grow."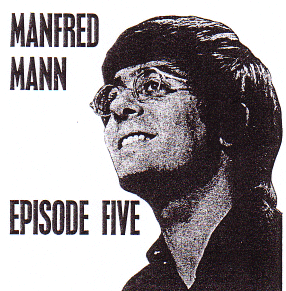 Manfred Mann Episode Five
Beat Instrumental Aug 1971 (Thanks to Mick Maloney)
Manfred Mann is embarking on another episode of his musical career with the formation of yet another new group called, not surprisingly, Manfred Mann.
South African-born Manfred, or Manny as his adorable hospitable wife calls him, is a brilliant, dedicated musician who has moulded the talents of many musicians into what has been known for the past eight years as the unique Manfred Mann sound. During this period, popular music has changed its course many times and it is a tribute to Manfred himself that he and his personnel have always been in the forefront with the sound that has invariably been new and exciting.
To many people, the first episode of Manny's musical career is best forgotten. An oft-heard remark is that what happened in the early days of popular music bears absolutely no relation to what's happening now. What these people don't realise is that everything that happened then IS important now. Without those days where would John Mayall, Alexis Korner, Jack Bruce, Eric Clapton, Dick Heckstall-Smith, Jeff Beck and a host of others be now?
Manny was right in the middle of the blues boom of the very early sixties. As part of the Mann-Hugg Blues Brothers he vividly remembers the days of playing on the same bill and at the same venue as Long John Baldry, Alexis Korner, Cyril Davies and so forth.
The second episode involved the band that released such records as 5-4-3-2-1, Doo-Wah-Diddy and If You've Gotta Go, Go Now. This band included such names as Tom McGuiness, now with McGuinness-Flint, Mike Hugg, who has been with him throughout and is also the writer and arranger of some of our best known television jingles, Mike Vickers, the master of the synthesizer and other electronic musical gadgets, and Paul Jones, star of stage, screen and television.
Episode three saw the leaving of Mike D'Abo from The Band Of Angels for Manfred's band and then the release of such songs as Ha, Ha, Said The Clown and other notable hits. This band also featured in its line-up former Paddy, Klaus and Gibson member and ace-old Beatles friend. Klaus Voorman (he designed their Revolver album cover). It was this band that also implemented brass and short-lived though it was, it was very effective for the type of music being relayed.
Then came episode four, also known as Chapter Three - a band which one musical journal described as having the finest brass section since the Benny Goodman Band.
Chapter Three was undoubtedly Manny's most ambitious attempt to create a new concept in popular music. Whereas most of the other bands featuring brass playing over the vocalist and various riffs running throughout, Manny's arrangement called for the brass to play behind the vocals of Mike Hugg and then burst forth in all its maturity on the certain passages allocated to them.
'Mike's voice.' said Manny, was quite weak and we wanted to make full use of it. The brass-voice type of sound was very original as there were no riffs between the vocal lines. Just plenty of spacious passages which were used perfectly.'
'Chapter Three was an attempt by me to prove to myself that there were certain things I could do, if unsuccessfully at least seriously,' he added.
Sadly the band didn't make it. 'One of the main reasons,' Manny said, 'was because of the tremendous financial strain. We just couldn't see it through with the salaries of roadies the other musicians and so on it was costing in the region of £2,400 a week. Of course the band was superb. But if a musician has any worries, especially money ones, he naturally cannot play to the best of his ability.'
Manny now has a totally original idea of how to run a group. He has no roadies, vans or PA equipment. He hires them all from a company called Soundray Hire Ltd., and the expenses incurred are refunded by the tax office. The whole lot costs about £35. This is a far cry from the thousands of pounds that some groups are paying out every year. And as Manny has stipulated that he won't be working more than three nights a week you can work out the saving for yourself.
The band that will be utilising the hired equipment comprises of Manny on organ and Moog synthesizer; Mick Rogers, vocals and lead guitar; Chris Slade, drums and Colin Pattenden, bass.
Mick, 24, went to Australia four years ago and formed a group called Procession who became very popular there. They came to England where Mike Hugg produced their records and through this association Mick met Manny. Chris, 24, started playing drums on a semiprofessional basis when he was 14 and went on to back Tom Jones in his early days in Welsh working men's clubs. His introduction to Manny came when he was booked for a Chapter Three recording session. Colin, 23, has backed Engelbert Humperdinck, Leapy Lee and Solomon King. He met Manfred through Chris.
Commercial though their first single, Living Without You (Philips 600612) may be, it is a significant step in Manfred's career through the use of the Moog.
'I bought the Moog from Feldon. It cost about £650. I've got it wired up through the organ pedal. The controls are under my hands. I'm now experimenting with using the controls on the pedal board and this will enable me to bend the notes. In fact, if it works the' way I want it to, I should be able to do almost everything I want to do with them,' he said.
The band is certainly not a last ditch attempt by Manfred to get back into the limelight after the Chapter Three episode. He has been working constantly and is too experienced as a person to be sensitive and worried about the indulgent interest of people who say: 'Where have you been?' or 'What have you been doing over the past couple of years'' and' How Are You ?'
'Looking back,' he said. 'I've always wanted to do what I feel like doing. And I'm going to continue doing that.'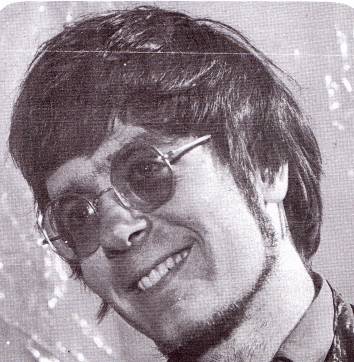 Back to Pop: Why Manfred Has Gone Back to Pop
New Musical Express June 19 1971
Despite a string of hit singles, countless live appearances and a fair amount of publicity, Manfred Mann remains an enigmatic immigrant.  Manfred. who gets through colleagues like Keith Moon used to get through drum sticks, has closed the book on Chapter III for the last time. 
"The new line-up has been put together for about five months," he told me.  "I haven't been keeping the news quiet deliberately, it's simply that preparing for recording and performing takes some time.
"We have done some dates in Australia with Deep Purple and Free and I was amazed and very pleased at how well we were received.  But more important, at how well we played together."
The group, to be known as Manfred Mann, comprises Australian Mick Rogers on lead guitar and vocals, former Squires and Toomorrow drummer Chris Slade, Colin Pattenden on bass and Manfred, of course, on various keyboards, including Moog.
"I didn't audition thousands of musicians and get down to a short list," he added, "I just took a chance and hoped for the best."
Vague
Not surprisingly he is vague about the reasons for the demise of Chapter III.  IT was not formed to sell millions of albums -"'although we hoped that would come" - but Manfred maintains it did fulfil some purpose.
"I don't need to tell you it wasn't a huge general success with the public, do I?  I found myself more and more listening to Mike Hugg recording his album.  "Mike has gone into cooler music and doesn't want to be rushed into anything.  I was feeling the need to get back into action again."
I recalled a conversation Manfred and I had had a couple of years ago at 'Top Of The Pops.'  He said the reason the group - then with Mike D'Abo - had stopped giving live shows was because they didn't play well live.
The way Manfred assured it was to give each member of the group a playing potential of five marks out of five.  "I can't explain why it is," he said, "but on stage the sum total never approaches twenty five."
So nine months went by and the name Manfred Mann never once went up on the bill posters.
"Then Chapter III went out on the road, "he said, "and for the first time for a long time I discovered the joys of playing to a live audience.  The only reason I had ever stopped was because the group weren't sounding good, I've never had any aversions to gigs."
So Manfred is back... back with a top rated single "Living Without You" and an extensive list of dates.  Has the wheel turned a full circle?

Charges
"No," he said, "I never think of it in those sort of terms.  Sure I've got through some line-up changes but whenever I embark on something new I always think of it as being permanent.  I could never have subscribed to that idea about fluid groups moving around and all the time jamming here and there.  To me that would be totally depressing.  I like to have something organised and I work with people I have got confidence in.  Each change I have made has been a natural change.  When you no longer have the same things in common with those people, you move on."
Before I even had a chance to ask the question, Manfred stifled any suggestion that the band was going to be a mainstream pop outfit.  "I suppose the single is fairly conventional." he agreed, "but then T Rex and Deep Purple release successful singles and you wouldn't call them mainstream pop would you?"
Wouldn't I?  But there, that's besides the point.
"Of course I can't be truly objective about the band, and I'm not saying it is something wildly incredible.  But for the first time I am optimistic about the sum total reaching twenty five on stage. I don't listen to thousands of bands a week like I suppose you have to, but going on how we have played together so far, I would say we are better than ordinary."
Unfortunately Manfred got into the habit some time back of knocking his own efforts.  "I think some of our better TV jingles are superior to the worst singles," he once told me.
Today, he seems to have changed his mind, which is just as well because fans don't take kindly to hearing from the maker's mouth that the disc they have just bought is a lot of rubbish.
"I sit and play those old records now and I think maybe they weren't bad after all --- quite good even," he says.
Manfred and Mike Hugg are still producing commercial jingles together.  "Really for the extra bit of bread," he said, lowering his voice a shade, "but I don't want you to think we don't enjoy doing them.  We actually won an award from America for the best television commercial soundtrack."
Always on to out his music before his ego, Manfred says he doesn't have a difficult job avoiding the personality type of publicity.  "I'm hardly the matinee idol," he laughed, "and I'm sure the public don't think of me as a personality.
"Paul Jones and Mike D'Abo got that sort of publicity but that was their fault.  They put the group and the music first too but once you get picked on, there's nothing you can do."
With an album due for late summer, Manfred is optimistic.  never noted for his benevolence towards the Press, his parting words to me were: "May I say your questions were well informed."
You may indeed, Manfred.  And thank you.
Gordon Coxhill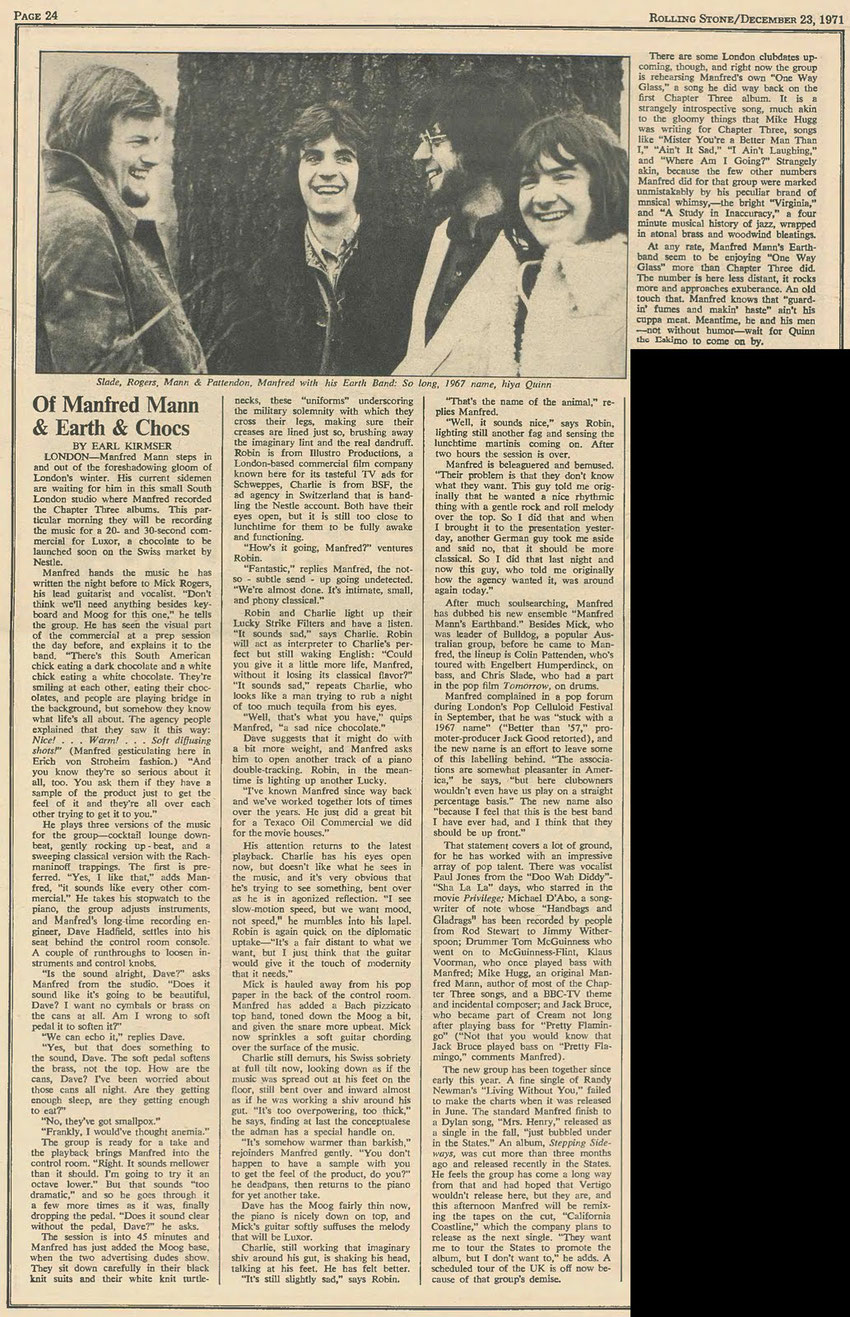 Manfreds bag, made in Australia
It is a real hassle for overseas groups coming to Australia if they have much more equipment than a transistor radio.  The original figure for the transporting of 4 tons of sophisticated equipment, plus a few simple instruments to and from Australia was 1,400 English pounds (approx. A$3,500).  Manfred Mann's Earth Band decided to have 3 tons of it built here.
Mick Rogers, Earth Band's guitarist knew that Bill McCarthy at Strauss so custom built gear including a stereo PA system and a collection of 200 watt amp stacks (one for every instrument) was prepared.  The Earth Band's roadies, Jim Louis and Jeff Newsom arrived three days ahead of the band to test the Strauss gear and arrange transport details for it.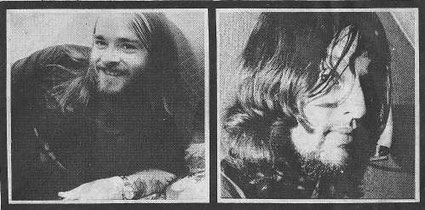 A collaboration with TAA has produced an operation rather like and American airlift.  With some performances on consecutive nights in cities often hundreds of miles apart, a complicated schedule involving trucks, vans and lorries and planes has been devised.  It's hard to be here today and gone tomorrow when you've got 4 or 5 tons of sensitive equipment in your travel pack.
At Earth Band's performances, the sound will be mixed at the rear of the audience by Jim Louis at a console.  It is a reduced version of a studio mixer and handles 12 channels picked up by 13 studio condenser microphones.  He doesn't wear cans as he prefers to mix it as the audience hears it.
None of the equipment is standard; almost every little part has been modified in some way or other.  All good roadies have their own contacts in the electronics world to perform the touches of wizardry needed to get a particular sound.  In England it is those little touches that make one band's equipment better than another's.  The PA specially built by Strauss is rated by the roadies amongst the finest they've ever heard.
Manfred's Hammond Organ was acquired from the old Alan Price Set a few years ago and since that time has had its private parts extensively tampered with.  The bottom half now houses large chunks of the Moog Synthesizer's electronic, magic making devices.  The organ itself has been modified to give it a dirty, gutsy tone; you could say it sounds almost smutty, but how would you feel if your lower areas were packed with… By playing the organ through ordinary amp stacks (instead of the customary Leslie speakers), this grimy tone is accentuated.
The Moog Synthesizer is a small version of the one which Keith Emerson has started using now that the impracticality of touring with his 15 oscillator model has become apparent.  All the electronic details are too confusing for the normal muddled brain, but apparently the bigger they are, the easier they fall.
The sound the audience hears will be in balanced stereo.  The effect is not so noticeable with the instruments as each one has 200 watts of its own.  But with the vocals and in particular the Moog, the quality of the sound is stunning.  The band has up to 1,000 watts of clear, crisp sound at its disposal.  On the outdoor gigs the band will probably supplement the system with a few extra PA horns.  As Jim Louis said, "I wouldn't exactly call it a quiet acoustic band."
Earthband - Manfred Mann's New Group
Manfred Mann is a brilliant and dedicated musician who over the years has moulded the talents of many musicians to make a unique Manfred Mann sound.
In the past seven or eight years, popular music has changed its course many times and Manfred and his personnel have always been in the forefront with a sound which has invariably been new and exciting.
 After much soul searching, Manfred has dubbed his new group Manfred Mann's Earth Band.  Earth Band is a four piece - comprising Manfred on organ and moog; Mick Rogers on vocals and lead guitars; Chris Slade on drums and Colin Pattenden on bass.
"The choice of name 'Earth Band' is an effort to leave some of my past labelling behind" explains Manfred.  "The problem has been that I have been stick with a 1967 name and its past image that bears no relation to the music Earth Band are creating today.  Also I feel that this is the best band I have ever had, and I think they should be out in front."
This statement covers a lot of ground, for he has worked with an impressive array of pop talent including Paul Jones, Mike D'Abo, Tom McGuinness, Klaus Voorman, Mike Hugg and Jack Bruce.  The new group have been together since early this year.  A fine single by Randy Newman, "Living Without You" failed to make the charts when it was released in June.  Then the Dylan song "Mrs. Henry" which was released as a single in the autumns and 'just bubbled under in the States'...
Earth Band are now on the road, working around the UK and perfecting their stage act, a stage act this is raw and earthy, and musically in exactly the right direction Manfred has always wanted.
 
Individually
Mick Rogers is 24 years old and was born in Essex.  He went to Australia four years ago and formed a group called Procession who became very popular there.  They came to England where Mike Hugg produced their records - na through this association, Manfred was introduced to Mick.
Chris Slade was born in Pontypridd, wales 24 years ago.  He started playing drums on a semi-professional basis when he was fourteen and went on  to back Tom Jones  in his early days in Welsh working men's clubs.  Chris' introduction to Manfred Mann came when he was booked for a Chapter III recording session.
Colin Pattenden is 23 years old was born in Farnborough, Kent.  His musical background includes backing Engelbert Humperdink, Leapy Lea and Solomon King.  Chris was introduced to Manfred through Chris Slade.
 
---
Back to the Beginning
Many thanks to Mick Maloney for tracking down this material, much of which was kindly passed to Mick by Milton Hammer while Mick was researching the DVD.
The following article is from an Australian magazine in 1972.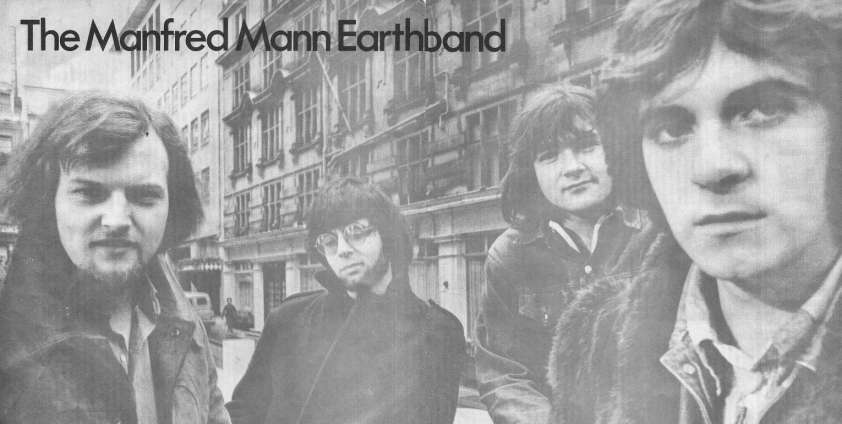 The Manfred Mann Earth Band to tour here later this month is the brainchild of one of the most creative of English Rock musicians - Manfred Mann!
Manfred's musical progression over the years has been nothing short of remarkable.  Beginning with the pure pop group Manfred Mann in 1965 (sic) he had a number of big hits including 'Doo Wah Diddy', 'I'm Your Kingpin', 'Sha La La'.
He brought that band to Australia and delighted a capacity crowd on the Kinks show. At that time Paul Jones was lead singer and harmonica player for the group and he provided a perfect focus in black skivvy and black trousers leaning against the microphone, harmonica blowing in the wind.  On that tour the bands trademark was the all black outfit (they appeared dressed that way on the cover of their first album) and I can remember what an exciting group both visually and audially they were.  Paul Jones left the band to follow a solo career which so far has consisted of making bad records and bad films, and Mike D'Abo from Band of Gold was asked to replace him.  Again success followed with 'Mighty Quinn', 'Handbags and Gladrags', 'Fox On The Run', 'My Name is Jack' all going close to the top of the charts.  Manfred became tired of the ;limitations of pop music and keeping only Mike Hugg from his previous band he formed Manfred Mann Chapter Three - a big band type jazz-rock band.  Mike D'Abo went  to Jesus Christ Superstar and Tom McGuinness went to Mc Guinness Flint and a number one with 'When I'm Dead And Gone'.  Manfred Mann Chapter Three recorded two albums but at this time success, usually his by right, eluded him.  The group was broken up and Manfred went into semi-retirement.  The drummer in Chapter Three, Craig Collinge had been a member of the Australian group Procession and through him Manfred had met Mick Rogers.  He contacted Mick in Australia where he was playing with Bulldog and asked him to join a new projected four piece band, as yet unnamed, which he was forming.  Mick agreed to do this and with the addition of Colin Pattenden on bass and Chris Slade on drums the new band was formed.
It was named Earth Band Manfred says "in an effort to leave some of my past labelling behind.  The problem has been that I have been stick with a 1967 name and its past image bears no relation to the music Earth Band are creating today.  Also I think this is the best band I have ever had , and I think they should be out front."  Australia has already had a chance to witness the band in its embryonic state on the Free/ Deep Purple tour last year.  With a full tour of England and the continent under their belts they should really be able to lay down a great new sound this time around. Definitely one of the most interesting and experimental bands playing in the rock genre at this time.  Not to be missed.
Manfred Mann
IT takes most people five or six glances before they notice Manfred Mann.  In the Melbourne Room of the Southern Cross Hotel he sat quietly playing chess with an offsider.  He seemed slightly peeved that the press weren't utilizing this opportunity to ask their usual questions; he would've preferred an official press conference to handle the business of interrogation quickly and efficiently.
Manfred Mann is rather colourless to speak to, he's a musician not a flamboyant personality.  He doesn't accept any obligation to pretend he cares about you.  His music is a personal trip; he doesn't seem to mind if you don't like it; you may share in; it if you wish.  He'll never leap out and drag you in - you can come quietly and dig it if you like but that's entirely up to you.
He was a pop star once but that wasn't where he started, it's not where he is now and it's unlikely that he'll end there.  He doesn't find it odd to be inconspicuous; he has no crusades to lead; he has never seen himself in any particular social role. That's why he's still making music today.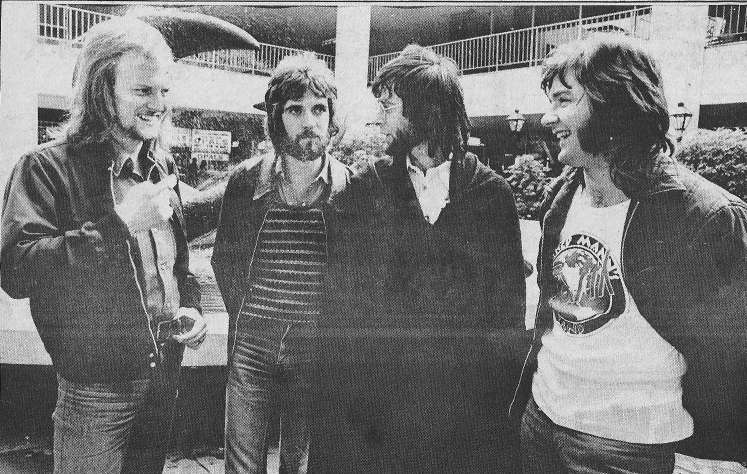 ---
What is your motivation?
I think the knowledge that I'm able to contribute something to what's happening in the music world.  I'm not conscious of a position.  It's just that I have yet to feel that I have nothing to contribute.  I haven't yet thought that I've done it all. I think what I'm doing now is better than I've ever done.
How does it feel to be virtually unknown these days?
I don't find it strange.  I accept the situation I'm in now.  I'm not interested in the 60's hysteria.  That to me was a load of crap.  It sort of happened by accident.  It was a bit of an ego trip for a short while, then it turned into a big drag.  I'm really into what's happening now, not what happened then.
Do you have an attitude towards your audience as you play?
It happens naturally; you don't think about anything, you just play. I don't think you have a conscious thought about it.  We tend very much not to play to audiences, as such.  We play, very much, in amongst ourselves.  We find that's a thing which communicates very well to an audience.  Although we're not playing out with "Gee baby, I'm singing to you in the front row" and we're playing almost entirely internally, it seems to communicate incredibly well.  The feeling between us gets through out there.  You see it at a gig. - it really happens.
Where do you get most of your material from?
I write almost all the original material we do, but we don't only do original material.  We do some outside material.
Like what?
Just stuff which comes up.  We do Mighty Quinn for example, which is a throw back, but we do it very differently.  We do Black and Blue which is by an Australian band.  Mick's (Rogers) spent a lot of time in Australia and we just picked it up.  We thought, well we can do that.  I don't think it sounds anything like it did when Chain did it - like the middle section is very weird and strange.  But why the hell not?
How do you feel about coming to Australia?
It's a long flight and that's a drag.  If we can fit it in and the money's right, we do it..  You know, we're not big stars in England, man.  This is just filling time before we go to the States, later in the year. 
What do you have planned for the US visit?
A tour.  Our last album did very well in America and that's where we're really going to happen.  This is good practice really.  I should think that we'll be touring with other people because I don't think that we're successful enough to do it on our own.  But I am really confident that it will happen for us in the States because it's a good band.
On your last tour to Australia you fled in mid-tour because of threats on your life.  Were there any repercussions?
You mean the heavy problems and so on?  It's really something I don't talk about, assume to be over and am not interested in.
It didn't give you a bad feeling about coming back here?
No, the last tour was very good for us; I think it was an important thing for us like, Deep Purple are a very big band, so were Free, and we had only been playing a short while.  We'd only played in Rome and this was our second group of gigs in a very short while.  I think it showed us that we really were good enough.
We hadn't reached anywhere near what we wanted to do and I though we came off very well.  And that was in a state which we were unhappy with. 
I think Australia was important in that it gave us a lot of confidence, even if there were other overtones I don't want to get into.  This confidence has kind of stayed with us Because we have improved a lot since then.  Improved out of all proportion.
The inclusion of a Moog onstage suggests to many people a type of music away from the mainstream of rock and roll.  Things like Emerson, Lake and Palmer.. .  I don't see it that way.  Keith Emerson can play it in the way he wants to.  I feel it's a very useful, functional instrument to play.  I don't see it as a gimmick instrument.  There's not much beyond that I can say.  I treat it as a normal, solo instrument.  I think in a way, that's where it's strength is.  Not in the gimmicks and freaks, although I do that as well.
Huh?
Cos' at certain places it's relevant to what we're doing.  You know, colouring. 
It's only the music, your music, that means much to you.  How do you approach it?
I try to approach it from a very natural, unselfconscious attitude.  I think that a lot of the music we're doing seems very, very weird to people - certainly to audiences out here.  I think they'll be very surprised by some of the stuff we're doing.  Not by all of it, but by some of it.  I never contrive to have that effect.  I never try to be freaky for the sake of being freaky.  I think that's a real trap.  Some people get into that trap and try to impress people by how clever they are, all the time.  What we try to do all the time is play exciting music; really lifting, exciting music!  We're not out to prove we're good musicians, which is what a lot of performers try to do.
Your music is entirely personally orientated?
Yeah, even when we do other peoples . We don't have an attitude towards it, we just play. I think that's the best way.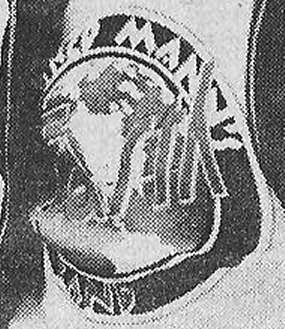 5 Generations of Manfred Mann
Rock Magazine (US Magazine) 26 Feb 1973
The American public had barely recovered from Beatlemania when without warning we were assaulted by a third wave of the British Invasion...
"there she was, just a-walkin' down the street."
There was something about Manfred Mann that reminded those of us who were into jazz of a good soul jazz band.  They played tunes like Cannonball Adderly's "Sack O Woe" and Herbie Hancock's "Watermelon Man."  Bluesfreaks noted the band's fondness for Howlin' Wolf's "Smokestack Lightnin" and Muddy Waters' "Got My Mojo Workin'."  Rock 'n Rollers noted the presence of tunes associated with Chuck Berry and Bo Diddley and the newer generation of rock music fans found Manfred's musicality well in line with their Liverpool fab faves, The Beatles.  In back of this was a man named Manfred Lubowitz.
"I came to England from South Africa in 1961," Manfred recalled, "had Mike Hugg and myself had a kind of freak version of the Modern Jazz Quartet. he played vibes and I played piano, and as that ran it was just impossible in England to earn a living.  We were doing a lot of Thelonius Monk and influenced by Coltrane and Ornette Coleman and people like that.  I'd never heard of Chuck Berry or Bo Diddley and I was listening to Miles Davis and Ornette Coleman.  When I came to England and couldn't earn a living, one got involved with other people.  We got into this thing where if you did the right kind of Ray Charles, the right kind of Charlie Mingus, Chuck Berry and Bo Diddley, gradually this sort of vague mixture came about."
Manfred Mann and his Earth Band were spending the Saturday afternoon in New York at that champion home away from home for pop stars, the Holiday Inn.  Various band members and friends and press were spread out around the room watching TV, drinking beer, talking, doing whatever pop people do in their spare time, mostly waiting.  Toby Goldstein, Polydor's emissary to the press, was doing her best to restore some semblance of order to an interview schedule that had gone down the drain an hour before.  Manfred dutifully received interviewer after interviewer... and no matter how each one tried to think of really original questions, the interviewer had the feeling that the same questions had been asked dozens of times before that day alone.
"'"Do Wah Diddy' was like at the end.  We'd been going for a year and a half.  It hadn't started off as a 'Do Wah Diddy Diddy' type band at all," Manfred continued with chronology, "It happened with Paul Jones like that.  He wanted to be a star and left the band and that's why the band changed.  With Michael D'Abo we all collectively, very friendly like, decided to leave.  We all knew that it was coming to a creative end and we just decided to call a halt.
"I usually began things before the other things stopped in fact.  While Manfred Mann Chapter Two was still going on, Mike Hugg and myself formed another band called Emanon which we were rehearsing collectively.  So we were already rehearsing that band and then our manager said, "Look, why don't you call the thing Manfred Mann and tell everybody what you want to do instead of pussyfooting around with having two bands.'  It started off with a lot of steam, a lot of creative fire, a lot of enthusiasm.  There were certain kinds of sounds we wanted an I think it stood up; like the kind of brass harmonies we used were very different. If you listen to them there's a great avoidance of thirds.  A lot of it is open fourths, open fifths.  A lot of the horn arrangements and a lot of the kind of very loose playing on some oft he tracks is very influenced by some Mingus things where everyone kind of blew very roughly together.  All the horn influences were jazz and we tried to put it over a very rock rhythm section.  At the same time it was almost a self-conscious attempt to be different, and I think it was a mistake.  I find now that we're able to, because there's just Mick and myself, play musical lines that are much more involved and much more interesting."
Today's Manfred Mann has an Earth Band.  Mick Rogers, the singer-guitarist, is from Australia and has an easy style that fits well with Manfred's low pressure concepts.  This group is not out to blast anybody's ear drums and the vocals are sufficiently non-distorted that you can actually understand the words Mick is singing.  Bassist, Colin Pattenden plays bass expertly but mostly keeps out of the spotlight.  So, in fact does drummer Chris Slade.  By comparison with so many superstar drummers, it is his very lack of egocentric spotlight-hogging that causes much notice of this shy Welshman who got his start with his fellow countryman, Tom Jones.  Also added is a new instrument for Manfred, the Mini-Moog, a small self-contained synthesizer which sits atop Manfred's Hammond organ like an added manual.
"About eighteen months ago I saw one advertised," Manfred explained, "and I tried a few and gradually settled down with the small Moog.  All the adverts I'd seen for Moogs were enormous things with plugs and jack-plugs and computers to pre-set them and thousands of pounds worth of equipment.  I saw this little thing.  I was just about the first one in England to have one.  I find the instrument very expressive and I don't think that they're gimmick instruments anymore, if they're used properly.  The instrument has the potential to be a new breed of keyboard instrument."
There is a tradition that has been carried through the entire career of the Manfred mann bands, at least since the Doo Wah Diddy band.  That is the tradition of the material written by Bob Dylan.  The first Mann/Dylan collaboration was "With God On Our Side" and it continued with "Just Like A Woman," "If You've Gotta Go, Go Now" and "The Mighty Quinn."  The Earth Band has recorded two Dylan tunes, "please Mrs Henry" and "It's All Over Now Baby Blue."
"It just cane about," Manfred told us innocently, "We started doing one and then perhaps six months later we stumbled on another one.  It just seemed to happen.  They seemed to be commercial without being 'Moon and June' lyrics.  We were very reluctant to bring out Dylan material that was on a Dylan album.  We did a thing called 'If You Gotta Go, Go Now.'  At the time Dylan had not recorded that on an album.  Generally speaking, once everybody knew the Dylan version I was much more reluctant to pick up on it.  We seemed to be lucky enough to get hold of tapes that hadn't been released."
For the most part there has not been a carry over of repertoire from one Manfred Mann band by the next.  The lone exception is 'Mighty Quinn' which the Earth Band still performs in quite a different manner from that of the so-called Chapter Two band with Mike D'Abo.  It went down to good audience response at the Academy of Music and is being considered on a future Polydor LP.  Will there be an inclusion of past glories within this band?
"I tend to think very much in the present," said Manfred, "I tend to be so concerned with what's going on at the moment that I find it very hard to look at it (the past).  It's much easier for somebody who's outside it.  People who were listening to 'Do Wah Diddy' in England just don't come to groups like us anymore.  Over here there's a kind of nostalgic thing for British mid-Sixties music and in England there's a nostalgic thing for American mid-Fifties rock and roll."
Today's Manfred Mann is as good or as better live than recorded.  In fact, Manfred admits to having his problems trying to get the kind of feeling the band can get live on the LP's.
"I used to be very recording orientated and now I find it difficult," he said.  "You've got to get it all right.  It's all got to be perfect.  On a stage performance the feeling has to be right.  When you get in the studio you have to also contend with technical perfection."
There's little danger of Manfred Mann's Earth Band getting into the kind of extended free things that have been so popular lately both in jazz and rock.  "We're getting up to perform music.  If I'm going to play like the solo in 'Bobby Stout' I might as well put in that song, which is a good song and which everybody can really enjoy and you don't have to be a musical intellectual.  I want to communicate with people.  I enjoy the songs, I enjoy a lot of simple pop music.  I enjoy a lot of top 40 music because I've been through that.  "I'm absolutely unconcerned about direction.  I feel that the direction will come naturally without me preplanning it as a conscious thing."
One thing is sure, whatever Manfred Mann does it will be musical and listenable, and before this band is through, he'll already have a plot boiling for the next one.
Joe Klee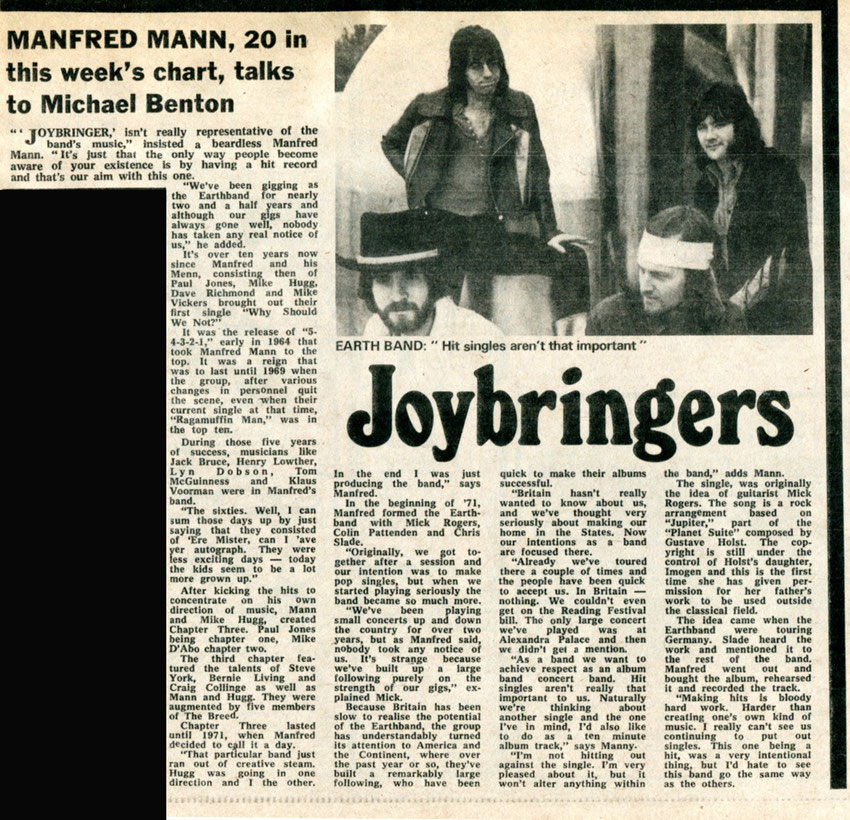 Melody Maker March 30 1974  - Earth Mann
Manfred Mann's back in the Workhouse again. Workhouse Studios that is, down the Old Kent Road. From behind the control room door, strange electronic twitterings rise and fall, then majestic sounds of a Mellotron. Manny's doing a final cosmetic job on passages of the Earthband's next album, "The Good Earth", putting the seal on his work, chasing the effects he wants with a meticulous ear. Make no mistake about it, he's re-emerging now as one of our most exciting keyboards artists. Then Manfred turns to you and says how much he loathes the recording process, it's so mechanical, so easy to get hung up. He's getting a bit hung up now, on a synthesizer part. He worries that as the band strives to improve with each new album they might lose essential energy. This has to be guarded against, also predictability and self indulgency.
Apparently Earthband have got enough edits out of this album to fill another track. Manfred likes his music to be grand, but not cold or too hard. Linking theme of the album is "the Earth," in the broadest sense. "Once we've tied the whole idea through," he says, "it'll connect with the kinda things everybody has been feeling the last few years about the earth." "It's not us in particular. Once you've seen a picture from space you begin to understand certain things." In writing, there's been greater contribution this time from guitarist Mick Roger's, not so much a joint effort between him and Manny but that Mick's spreading his wings more.
"Although I'm incredibly nervous of writers within a band," Manfred admits, "I've seen too many bands with lousy internal writers all wanting to do their own songs." "Mick's been in a band like that and there really are a lot of them. Well anybody can write a song man (or so they think), you just walk down the street and hum a tune and that's a song!" "So I'm absolutely neurotic about the material being good enough. But Mick is really beginning to write things which are that much better, and I wouldn't say so if I didn't really think so." It adds up to the reason why EarthBand openly uses material by other writers and will continue to do so. "But take Father of Day," Manfred suggests, their current single from "Solar Fire." By the time we finished with it, it was as much our song as Dylan's I think. "I really don't mean that to sound arrogant but there was so much concept put into the song, and yet we were basically using what I think is a lovely song."
Manfred applies the same rigorous critique that he has for others, to himself. "I certainly do because I play to the other guys, and I'm like a nervous compass! If there's the slightest degree of doubt, I'm the first one to say it's not good enough. If I'm really certain about something I push it a little bit harder, but I try to sense the outside." Manfred sits at home and listens to album after album, not for pleasure any more, but almost as part of a profession. "I get an immense degree of boredom out of it – but by doing it I find tracks, and in doing it I found the title track of this next album."
The band were recently back from their third American tour where at last things started to buzz for them, in a way that's had a considerable impact on the presentation of their music. "America has made a difference in our playing, now our playing will slowly settle back a little because we're recording, we're only playing weekends, we're not consistently on the road. But one of the main things about America is the realisation of how important it is as a market. We feel there's a chance they'll really turn on to us there in a big way, whereas I don't get that feeling here. A lot of bands go to America and it destroys them. They find the pressures very difficult. In some ways, obviously the pressures are very high and things becomes more intense. But in our case, certainly over the last years, it's been a big factor in our survival, this absolute confidence that things were going to go right in the States."
Jeff Ward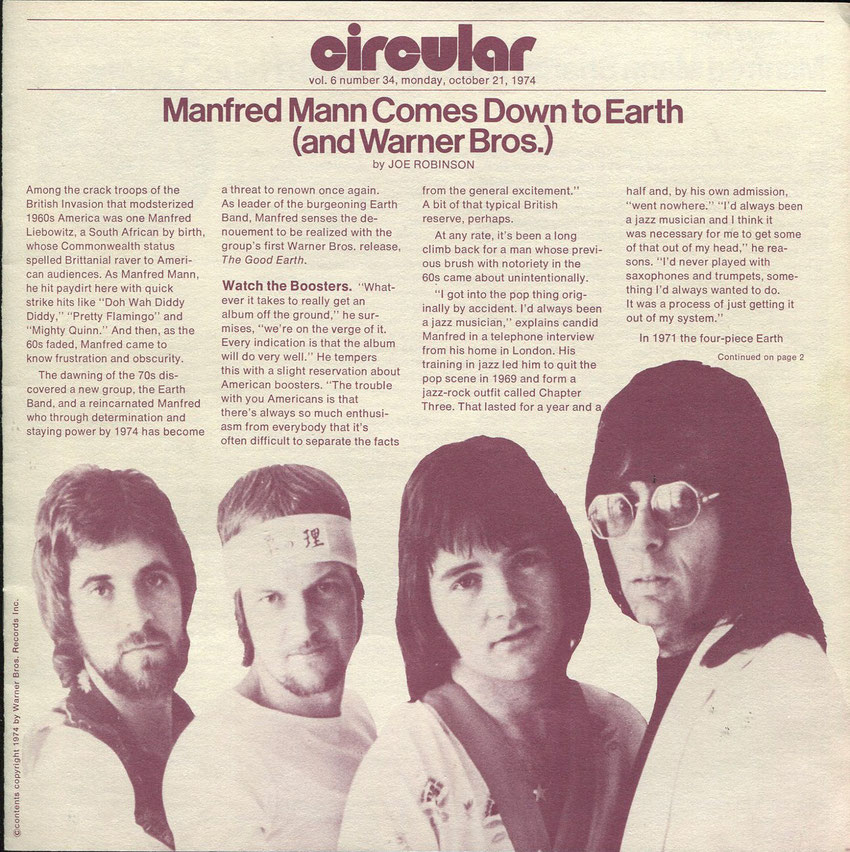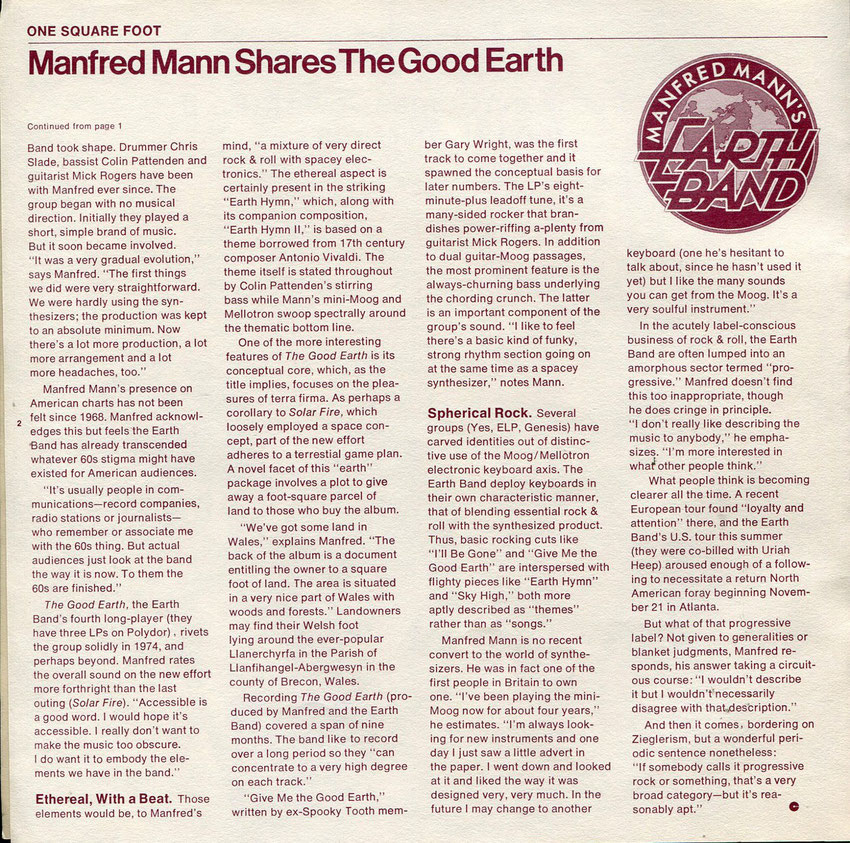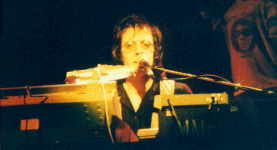 The Many Moogs of Manfred (Sounds - UK Article 1975)
One of the few bands which uses synthesisers but has not been guilty of synthesiser overkill is Manfred Mann's Earth Band.
Manfred's keyboard work has always been restrained - blended into the overall band sound and not allowed to dominate unreasonably. But what has led him to use the synthesizer in the first place?
"As a keyboard player I always felt a great frustration first with the piano - even though you have a physical connection with it - and particularly with the organ. In the early days I always envied people like saxophone players who had a close physical contact with the sound they produced". "And later with guitarists. They could band down on the strings and make it louder, whereas all I was doing was making an electrical connection and moving my foot down a fraction of an inch."
"It's a great paradox, therefore, that when synthesizers were developed it brought a return to some kind of physical connection with the sound. There's so much control of notes in terms of bending notes, sliding notes, filters etc... I play all my solos on the synthesiser - I just don't get any feeling out of anything else now."
"I think in the end synthesisers will become the definitive keyboard instruments. They are a really long term advance in musical instrument making. I'm absolutely certain of that."
How long I wondered, did it take one to become reasonably proficient on the instrument?
"I don't know really. When I got hold of mine, I just took it home, pissed about a bit and then started using it on gigs. I'm always learning - there's always some sound, even on my little model (a Mini Moog), that I haven't used before."
"The big problem is when to use what, it's not what you do to get the sound. It's how do you fit it into the context of ordinary music instead of self indulgently fiddling around with electronics? That's the problem."
"I've now two now - the Mini Moog and an American one called the Electrocomp 101. Not many people use the Electrocomp, yet it's incredibly good, because it's got a two-note capacity. It's incredibly versatile, and yet it's quite simple to use. Normally the oscillator jumps to the lowest note triggered ion the keyboard. The guy who designed the Electrocomp had the brilliant idea of having one oscillator which would jump to the lowest note and another which would jump to the highest. It's such a simple thing - it's not like polyphonic - but the difference between one and two notes is a huge advance."

"And the Mini Moog is a brilliant invention - a simple, usable synthesizer. You know people get lovely sounds on others and Stevie Wonder uses this model and Billy Preston uses that, but the Mini Moog is completely different - the possibilities are so simple to realise."
"I think that's where the real growth of synthesisers will be - in simple, usable instruments with different sounds rather than one which encompasses everything. For example how much better to select your sample and hold device than have to re-programme your synthesiser to perform a sample and hold function." How much better indeed... but what exactly is a sample and hold device? Manfred explained that it is the method by which you generate a varying frequency and 'sample' it at regular intervals. Because the frequency is varying like a sine-wave, this regular sampling picks out notes at different frequencies, and it sounds more like the notes are going up and down at random. The speed of sampling can be varied so that, for example, your apparently random notes can coincide with the rhythm the rest of the band is playing. Simple but effective.
"But I try to play the instrument creatively, and I try personally to play good music but I'm not in the business of promoting myself as opposed to the band. I'm not in the business of trying to be a keyboard 'name' - I'm more interested in the direction of the band."
And the news there of course is that the line up of the band has changed, guitarist Mick Rogers being replaced by singer/guitarist Chris Thompson and guitarist Dave Flett. Manfred envisages that, whereas the band had been perhaps 80 percent 'instrumental' before, it will now be more like 60 percent instrumental with much more emphasis on vocals.
Having rehearsed extensively with the new band members, the band has been going out on 'test gigs' where they are not publicised as the Earth Band.
"I'm so cautious." explained Manfred, "I've got to be absolutely sure before I get up and do something, that it really is right. It's the same with an album. My belief is that the first 10 gigs any band does will be duff, yet I believe now, listening to us at rehearsal, that my caution has been unnecessary."
"When you play on stage, you really put yourself on the line. Anyone has got the right to get up, turn his back on you and walk out - which is an insult, because you're playing and he's walked out on you. That's why I don't ever want to play in a band that's no good live."
"Gigs are very important to me personally, but professionally I'm more concerned about making good albums. I don't like making records but I need to spend much more time making them. I wish there were no such things as recording studios, but there are."
Manfred in fact, is part owner of a studio in Old Kent Road. As long ago as 1968, he realised that his band was spending so much money in the studio that they might as well have their own. Financially this investment hasn't paid off, he says, but creatively he reckons it has,"
"We try and make things so that other people who use the studio feel as good about it as we do. It makes a tremendous difference - just the facility of having a base is good. Basically a recording studio is usually a very carefully designed instrument to prevent you making music. We're basically live musicians - we like to play loud, and that causes problems. We like to stand round close together - that's not very easy to do. We like to hear each other without headphones - that can't be done."
"You can't just talk to the engineer - you've got to wait until he presses a button, and so it goes on. But I'm pretty determined now to stop fighting recording studios and for the band to become good in the studio. The best albums are made by people that can do that."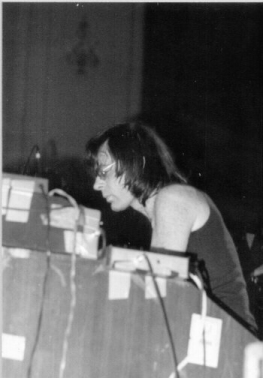 Canadian Article 1975
Take of English earth as much
As either hand may rightly clutch...
Lay that earth upon the heart,
And thy sickness shall depart.
This impressive quote from Rudyard Kipling be-rhymes the feeling Manfred Mann's Earth Band is recently conveying to a congregate of fans. What's good for the good earth, is good for the bad heart. That's exactly the medicine Manfred Mann has been dosing out for the past ten years. Ever since his first hit single of "5,4,3,2,1" in 1964, Manfred Mann's name has appeared under numerous other recordings such as "Do Wah Diddy" and "Pretty Flamingo". He has always been able to create an uplifting emotion in the hearts of his followers; whether it be through the impressive and majestic "Joybringer" or the childlike simplicity of "My name is Jack". Having had experience of forming three bands, each with their own detectable style, Manfred Mann has spawned a number of competent musicians, including Jack Bruce, fifth Beatle Klaus Voorman and Tom McGuiness (of McGuinness Flint fame). Part of Manfred's success was due to his lasting relationship with Mike Hugg in the Mann Hugg Blues Brothers, the Manfred Mann group, and the immensely underrated, Chapter III.
"Chapter III was a band with preconceptions and pretensions. After a year and a half, Mike started getting into his own compositions where he wanted to do his thing. Because he was the singer, I got tired of only having to do his own songs because he would only sing his own songs....Mike's one of those guy's that writes a thousand songs before breakfast. So you're recording them all the time. You do three a week and you're only doing 1 per cent of his writing. So we just never got around to doing something else, and I wanted to do other songs."
Hence the Earth band was created.
"This band started immediately, with absolutely no pretention. We had no idea what it would be. We just got together. But it's changed. The music's changed a lot since the first albums."
Despite the stylistic changes, Manfred Mann has consistently remained a significant individual in the development of modern musicology. His contribution to twentieth century music has been a minimal acceptance to the masses. Consequently, his talent is appreciated more by fellow musicians through their technical praise and criticism. Even within the confines of the Earth Band, any criticism received is not taken personally. Owing this honest criticism to the mastering of his music, Manfred Mann has progressed with the times, while remaining in the hard rocking fashion of the late sixties.
Unlike many of his contemporaries, Manfred Mann's Band can appear before an audience of devoted King Crimson fans one night, and Nazareth the next. Despite the wide range of style, he feels his music is not composed to derive any deep, hidden meanings of peace, love and cosmic ideology.
"The music is far more important and delivers a far more fundamental, subconscious, emotional thing than all the verbalising in the world. A lot of people usually feel they have to verbalise a big message (that) the band's trying to convey..."
The Earth Band approach to the dynamics of heavy rock and roll is rather direct. Their albums all have a definite consistency in sound. This is not to suggest that there is any rephrasing of structural concepts, but more of a consistency in their style. The major influence on their style has taken much from the school of jazz. "Sky High", a track from their latest album The Good Earth, features an instrumental passage with an almost Zappa-like feel to it. This is not surprising, as Frank is one of his major influences along with the Mahavishnu Orchestra and Ornette Coleman. Hence his attitudes towards the structural development and progression of a song.
"We have a lot of sections that we allow ourselves to do (improvisations).. There's a lot of freedom. (It's improvised,) within very rigid arrangements. We try and get a kind of compromise between heavily arranged things .. and sections which are fairly loose, and all we know is how we're gonna get out of these things."
Their utilization of pre-recorded choral tapes has proven that even heavy metal rockers can be ethereal once in a while without showing signs of any significant dissimilation.
"We didn't want to become pretentious. We try to use the tapes in a way that you hear a strange tape coming out with a weird kind of singing .. a sort of thing like that could be pretentious. But we have a secret way of getting out of it, which is that you can always tap your foot to it. I'm not joking. As long as it's going ta-ta-ta-ta-ta .. as long as that's going and someone's singing something strange and it's all weird, it's OK."
The question of pre-recorded tapes being used in concert has caused Manfred Mann some problems on our own good Canuck earth. Last August, they were barred from performing again with the aid of tapes in the Ottowa-Hull area.
"We did a gig with another band (Babe Ruth) and it was said that we used 'orchestral' tapes .. and we used no orchestral tapes. We're not trying to be an orchestra. The guy (James Lytle) was worried and wrote a letter saying that we had used orchestral tapes. Now, as if you're trying to fake your way and do musicians out of a job or something, but we're using our own effects that we made in the studio ourselves. We now have formal permission from the A.F. of M. to use those and only those. We never did use any orchestral tapes. We don't even use any orchestral walk-on tapes."
Aside from the tapes, there is something more distinctive that has become an important trademark: the synthesiser. Manfred first incorporated the synthesizer when the Earth Band was in its primal stages. He originally considered it on the 'new toy' level until he started recording. Then he realised its potential and incorporated it into the sound of the new band. His use of the synthesizer, in the construction of his songs, is varied. At times, it is a very effective noisemaker, much on the same level as a drummer's bells and gongs. Other times, it becomes a very emotional and moving inflection of sound. But through this versatile instrument, he has come to respect a high calibre of musicianship in those he listens to. His admiration for the Mahavishnu Orchestra has led him to feel that "Jan Hammer is the best synthesizer player, bar none."
Simplicity is the basic concept for Manfred's consideration of his keyboard selection.
"The more keyboards you have, the easier it gets. That's the thing. I must tell you, it's easier now with the three than it is with two. The hardest thing is to do it all with one. Much, much more difficult. You see, I'm trying to resist this desire to have more keyboards. I think that if I got another keyboard, which I probably will, I'll probably get an electric piano. I think I've got enough synthesisers."
The delicate sensitivity of a mellotron is one reason fro not dragging one around on tour, but the questionable quality of the reproduction is also a major factor.
"Any band you hear with a mellotron, unless the mellotron is playing on its own, sounds very muddy. When everyone's playing together, you've got this big orchestra going 'mmmmmmm'. It's always a very muddy sound and I've tried it. I tried it on "Father of Day" because we recorded it with a mellotron and I tried it for one gig. I played it for fifteen seconds and that's my sole use of the mellotron."
The instruments are all part of Manfred Mann's departure from the music of those "Do Wah Diddy" days. During his live performances, the audience aren't shouting for those golden oldies anymore. They're just pleasant memories in the back of their commercial minded heads. Consequently, the element of surprise and spontaneity is a major factor in the performance of a newly arranged version of Dylan's "The Mighty Quinn".
It's a final attempt at getting the audience out of their seats and singing along. Manfred's feelings towards audience participation is one of lengthy passages built around the reaction, rather than the reaction improvised around the passages.
"We don't make a real effort to make people sing. All we do is stop, and suddenly people are singing and we just leave it and then we carry on. To me, that was people singing. We're not one of those bands like, 'Everybody get up on your feet', and give them precise and specific instructions, 'Now all sing the song together'. In Europe though, people tend to sing a lot more."
The progression of his band has tended to shy ways from any of his past commercial hits. The music is conceived on a totally different plane, although Manfred wishes he could achieve a similar height in popularity with his music today. Then, what is the reason for the haunting memory of "The Mighty Quinn" and that period of his career?
"We don't want to relive it, and we don't really want to pretend it never happened. What I'm saying is quite specific. We don't mind saying, "This is one of the old songs."
Neither, it seems, does a large portion of his audience. For the Earth band, the music comes first and last - whether it be "The Mighty Quinn" or "Father of Day". All he's ever wanted to do with his music is to give the audience a good time. So, the Earth Band's stage presentation relies very heavily on the conscious level of its audience. The atmosphere reflects on the band's playing.
"We have trouble in the studio getting the atmosphere, cause we respond very much to the atmosphere. We're reacting. It's very much a visual thing. You know, there are some bands often at a gig, and you sit backstage and you hear them playing and you say, 'Heh, this sounds good'. And you get out there and the instant you walk through the door, it's boring. You just look and somehow there's nothing happening, yet when you actually listen, the music's good. It sounds good, but the moment you look, it doesn't seem right. And I think with us, some of what you're hearing, is the fact that it's feeling good and it's atmosphere."
Manfred Mann is also an artist that can turn another composer's song into a completely different, yet satisfying, arrangement. He has been successful with randy Newmans's "Living Without You" as well as all the Dylan material.
"One of my side strange abilities is to hear a good song, no matter how it's being performed. Even if you get a bad performance, I can still hear that there's a good song. And some of Dylan's performances, in relation to what you would call 'produced' performances, like Elton John or The Beatles, are very, very personal. But in a sense, bad. very often they hide the melody line. Go back and listen to the original of "Father of Day", and what I could hear was a very, very good song hidden away. Now, you do that at a quarter of the speed and it's gonna be good."
Their future development depends on consistently writing substantial material, the same for any popular band that want to stay popular. Manfred plans to spend two months on the next recording to insure a proper consistency in their music. Their good time music. Their good earth music. With this, Manfred Mann and his Earthy Band are set to stage the stars. But, is there a place in this uncertain business for a rock and roll Pink Floyd? Well, I guess that all depends on whether you want your music to analyse or to rock to.
The Mann who came in from the cold
UK Press 1976
So how come Manfred Mann gets the big freeze when promoters work out those big festival line-ups? It's a situation which continues to embitter the Mann who's currently high in both the single and album charts on Bronze with Blinded by the Light and Roaring Silence.
The general seeming lack of interest in his recent bands is another reason Mann has spent so much time out of Britain since his last hit, 'Joybringer', but he is philosophical. "I've got used to the English attitude. I've also realised that publicity follows from whatever you do. What you've got to do is create interest in yourself. If an album doesn't do well, I take the blame. If the record is right, suddenly the whole world is interested."
The departure from the Earth Band of Mick Rogers meant a switch in its music, a switch which has paid dividends. Pausing only to dash downstairs to his bike to collect a bag of apples from the carrier bag, Manfred explained: "When Mick Rogers went we were left with a gap. My inclination is always to have someone waiting on the sidelines before I change the band, except this time we decided to take a chance. It's a compliment to Mick's ability that we brought in two people (Chris Thompson and Dave Flett) - he was a superb guitar player, not quite a good enough singer, and so I realised right from the beginning that we wouldn't have one guy good enough to sing and play guitar as well. Between the two different guitar styles (Flett is lead with Thompson also on guitar) we have a nice balance, and the band has shifted five or ten percent towards songs."
"People's attitudes within the band are more open, less self conscious. There was a schizophrenic element before, half jazz and half rock. Now I think we can combine the two. Chris is not, as Mick Rogers was, primarily a guitarist, but a vocalist. The way we perform alters the character of the band. That's why the bands I've been in sound so very, very different. All the people I work with will male the band work in different ways."
Manfred's forthright attitude tends to upset some people within the music business and music press, but he's himself and he intends to stick that way. One example of his attitude is that between 1964 and 1969 he notched up 15 straight hits. Then packed it all in.
"We'd been doing sort of pop singles for six years and I felt that the time had come to stop. I was a slight misfit throughout the 60's. The time had come to stop trying to hold onto success. Mike Hugg and I got involved in a very heavy jazz-rock thing that was an over-reaction to the pop thing. I've never, since then, missed the razzmatazz that surrounds singles, but when it's occasionally returned I don't regret it. We enjoy the success of it. But I don't want the people in the grocery shop looking at me again."
Mann and Hugg - before Manfred Mann the group, they were the Mann-Hugg Blues Brothers in the early 60's - formed Manfred Mann Chapter Three. It didn't last long.
"We lost our way," Manfred confesses. "I felt I had nothing to contribute to that era, and it seemed very, very logical for Mike to do his thing the way he wanted to do it. I'm better as an interpreter than as a writer, plus the fact that I am seriously not a good songwriter. If you look at our albums, you'll see that I've written stuff, but the best things have been those written by other people. And the best things I've written tend to be instrumentals. I wanted to work in a situation where there are no preconceptions, so I got hold of people who had abilities and said 'Let's form a band'. We (EarthBand) gradually moved in a direction unselfconsciously. I feel my job in the band is to use everybody's abilities to the full. I couldn't do it all on my own... I need their abilities."
And, with a rare attack of modesty, our hero was on his velocipede and away.
Richard Green
Manfreds know who to blame.
Rockstar's candy McGaw talks to Mick Williams of Earth Band's road crew and discovers that if anything goes wrong on-stage - it's not his fault. (Rockstar UK 1976)
Manfred Mann and the Earth Band and have been blinding everyone with their bright lights of late. With a current hit single well up in the charts and a tour which has brought wide acceptance to this talented group, we thought you musicians out there might like some information on the technical aspect if things. Who would know better than the number one man of the road crew, the sound man. National Rockstar went to work on Mick Williams and he brilliantly explained just how Manfred and the band are set up on stage.

Manfred Mann
Manfred is one of the focal points of the band, as he's responsible for a good many of the sound effects in the music. He uses three main instruments when performing, a Hammond C3 Organ, a Mini Moog, and a Fender Rhodes 73 Stage Piano. With these as the basis, he then goes into a rather intricate series of connections, best dealt with in terms of the individual instruments.
The C3 is plugged into an MXR Phase 100 and an MXR Noisegate mixer. These in turn flow into a Hiwatt 200w amplifier, which then goes into a 4 x 12" Hiwatt cabinet that forms a segment of a two section stack.
Mann's Mini Moog is directly connected to an Echoplex system, which accounts for some of the great work on Blinded and other numbers. The Echoplex goes into an Acoustic 270 amp, a popular American name most used by bass players in the business. The amp couples with its mate, an Acoustic 271 Cabinet, which has two 15" Altec speakers with a horn on the top.
The Fender Rhodes links to an MXR Phase 90 effects mixer and carries back to the same Hiwatt stack mentioned above. The Fender has its own volume controls, so Manfred doesn't have to fiddle very much to vary what he's doing while whizzing about on the keyboards.
As far a pedals go, Mick explains: "Manfred uses a specially customised unit of Sho-Bud volume controls rolled into one to make it easy for him to move around. The Mini Moog sits on top of the Hammond, and both go into this single unit on-stage. The Moog has been modified slightly to make it tune easier and to stabilise the tuning after excessive use. The whole band uses the Mini's tuning device, a Korg Mini-tuner, as it has a metre with a needle indicating the correct frequency to be used." Mick feels that this device is superior to the strobe tuner, one commonly included in a lot of groups' gear.

Chris Thompson
Chris is the man responsible for the Earth Band's vocals the majority of the time. In addition, he has a gorgeous Les Paul Custom guitar in a sunburst finish, so lovely that most of the guitar pickers in the audiences drool in their seats. Mick had quite a time assembling all the bits on Chris and this is what he came up with.
"Chris had the pick-ups on the Les Paul rewound by Ken Armstrong, son of Dan Armstrong, who makes guitars. He bought it new last year, making it a '75. The Gibson is plugged into a Cry Baby pedal and then put into an MXR Distortion booster and Maestro Phase Shifter with a varied speed control." Again this adds to the great variation and dynamics found in the band's production.
The pedals are connected up to an old Fender Showman amp which sits in front as a pre-amp. This goes into a slave amp setup and back to a Hiwatt G12 4 x 12" cabinet.
Mick slipped up by saying: "Chris also has a Gibson L5 which is beautiful. But the guitar is totally unsuitable for Earth Band purposes. Chris really loves it." And we're sure a lot of others would too.

Colin Pattenden
Colin is a man of many basses. Mick describes him as the experimenter in the group. Seems Colin changes everything around every time he goes on stage, forever searching for the 'perfect' sound. At present, Pattenden owns a black Rickenbacker bass (as seen on the tour), a '63 black Fender Precision, and a bass with a '70 Fender Jazz neck attached to a body which Colin did himself. The body is made of what Mick referred to as a special high density Fapela wood, noted to be better acoustically than most woods used today.
"For strings, Colin uses Rotosound Wirewound which he has been given. These are a new type where the wire wrapping stops before the bridge of the neck. This means they have to be carefully put on to get them right, or else it affects the sound."
Mick describes Pattenden's amplifying system: "The choice of bass for the night is put directly into another Acoustic 270 amp which goes directly into two Hiwatt 200 amplifiers. These then go through four custom Altec P.A. bins, which Colin either built himself or severely modified. Each has a JBL K140 15" speaker."
Colin has an Acoustic 206 cabinet as too, also modified. This one has two 15" JBL speakers in it. Pattenden doesn't necessarily use all of his equipment at once. That way he has two bins and two amps for a different combination with the guitars each night. As Mick says: "It's the quest for the perfect sound with the band."

Dave Flett
Dave Flett must like changes. Mick describes him as the group member most into sound variations with built-in tremelo units and an array of foot pedals. According to Mick: "Dave has a Gibson Flying Arrow guitar with what is really a vibrato unit built into it. At least that's what the function is." Dave also uses a white Strat, which the audience doesn't see too much of.
Flett is really into the footwork, as he employs four special units controlled from the floor. Dave's guitar goes through a Cry Baby pedal, an MXR Phase 90, an MXR distortion booster, and lastly, an Echoplex, just to keep up with the maestro on the keyboards.
These sound varying devices are then sent into a 100w Hiwatt amp with two Carlsboro 4 x 12" cabinets. These have 15" speakers to fully voice the results of Flett's mixtures in the sound. For anyone interested, Mr. Flett uses Picato strings.

Chris Slade
Up next on the list is Chris, Earth Band's thumping drummer. The percussion section is very important in the group's music, as it's very apparent on the majority of the album and during the live set. Mick easily ran down the list of what Chris uses, as the Fibes Drum Kit is rather a basic one.
"There's a 22" bass drum, 16" and 18" floor toms, a 13" x 10" rack tom, and a Ludwig 14" snare drum."
What is elaborate is the variation of cymbals and bells used for the Earth Band. Colin has a combination of Paiste and Zildjian cymbals, staring with a 14" hi-hat, two 18" crash cymbals, and a 20" Paiste Dark Ride cymbal. Other cymbals are graduated down in size and include a few oddities such as Go Go Bells, an Indian Bell Tree and an old brass bell.
Mr Slade employs a Ludwig Speed King bass drum pedal and sticks from Manny's Music shop in New York. This is the one hassle in the group, as Chris refuses to use any other make, and means someone has to fly to New York regularly to buy sticks since Manny won't ship them overseas. We offered to help out any time. National Rockstar at your service.

Mick The Mixer
Last but not least, we come to our informant, Mick William's, soundman for Manfred and the Earth Band. He briefly tried to explain the basics of the P.A. system he uses, but as it's being modified, we got entangled with specifics. At the moment what is present when you see the group is an old Kelsey system with a sixteen channel desk. "This has been modified so that there are extra Martin bins, and the horns have a JBL 2500w rig driven by a Midas 1000w amp.
Other equipment involved includes a Quad 303 amp, making it a four way system when combined with the above. Mick uses a JBL driver for the system thus he's able to project all the variations the group produces on stage. A TEAC two-channel tape recorder and a two-track machine account for Chris Thompson's sustaining that one very breathless note at the gigs, though this must be altered as the break between real voice and taped voice is apparent to the aware ear.
We asked Mick how he feels about working for the band and he replied: "The band is very fair. They trust the road crew and if something goes wrong when they go on, it's usually their fault in not plugging something in right or turning something on - and they know it." In other words, Manfred Mann's Earth Band don't get on their roadies backs, which any road crew can appreciate.
Sounds (UK) 1976 - Changing Face of Mann 
To bring you this Manfred Mann interview Hugh Fielder tried every trick in the book, even the Pregnant pause. But Manfred, being Very Intellectual, rumbled 'em all. Still Hugh being the professional he is, brings you the….
"Be careful. He can be a bit of a sod to interview sometimes you know."
What, Manfred Mann? Never. He's been around for donkey's years, which will give us loads to talk about. He'll probably have read the encouraging review I've written on his latest album, "The Roaring Silence", so he'll know I'm in favour of what the band are doing. And we can always talk about the time I took my girlfriend to see the band at the Marquee in 1966 and she fell in love with Paul Jones…
"For Christ's sake don't start talking about the past. He's not interested; he'll clam up. Just be on your guard that's all."
This homely advice came from another rock journalist I was chatting to before setting off to Bronze Records' headquarters in Chalk Farm for an appointment with Mr.Mann.
Pessimism; that's the trouble with rock journalism today, I mused as I checked the recording functions of my tape recorder on the tube en route to Bronze (well it give the other people in the carriage something to look at doesn't it).
Manfred Mann? No problem. After all, he's always been known as someone who can string more than five words together, some of them controversial. It'll make a change from the old-new album, new tour fodder. Might even talk about the place of rock and roll in an advanced technological society. Wonder what he thinks about the riots in Soweto.
Hello, my stop. Here we are. Smart looking office block just next to the Roundhouse. Receptionist's a good looking girl too. Don't get too many of them round Holloway Road that's for sure. What's that love? Oh he's just finishing another interview is he? That's alright. I'll wait here.
Hmm, doing a string of interviews all afternoon is he? That's not so good. They tend to start acting like robots after the fourth one. Still, we should be able to get over that one. Wonder whether he thinks that 'Cry The Beloved Country' has any relevance to the present….
Bronze Records' press officer breezes in having slipped the preceding journalist out the back way. All smiles and efficiency. This lad could go far. Straight to the conference room and there's Manfred, looking slightly thinner and shorter than I'd imagined (don't they all?), and the two newest members of the band, lead guitarist Dave Flett and vocalist Chris Thompson. Both are here to provide a group front rather than simply an individual one and also, as I discover later, to learn something about how to cope with interviews.
Yes, Manfred has read my review and he thinks it's very fair. The criticisms I made are the ones that he would have made of the album if he had to review it.
See, what did I tell you. This is going to be a piece of cake. Now settle down everyone while I stick the microphone into the correct socket and let fly with my first incisive question.
Manfred, it seems that you're now doing to Bruce Springsteen's 'Blinded By The Light' what you did to Dylan's 'Mighty Quinn' and 'Just Like a Woman' in terms of interpretation (it may not be a question but I'd like to see Parkinson make a better start).
"It's not a conscious thing. It's just that we are always looking for good songs. And not just good songs; songs that you can do something with. For example I wouldn't do an Elton John song because he does them in a way that I don't feel I can throw any new angle on. I'm not aiming to do that. But I say 'this sounds a good song, let's do it', and it just works out that way. And if you make that comment then it's your prerogative to do so. But that's just the way it's happened over the last two albums."
Good start Manfred. And just how did you come across Springsteen's songs?
"A guy in the States – a DJ in Philadelphia we know quite well – who knew Springsteen quite a long time ago gave me the first two albums back around the end of '73. Some time before 'Born to Run' came out. I listened to them and the songs that I liked and felt I could do something with were on the first album, 'Greetings From Asbury Park'. My first choice was 'Spirits In The Night' which we put on the last album, 'Nightingales and Bombers'. I preferred it as a song. I think I still do."
Meaty stuff. We're going well. But it seems to me that you've put much more care and attention into 'Blinded By The Light' as a song.
"There again, that's for you to say. I don't think we worked harder. Maybe it has worked out better because it seems to have communicated to people better. But we worked equally hard on both of them."
If you say so Manfred. Did 'The Roaring Silence' take long to record?
"It was spread over the first six months of this year. We did about three batches of recordings and some European tours in between."
Neat, concise even. Now this album is the first with Chris and Dave on it, replacing Mick Rogers. Did you plan on a two-for-one replacement?
"We didn't think about it but it seemed unlikely we'd find one guy who could do what we wanted. It just proceeded naturally and in the end we decided it would be good to have two alternative guitar styles within the band. We tried out as many people as we could and this is the result."
Quite so. But now fling this thing open a little wider. Do you consider the present band a natural progression for you?
"I don't know. You see I have to keep throwing these questions back at you because it's for you to say how the progression sounds. When you say 'natural', we've tried not to think all the time about where we are going. Instead we say: 'this sounds good; let's do it'. And we let the development happen naturally. What I mean by natural is that you're working out a song and suddenly Chris or Dave does something and you realise that the band can do it a different way. But it may not be a natural development viewed from the outside. It may sound like a sudden switch from one kind of music to another. But to us it's natural."
Er yes, I'm with you I think. What about the balance between your own and other people's songs on the album, Do you aim for a specific proportion?
"It depends on the material available. If I'd found another two songs as good as 'Singing the Dolphin Through' (by Mike heron and 'Blinded By The Light' we would probably have put them on the album. We're not actually aiming for a balance. We're not actually aiming for anything specific except that the result has got to be really good. Again, we approach the thing naturally."
I'm beginning to wish I'd never mentioned the word 'natural'. Still he's answering all the questions, even if he is tossing half of them back at me. Are the outside songs recommended to you or do you go looking for them?
"My brain never stops working on material. If I'm driving through the country to go for a walk with my kids I'm listening to Radio Caroline and if there's a track that sounds good I'll sit 'til the end and find out who it is. If I'm in a fish and chip shop and something good comes on and I don't know who it is, I'll ask. If I go to South Africa to see my parents I'll go into a record shop and see what's there because there might be a good writer. I never stop looking. I listen to so much and do so little. Rearranging is what I do best; seeing something from a different angle. I don't think any of us in the band writes stuff as good as the material I rearrange. That applied to the Sixties when most of the stuff was outside material. Most of the stuff we've done over the last five years has been our own material but the things that have captured peoples' imagination has not been our won stuff. It's always been like that except with the odd instrumental."
Heavy but honest. Time for an easy one. Explain the title of your new album.
"It's got a kind of mysterious vibe to it. Maybe it has some connection with how things sound subconsciously and maybe it doesn't. But there's no big explanation. We used to do a song called 'Roaring Silence' but it didn't work out how I wanted it to for recording. But the title came before the song. It came from a television programme two or three years ago and I just thought that it had a great vibe about it."
OK. Back on track. You've been through the heady days of the mid-Sixties and yet you're obviously enjoying what you do now far more. Was the rest of it all worthwhile?
"It's easy to say in retrospect yes. I'm not sure at the time I would have wanted it quite like that, but I think in the end yes."
Good, good. And do you think that the whole Sixties beat boom paved the way for a lot of people to play the stuff they really wanted and get listened to?
"What do you think? Do you think the answer is yes?"
Hey, I'm supposed to be asking the questions around here. That's what I get paid for. But alright yes.
"Maybe. It's a question I find difficult because I don't see the wide angle view that you see of what's happening. I'm so conscious of what I'm doing that…"
Hold on a minute. Mustn't let him wriggle out of it. But surely you've seen yourself change?
"I've seen it, but it doesn't mean that I have the capacity to draw the right conclusions from it. I don't know what conclusions are to be drawn that paved the way for what's happening now. I suppose it must have done if it came before this, but I'm not sure I could answer your question as if I knew the answer. I think about what tape we are going to use on stage, when the lights are going to flash, that's the sort of thing I'm concerned with all the time."
My God, he did get out of it. Right, let's try it another way round. Supposing you found yourself a top pop group again with singles in the charts and the image of the band becoming as important as the music you were playing?
"It could only happen if we made it happen. I don't think it could happen without our active co-operation."
But you might start selling an awful lot of records without doing anything about it.
"We could start selling records but we need not for example keep putting out commercial accessible singles following it."
Pause. I'm going to try keeping quiet and see if he explains himself further. Ah, he's shifting in his seat.
"I would seek to have the band be very successful. If you make music then you want it to reach a great many people but it really depends what the music is that's reaching all those people. That's the key. Hopefully if it's an album then there's no big problem but if it simply revolves around the fact that all people remember you for is the single then I wouldn't like that."
Ha, it worked. Now we're getting somewhere. Quick, on with it. You're just about to go out on tour and presumably the fact that you have a single in the charts will draw more people to your gigs.
"I'm a bit worried about that actually. I'm worried that some of the audience won't be into the band; they'll just be aware of one song rather than us as a group." "But it's not really that kind of single is it", says Chris who has been taking a quiet but intelligent interest in the proceedings so far.
"No, but you'd be surprised," says Manfred. "Around the time 'Joybringer' was in the charts in '73 we suddenly found kids screaming at us again. It only happened at a few gigs but it was enough to make my blood run cold. It was like hearing a wolf cry in the middle of the night and not having a fire."
By which we can take it that we are unlikely to see Manfred guesting on stage with the bay City Rollers. But if you don't want people to come and see you purely on the strength of the single, how are you going to break through to new people?
"You can get a wider audience by producing an album, a single and a new album. people like the single so they buy the album to give it a listen. That's how you get a wider audience."
But that's a longer process isn't it?
"I think it's actually a quicker process because you can't be everywhere at once but the album can be."
Pause. Let's see if the same trick works again.
Manfred turns to Chris: "Chris, what you're watching is a journalistic pause. If the journalist pauses carefully enough, the guy he is interviewing always goes on and in those moments he finally gives himself away. That's right isn't it?" he says turning back to me.
Rumbled. Gasp. That'll teach me to try the same trick twice. Better see if we can salvage anything from this. Er… Why, is there something you don't want to give away then?
"Ah. e have the intellectual journalist here do we?" he laughs. Collapse of stout journalist. "It's just that I was pointing out to Chris what you tend to do. Of course there is nothing to give away."
And even if there was I'm not going to find it out now. Game to intelligent rock star who was doing interviews when I was still trying to puzzle out why cycling home after necking parties used to hurt so much. Oh well, better scratch around and see if there's any consolation crumbs lying around. Um, er, you tend to keep a fairly low profile Manfred, don't you?
"I keep a low profile because it's only intelligent for me to do so. I'd look ludicrous dropping my Y-fronts on stage. If it didn't I probably would. I'm not going to be the person I'm not but if I see someone else doing it and they carry it off with style I'm not really averse to them doing that. I don't take the view that it's not music. I mean, we try to use lights and tapes intelligently. I've no animosity towards people who use theatrics. Even the people who stand brooding in a corner are using a kind of reverse theatrics. The moment you come onto the stage you are in showbusiness."
So where do you draw the line?
"What's comfortable to you and what you really do well. The idea is to be good on stage. We aren't playing the album, we are trying to do a set that will get through and present it so that people will sit up and take notice."
Attendant publicist is now looking at his watch and shuffling his feet. Time for just one more question. Might as well go out with a bang. Manfred, you don't like looking back do you?
"No, I don't. I don't think the audience is interested in looking back. I'm certainly not interested in looking back. I'm just interested in what we are doing now. It's not really a principle. It's just that I get fed up with people who just come up and start talking about the mid-Sixties. Asking me why Paul Jones left the band and so forth. I don't mind some valid comparisons being made between then and now but some people want to talk about nothing else. At least we've chatted about what we are doing and the album."
Thanks you Manfred. handshakes all round and I'm ushered out by the publicist. It was an enjoyable interview but a bit harder than I'd envisaged.
Publicist tries to steer out the back way. No chance. We go out the front way and there is an eminent scribe from a rival paper waiting his turn.
We exchange pleasantries. He asks me how it went. Fine I answer. As he gets up to retrace my steps to the conference room I say: "For Christ's sake don't start talking about the past. he'll clam up. Just be on your guard, that's all."
He smiles.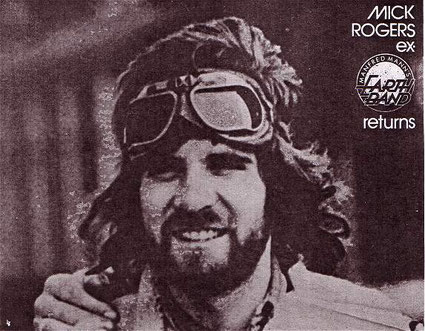 "Australia's a nice place to visit but I wouldn't want to stay here:"
Thanks to Mick Maloney
Mick Rogers is wearing the neatest pair of jeans you could ever hope to see. There, running down the legs o( the clean denim to his elegantly simple fawn pull-on boots, is the perfect crease. We sit in his living room, in Melbourne's St Kilda Road, and the Pre-dominant color is green; green carpet, light green drapes. We listen to a tape of Chick Corea playing the kind of music Mick likes to hear. On a shelf, while we drink our cups of conventional tea from glass containers, are such books as The I Ching, The Hobbit. and a Leon Uris number, among others. Chick s piano music isn't too loud. This is the scene so far.
Mick Rogers is a familiar name to the world of rock music. For several years he had been singer and instrumentalist in the Manfred Mann Earth Band, touring the planet. England, Europe. America and Australia twice: to consistent acceptance. As vocalist for the band, Mick followed in the highly rated footsteps of Paul Jones and Mike D'Abo, and other names such as Jack Bruce and Klaus Voorman. Recently he made a decision to leave the band. to pursue music of more interest to him, and after a brief spell,  when it seemed he might be a player in Jack Bruce s new group. he returned to Australia, mainly, it seems because his Australian wife felt like coming to terms with the old country again.
If we stretch our memories back a few more years, we come to the time when Mtick, as a young Englander in Australia, played with a band called Procession. As historians recall, Procession was a pretty hot local band for the time. They forged a little local history by being the first Oz rock band to make a live recording at Sebastian's Disco in Melbourne, and at the fag end of the sordid sixties, they had an enthusiastic following. The members of Procession thought they were a pretty good band, so they journeyed to Mick's s former home, England, to try out there. (Ross `Duke' Wilson who had been playing in another successful band, The Party Machine, went across to join them).  Unfortunately Procession fell apart. But Mick managed to land himself the spot as Manfred's vocalist, which he held from the start of the '70s till just recently. And now he's back where he started.
It sure seems an odd place to be. Australia that is, for a musician who's had the universal acceptance that Mick has. He left Manfred Mann because he says he was dissatisfied, finally, with the sort of music they were making. He felt it was time for a change. He told this to Manfred, who suggested that Mick work on his own album, and put it out through Bronze, the label which handles the Earth Band stuff. Mick says he gave a lot of thought to this, but there were always little things getting in the way. The musicians he wanted for the album would be doing sessions, or touring Europe and America, and he could never pull them all together at the same time.
Mick had come all the way along in rock n' roll, and wanted to get into something a little more demanding, music that could be called jazz-rock. Manfred Mann had come from the other end into rock. and Mick's point in leaving the band was that he was at the stage now, in musical identity, that Manfred had been at several years ago. He was ready for it and needed to do it. For a while it seemed as if he might be working out with Jack Bruce. It would have been just fine by Mick, who has much admiration for Bruce. But Mick says that Bruce went to Scotland for a holiday, and found someone else for the job while he was in the highlands. So for the Rogers family it was time to return to the Great Land in the South. And while here he has been assembling his latest venture with local talent. A band called Eclipse will be his official venture into what you can loosely call jazz-rock. Hell, we may as well call it some-thing ."Manfred (Mann) has had a lot of good people in his band," he says in his soft, well modulated English voice. "They all did really well after playing with Manfred - so I'm 
waiting for my turn. He grins as he wonders whether Mr Destiny really does have a hand in there somewhere. I had been wondering about Mick coming back to Australia. I mean; to return temporarily for family reasons is understandable. But, hell to make a career here in jazz-rock, with a quite acceptable career in rock already to his credit. Like, let's be frank. There's no exciting career in this country for a jazz-rock act. You' ve got to leave eventually.
Well, no he says. He's not that keen on. Australia. You know, it's an okay place to visit, mind you, but he wouldn't .want to live here. Not for too long anyway. Nor does he wish to live in America. England is the home and native land for Mick Rogers, and that s where he'd like to do most of his living.
Well I'm, afraid that philosophy begs the question, did he intend to play a little in Australia with Eclipse and then leave the band to go away again? Or was it in his mind to take the band overseas if the opportunity was there? Well?
Mick walks to the tape recorder, from which the echoes of Chick Corea's last piano notes have recently died.
"If we get a good deal, he says, well go" And no, he doesn't intend to leave the band. he'd prefer that the entire Eclipse troupe took the journey, probably to America, if things happen right.
It's a lovely feeling to be on the road in America he says, recalling the tours he took in that country with Manfred Mann -as he says. one of the most famous undiscovered bands around for the past few years. And a band that on various American tours, used  both Kiss and Status Quo, as support acts. "In America, you're well looked after all the time on the road. And the thought of playing to those huge auditoriums, to all those people, its very exciting.
Eclipse is about to begin work on an album in Melbourne, and to get into a lot more work. They've only played one gig as I speak to Mick.
The line-up is Mick, guitar; Graham Morgan, drums; Mike Clarke, bass; Peter Jones, piano. The other lads are doing a lot of Melbourne session work, but they're keen to get Eclipse happening right.
The trouble, of course, is that getting the Eclipse kind of music across to the public is virtually impossible in Australia -except for a few moments on the ABC. Ayers Rock, who play a not very outlandish form of jazz-rock manage it occasionally; and of course.2JJ helps. But how can a serious jazz-rock listening band manage a single that the majority of Oz commercial radio stations could handle'
"You've got to present a radio station with three and a half minutes of something which .will go through," he agrees.
The sort of music Mick admires is performed by people like Zappa, Chick Corea. Mahavishnu, King Crimson and Robert Fripp. But he also likes the hard funk stuff like ZZ Top. As for Eclipse; he wants to play "listening music" - stuff which does not delve too much into musical introversion, and he wants the band to be a visual act. 'because he says bands have to be entertaining these days.'
As for me, I haven t heard the band yet. In fact hardly anyone has. But they are generating a lot of interest with their idea, and work is beginning to happen now. (There'll be a review in RAM in a future issue.) As for Mick, as we parted, he said he hoped the band could find a nice level and stick together. He loves playing to audiences, certainly doesn't dislike being on the road, enjoys recording and creating in the studio a hell of a lot, is keen to play the new Eclipse music, and not only that ...
"Were all getting on y'know." he reckons, his boyish face giving off a grin. "Have to stop all this messing around." I reached for the white walking cane and limped home.
Colin Talbot
From Pop to Rock with Manfred Mann
Way Around Magazine 22 Sept 1976 Thanks to Mick Maloney)
MANFRED MANN is a name that everyone whether old or young, has heard of at one time or another, but one which is still quite a mystery to most. Although he is definitely the leader of the Earth Band he dresses in black, while the other members wear colourful outfits and he appears not to want the status of being the top man in the band, but that of an equal member. The band has now been together for 41/2 years and apart from one line-up change in October '75, when Mick Rogers left to be replaced by Dave Flett and Chris Thompson, the band have remained very stable.
The band have at present a single 'Blinded By The Light' high in the charts, their album 'The Roaring Silence has just entered the top thirty album charts and they are midway through a British tour.
Tonight (September 22nd) the band have just completed the gig at Leicester's De Montfort Hall which included two encores, one being the old Manfred single ' Mighty Quinn'.  This must have seemed a total contrast to the earlier part of their day, as they had just driven in from London after recording their spot on TOTP. The audience loved the band and rightly so, as they produced a powerful and slick show, with excellent music lighting and even occasional comedy from starts to finish.
After the concert I went backstage and asked Manfred what he thought of the concert
"I thought it was good, it took me a little while to get into it, but I thought that the music was very good.  I don't think it's the best we've played but it's a long way from the worst, so I'm very happy."
During the '60's you were very successful in the pop world, what made you decide to change to rock?"  "Well I'd been into jazz before I got involved in pop music and when 1969 came I think it was just time to give up.  I quit while we were still doing well.  We had a record in the Top Ten at the time and I just decided enough was enough.  If you try to play safe all the time I think you'll land up in the mud, and although I'm very cautious in everything I do this was one of those times when you just take a chance and obviously it was the right decision".
So you prefer to be in the rock world?
"Yes. I always felt a little bit of a misfit in the '60's, but I applied my brain to those kind of singles and there's still a part of me that is capable of doing that, although I don't do it much.  I yearned to do more than I was doing and it was disappointing to know that people viewed you as just a hit single maker, when I knew that the band was capable of much more."
Are you a very dedicated musician, or have you ever felt like giving up when things weren't going so well?
"I don't like the word dedicated because it sounds so posing and contrived. But 1 suppose that must be the truth because that's the only thing I've wanted to do. In some ways I'm a dedicated rock musician because I didn't want to do film scores which I was offered, and I didn't want to do TV commercials, which I actually did for a while. I also didn't want to produce for other people. I could do that too, because I produced for the Band, so I suppose I am dedicated to playing gigs. and being a live rock 'n 'roll musician, although I don't want to put any moral superiority on the word dedicated."
So you're still enjoying live gigs ?
"Oh definitely. It's the only thing I enjoy.  I don't like recording, although I think we are getting the albums right now. This band has always been good live and it was the albums we needed to work on. We thought we could rely on the live gigs but I realised a couple of years ago, that that wasn't true, but I still don't like  recording. I don't like being locked in a studio with its technological atmosphere around me. The studio is a place that is almost designed to prevent you from playing music with feeling and you always have to search for the inspirational moment, so I really enjoy playing live gigs, it's very important to me personally."
After five years of not playing festivals you recently did the Reading Festival, why was this?
"Well until recently my attitude has been forget England, I'm not bothered, as the press and publicity here have virtually ignored us for a few years and everywhere else we were doing well, but now things have come right here, and I don't feel resentful. But it was strange, we were playing well. and going down a storm and weren't offered one festival in five years, in any position on the bill. Within the band my vote was against playing Reading Festival unless we played at a better time, as I thought, "Hell it doesn't matter', As it turned out it was good so I was proved wrong."
A while back you did a tour with Kiss, now being a straight musician does it annoy you that they need to use make-up and gimmicks rather than just the music?
"No not at all. I think if Kiss can be very imaginative, as they are with make-up and clothes and their stage act then the best of luck to them. Please don't think that because I am fairly straight, using just music and lights that I am remotely opposed to people like David Bowie, Kiss or Gary Glitter because I'm all in favour of people like this and I wish them all bloody good luck.  The main thing is that when you do something you do it well, and these people obviously do. In fact, I feel almost aggressive about the fact that the world is against the Bay City Rollers, it's full of people who are resentful that these guys are being successful. Why the hell shouldn't they be as this is what music is all about? I don't enjoy what they do, but that is no reason to knock them.  I almost dressed up in a Rollers outfit for TOTP but I thought that people might misunderstand."
Your current album is 'The Roaring Silence', are you happy with the end product"
"I'm satisfied that the essence of what we did was good, and it has a lot of good moments, although I wished I had had another three months to do it in, even though we did reject at least 25 minutes of music. If I'd had longer I would have thrown off some of the things on the album, and recorded something else.  I just feel, it's got the odd weakness that I could have corrected if I'd had a bit more time, but in the end you've got to stop. We had been going on for six months and I was going mad, I just had to stop sometime, but basically I think it's good, but it's not for me to judge."
'Blinded By The Light' is now a hit single do you not feel this may attract the wrong type of audience to your band?
"Well they weren't the wrong audience tonight, and it's been a hit single for 5 weeks now, Christ if they're not coming now when will they come? I'm delighted to see the audiences are into the album and they're the type we want."
Graham Neale
---
Our next progression is finding the toilet.. - UK Interview 1977
Manfred Mann is something of an eccentric he goes berserk when people turn on tape recorders. Otherwise he's very pleasant. In this feature he has problems getting to the toilet. Bob Edmands investigates..
Decisions, decisions. For Manfred Mann, there are always decisions. Backstage at a gig in Southern Germany, he announces a dilemma; "How can I go to the toilet?" he asks. "People will see me".
Manfred has just changed into his stage costume. To be precise, he has swapped a blue T-shirt for a red one. Changing T-shirts hardly transforms Manfred's appearance. Whether in blue or red, still he looks like a bemused beatnik who took a wrong turn on an Aldermaston march. Manfred, though, obviously sees things a little differently. It's as though Clark Kent has stepped into a phone box, but still wants to remain incognito despite his codpiece and tights. Hence, the toilet dilemma.
The architect of the Donauhalle in the town of Ulm has failed to pencil in a can in easy reach of the star dressing room. Indeed to strain the potatoes one is obliged to cross the stage area in full view of the audience. No problem, if you're wearing a blue T-shirt, but in a red one, it's a problem. Manfred finds the answer in his overnight bag. An anorak that appears to be made out of silver foil. Manfred goes glitter? Not quite. The foil is merely the lining, designed to keep out extremes of climate. He zips himself in, and, collar hunched around him, makes for the door, looking furtive.
You may be wondering why Manfred should wish to encourage debate about his ablutions. It's a little unhip after all. Hardly the sort of thing you would expect from Robert Plant or Ritchie Blackmore or Keith Richard. But that's Manfred. A curious mixture of perplexity, authority, and self-mockery. Manfred describes himself as "a living rock legend." It's another little joke. Perhaps.
Manfred has just enhanced that legend by scoring a number one single with Bruce Springsteen's 'Blinded By The Light'. And as he once performed the same trick with Dylan's 'Mighty Quinn', this latest feat rather encourages the view that Springsteen is the new Dylan....
On the other hand, maybe it just shows that Manfred hasn't lost that ear for a great song that served him so well in the 60's, when he latched up no fewer than 15 hit singles. Naturally, you'd expect a rock legend with a No.1 American single to ponder the next step. Weighty debate about tactics and policy would come as no surprise. But Manfred's decision making has a range and momentum that goes somewhat further. He tends to agonise aloud over the very minutiae of existence.
"How can I go to the toilet?" he will ask. "people will see me".
When they come to film the Manfred Mann story, the parts a natural for Dustin Hoffman, re-running his Benjamin routine from The Graduate. Except that Hoffman doesn't doesn't look like Manfred, and Manfred's naivety is only partly genuine. Mainly it's an elaborate put-on, a defence mechanism, designed to confuse and amuse potential detractors.
He also frequently adopts the role of the loser musician, offering astute little sketches of life on the road. "How about coming out for a night with the boys?" he says, after the gig. "Have a tragic little evening sitting in the corner of the club".
So here we are, on the road with Manfred Mann's EarthBand, who were big in Germany before "Blinded" made them big in the States. A chance to assess the band's long term potential. Will "Blinded" prove to be no more than a brief reminder of former glories? Or is it a major new rock band about to establish itself in the big league?
Whatever, no sooner have we checked in our Ulm hotel that there's a graphic example of Manfred's obsessive commitment to his music. He has a keyboard set up in his room and is instructing the guitarist in the intricacy of an instrumental break he's thought up for a new number. He's been working on the song since before he left London three weeks before, and in his own words, "we've changed it every night."
The idea is that a chunk of be-bop should spring from the middle of the song, in contrast to the rock riff on which the tune hangs. And he's so keen on the idea he's virtually jiving in his seat as he plays. Upon arrival at the concert hall the band immediately rehearse the song again, by the way of a sound check. You wonder whether Manfred is perhaps a perfectionist who's gone over the top.
Chris Thompson (guitar, lead vocals) says: "A person who's had Manfred's amount of success, followed by success all over again, just has to be someone special. You may want to go down to the shops, he just wants to go over an arrangement again. He's always talking about the music. But working with him is always a laugh." He's not autocratic, in any way? "He's not at all bossy. He analyses himself in the same way he analyses other people. He recognises his own mistakes. He's always willing to listen."
Manfred explains his approach: "Some very talented bands know exactly what they want and go straight for it. I struggle, sweat and strain and move in ever decreasing circles around my objective until I get there. Frequently I hover around songs like a vulture over a carcass."
We start a formal interview. I've been warned that Manfred is a tough interviewee. The warnings prove uncannily accurate. It's as though he becomes a different person when confronted with a journalist's cassette. After 15 years, he's no doubt well aware of the dangers of misrepresenting himself.
The first signs that we're in for a rough time are his avoidance of eye contact and his apparent absorption in the latest issue of a trade paper...
Well, Manfred, congratulations on a No.1 single in the States. What took you so long? "It's not the sort of decision one takes. You'll have to ask the American public. I mean, you just work, and one day people will buy your record. One wasn't aiming exclusively in that direction. "We've been concentrating most of our energies on other aspects of our work, tracks that last five or 10 minutes. Also it's a different style of music now. The band's changed slightly since the '60's."
But surely this renewed success indicates a change of tactics? Manfred went through a phase at the end of the 60's when he deliberately moved away from hit singles to concentrate on more ambitious music. For some reason, discussion of his musical policy seems to anger him. So I say: "I have a feeling that at one time you had distaste for commercial songs. Have you now lost that distaste?"
Manfred starts shouting: "It's a lovely question. Great (to the band). You must observe this: "I have a feeling you once had a distaste". Starting off with a degree of uncertainty, then assuming that this is the case. Now, I'm meant to answer you assumption as if it is fact. Fuck Off".
From being relatively friendly, the interview has degenerated into flat-out abuse. And that's after two questions. Manfred continues: "Unfortunately the answer is the same as the answer to your first question. One wasn't aiming that way. That's not to say one had distaste for singles, only the wrong kind of singles. One wanted singles that fitted the band."
The dogged reporter plods on with a question about what sustained Manfred in the years of failure. "I decided that I enjoyed being on the road more than writing film music and TV commercials - the other alternative available in the early '70's. The leisured life of a composer in London didn't suit me. There are aspects of travel that I dislike, but on the whole I prefer being on the road to doing anything else."
This answer is less unpleasant, but certainly no more revealing. He stayed on the road because he preferred it. Surprise, surprise.
The reporter decides to try to outflank Manfred with a little aggro of his own. Earlier Manfred had spoken disparagingly of the band's "cosmic lyrics". Was he cynical towards what the band offered the public?
"It's merely a healthy ability to laugh at oneself. There's a fine line between being pretentious and being natural. That's the line we walk. As for me being cynical, anyone who is the least bit intelligent is accused of being cynical, unless he goes around with an insane grin on his face 24 hours a day."
In the course of the next question, the reporter attempts to go for the jugular by calling Manfred "a confident intellectual".
Question: "As a confident intellectual, why do you sell yourself short? You put other people's songs on the A-side of your album. You sing very little on the album. You call the band Manfred Mann's EarthBand as an apparent gesture to democracy."
Answer (spoken with intonation of disgust): "First of all, I don't feel I'm a confident intellectual. I'm an intelligent, confident human being perhaps, but intellectual, not at all. An intellectual is a guy unable to see the essence of a simple issue. The quality that marks me out, I think, is that I have very good judgement and that's as high as my ability goes. My judgement tells me that "Blinded By The Light", written by Bruce Springsteen, is better than "On The Road To Babylon" or "This Side Of Paradise", written by us. I think you'd have to agree that "Singing The Dolphin Through", written by Mike Heron is better than anything on the second side. That's what my judgement tells me."
Okay, so why do you do so little singing? (Manfred sings the duet on the last stretch of "Blinded"). "I'm not a good singer. I thought my voice would fit "Blinded By the Light". You needn't be a good singer to sing a little bit, but you need to be a good singer to sing all the while. In this case, my voice was a good contrast to Chris Thompson's unpleasant, gruff, big hero voice."
Chris Thompson shouts something abusive across the room.
So why is the band called the Earth Band? Is it a gesture to democracy? "Well the word 'band' rhymes rather well with the word 'Mann', we thought." The interview continues in this fashion for some time, a wearing bout of verbal pugilism. Curiously, when the cassette is switched off, Manfred reverts to normality. No more paranoia. Instead, there are abundant jokey reflections on the state of the music business, followed by appeals not to quote him. In many way's it's sad. When Manfred is talking for public consumption, he's guarded, secretive, unpleasant. When he's talking privately, he's frank, open and amusing. The mask is uglier than the face.
As Manfred's band prepare to go on stage, a man with close cropped grey hair appears to be putting on a pair of combinations. He's Chris Slade the drummer, and it transpires that the outfit is a Kung Fu outfit. Chris Slade is into martial arts, particularly karate and Zen archery. He explains that the point of Zen archery is not simply hitting the target, but the way you pull the bow. Which is of course true of many things. Chris is known as 'The Guru'. He does not smoke, drink, visit clubs, or eat meat. Instead he does yoga and meditates.
Does he feel better for it? He says he does - but people keep asking him why he looks so ill. Chris Slade and the bass player Colin Pattenden have been with Manfred the longest, and both have similar backgrounds. Chris played drums in Tom Jones' group The Squires, and Colin with Englebert Humperdinck's backing band. Colin recalls that Humperdinck still owes his father £5 for petrol. When Englebert was still called Gerry Dorsey, Colin's dad took them both to a gig in his car. Not that it matters much now, he says.
The EarthBand take the stage to a massive roar. And it's soon clear that Manfred is no spotlight hog, he has five keyboards, and two are positioned as some sort of screen to hide him from the crowd. All you can see is that bespectacled, scholarly face peering over the top, like an eccentric professor at a lectern. In fact, he does a quirk little dance behind the Hammond organ, but you can't see that from the crowd.
Equally the show is not given over to endless keyboard solo's. Rather the set consist of melodic songs, with a rich attacking, ensemble sound. Manfred takes solos, but no more than lead guitarist Dave Flett. Both men favour fast, aggressive flurries of notes which gather momentum from the songs that support them. No one outstays his welcome.
The front man is vocalist Chris Thompson. On vinyl his voice suggests a mix between Rod Stewart and Elton John. But on stage, the name that suggests itself is Paul Rodgers of Bad Company, though arguably Thompson has more range and volume.
The biggest number is inevitably "Blinded By The Light", but a number of others run it close. Dylan's "Father of Day, Father of Night", recorded three years ago being among the most powerful. The only song that can possibly top the reception accorded "Blinded" is "Mighty Quinn", a British No.1 for Manfred in 1968. That's the encore, and the crowd go bananas. These days it's an excuse for the band to power through some instrumental breaks as well, but it's the appeal of the chorus that counts.
The gig over, there are no wild scenes of triumph. Colin Pattenden makes everyone a cup of tea, Manfred says he's finally worked out the best possible chord sequence for his new song, and then everyone pelts off down the autobahn for the earthly delights of Munich. At the Munich Hilton half the party decide they'd rather not go out again as it's 1:30am, and opt instead for a further pot of tea. The more adventurous spirits venture forth into the night.
The next day's gig is in an equally obscure town - Hof, two miles from the East German border. The Freiheitshalle is yet another sport hall, capable of holding three to four thousand people. But while Ulm was a full house, Hof is not expected to deliver. Not that anyone's worrying much. Manfred is announcing that once again he's come up with the answer to his problem over that chord sequence for his new song, and Chris Thompson is amusing himself with his dead bears. Someone at some gig somewhere noticed a choice piece of graffiti on a dressing room wall. "Manfred Mann's EarthBand fuck dead bears", it said. No one in the band is more amused by this than Chris Thompson. He suggests the next EarthBand tour should be called "Dead Bears Over Europe". It is he feels, a joke that is built to last. Manfred is less convinced. But Chris is unabashed.
He spent most of his life in New Zealand, coming to Britain three years ago and quickly getting lucrative session jobs singing on TV commercials. "You only need one session for American television a month. You get a huge amount for three hours work. So you only need a few sessions to live quite well. I was very lucky." He still does ads but the EarthBand is his main concern. Suddenly he's the voice on an American No.1 Was that hard to cope with? "There's not much to cope with, really," he says. "Everyone's so down to earth in this band. There are no heads in the clouds. If anyone gets excited, Manfred keeps them in line." Dave Flett was driving a laundry van, as well as playing in local bands before Manfred gave him a month's trial - which just happened to be on an American tour...
At the Hof Freiheitshalle, the jury is somewhat muted. No more than two thousand people have turned out, which leaves some floor boards on display. A few punters bop to the set's most commercial tune, and the applause has enough momentum to carry the encore. But the mood is generally a downer.
A dignified dinner follows at Hof's most splendid hostelry, the Hotel Strauss, and the band and road crew trough it into the wee small hours. Colin Pattenden enthuses over the wine, entering into careful negotiations with the record company representative over who should pay for the bottles. Colin is a wine buff, and used to bear the brunt of Manfred's mockery on this score.
"Then one day, we noticed that the jokes had stopped," says Chris Slade. "And we discovered that Manfred had joined the Wine Club." During dinner, Manfred is prompted to recall an incident from the 60's, when he was a famous face. He'd had a car crash on the A1. He was slumped over the steering wheel, both collar bones broken, blood pouring from his mouth. A workman ran up to the car, looked inside, saw the casualty, and said "hey, it's Manfred Mann. Give us your autograph, Manfred."
The final gig of the tour is Nuremburg. And on arrival Manfred announces that he has finally got the right chord sequence for his new song. The news is greeted with polite indifference. The band play a driving, energetic set, determined to end the tour triumphantly. By the end of the third song, another by Springsteen "Spirits In The Night", they're already taking little bows in response to the audience's noisy approval.
By the time they get to "Quinn" they're playing so hard that Chris Slade barely notices a firework that's lobbed out of the audience. It hits him on the shoulder, exploding noisily, burning his shirt. He never misses 'a beat. For good measure, this is a two encore show. "We never play a second encore." says Manfred. "We can't follow our first encore." Just so the kids get the message, the lights go up after "Quinn", and a tape plays "Land of Hope and Glory". Go home kids.
But they don't. A good eight minutes of hysteria ensues, and the band return to bash out an ad hoc oldie that creaks a little from disuse. The champagne in the dressing room is drunk as though it was earned.
On the plane home the next day, Manfred is thinking aloud about decisions. Not quite taking decisions you understand. Just thinking about them. There is the decision about the next single. The decision about the order of the set for the American tour due to start in three weeks time. There's the decision about the future of the recording studio he's got a stake in. Of one thing however, he is certain. He's rejected all earlier possibilities. This is the big one. He's finally and irrevocably got the chords right for this new song. Decisions, decisions, for Manfred Mann, there's always decisions.
Rolling Stone April 1977 - Manfred Mann: blinded by the spotlight
San Francisco - Manfred Mann has never met Bob Dylan. He's also never met Bruce Springsteen. He says he doesn't really care to meet either of those gentlemen, though much of his notoriety springs comes from their songs - Dylan's "The Mighty Quinn" over a decade ago and, most recently, Springsteen's "Blinded By The Light."
"I mean, I wouldn't mind meeting them," Mann says, "if it occurred in a natural situation. But I wouldn't want to do it in a situation where it's a big deal and sort of contrived." Which is, about as close as Mann, whose name is synonymous with his band, ever comes to shyness.
Mann's Earth Band (guitarist/ vocalist Chris Thompson, guitarist Dave Flett, bassist Colin Pattenden, drummer Chris Slade) is in San Francisco to fill out a bill between the Pousette-Dart Band and Journey. The Friday night crowd, in Bill Graham's Winterland for the roar of Journey's heavy metal, doesn't really know who the devil Manfred Mann is, outside of "Blinded By The Light." There can't be more than a spoonful of people in the hall who remember "The Mighty Quinn," and even fewer who know old Mann standards like "Do Wah Diddy Diddy," "Pretty Flamingo" and "My Name Is Jack." And that suits Mann just fine. Though these days he's tolerant (barely) of his past, not so long ago he was speaking about how embarrassed he was feeling about his bubblegum period. "Even now I feel it has got the most dreadful feel," he says. "Things like 'Ha Ha Said The Clown,' at the time I really loathed, but now it sounds like an interesting sort of pop record.
"Looking back, I think they captured the spirit of the time quite well," he continues. "But I don't think any of the singles I did were the great hits of the Sixties. I think "Quinn" was quite a good one, mind you, but the thing that everybody remembers, 'Do Wah Diddy Diddy,' if you put that next to the Beatles' singles, I don't think it stands up."
With 20 minutes remaining before he takes the band on stage, Mann is devouring everything in sight. First he works on a steam table full of cold, greasy chicken ("Don't try to shake my hand," he barks, with chicken goo dripping from his fingers). Then Bill Graham's caterer appears with plates of crudités and shish kebab, and Mann retreats to his dressing room to eat and begrudgingly answer questions between bites. He makes it clear from the outset that he doesn't like interviews - "I feel," he says between chomps on a great fistful of green onions, "it's better to be a kind of mystery."
Born Manfred Leibowitz in Johannesburg, South Africa, 36 years ago, Mann began studying piano at age six. By 19, he was practicing eight hours a day while studying music at Witwatersrand University. He left South Africa in 1961 ("because I didn't like anything about South Africa") for England, where he taught for a while before forming a jazz group with pianist/ vocalist Mike Hugg called the Mann-Hugg Blues Brothers. The Brothers, based on a common mania for Charlie Mingus, lasted six months; but it formed the nucleus for Hugg and Mann's next group, the singularly plural Manfred Mann, formed in 1963. Starting with "5-4-3-2-1" in 1964, the band had 16 Top Ten hits in England and was a breeding ground for musicians like Jack Bruce (who played bass on "Pretty Flamingo") and Klaus Voorman.
Manfred Mann broke up in 1969. Mann and Hugg were growing tired of banging out a few set chords on stage and producing what they considered formularized pop hits every few months. "'Do Wah Diddy' was a cold-blooded attempt to get a hit single," says Mann, "that's all we were doing. I was playing chords and Mike was putting a rhythm down under a sound." So, with their last hit "Ragamuffin Man," still in the British Top Ten, they formed a jazz/rock band called Chapter Three.
Unfortunately, though, nobody really understood Chapter Three. "People said this is the first group in England in the mode of Blood, Sweat and Tears. That kind of brought us down. We didn't want to get anything going like that; it's just we had horns. "Chapter Three produced two albums before breaking up in 1971. It was also the end of Mann and Hugg's ten-year association: Hugg went off to write themes for the BBC; Mann formed Manfred Mann's Earth Band.
The ecological connotations were Mann's way of exorcising the demons from his "Sha-la-la" days. "I was stuck with a 1967 name ['Better than '57', British promoter-producer Jack Good once quipped.] Particularly in England, as there was such a strong association with all the things I'd done in the Sixties, it was very hard for any band I did to be accepted. Now… the years have gone by and I think people see it almost as a historical thing rather than a hang-up. It's not a hang-up for me-I'm quite happy.
"I just want to get onstage and play good rock music so that it's an enjoyable evening for everyone."
Mann kicked off the Earth Band with an obscure Dylan tune, "Get Yours Rocks Off," as the group's first album's title cut. Since then, over their next five albums (Manfred Mann's Earth Band, Solar Fire, The Good Earth, Nightingales and Bombers and The Roaring Silence), the Earth Band has slowly moved from Dylan ("Please Mrs. Henry") through various astral (Solar Fire) and organic phases (The Good Earth, which came with one square foot of land at Llanerchyfra in County Brecon, Wales, on every album), before finding a modicum of success with Dylan's heir apparent, Bruce Springsteen. But Mann, perverse as ever, attributes nothing whatever to his evolution from Dylan in the Sixties to Springsteen in the Seventies.
"I haven't done them [the songs] because anybody told me to," he says, gnawing on some shish kebab, "or because I read anything that led me to them or for any other reason other than the songs themselves seemed to work. I approached them (chomp, chomp) and I was drawn to particular songs."
Mann almost drops his Heineken, though, when the suggestion pops up that he's a songwriter whose biggest successes have been with other people's songs. "Sorry," he glowers, "I'm not a songwriter… I'm a musician and an arranger whose biggest success has been with other people's songs! I'm not a really good songwriter. I judge myself to e a better interpreter, a better arranger than a songwriter."
He also feels no reverence for the songwriter's intention in writing the song. Indeed he cheerfully rewrites lyrics. "Yeah, I'm quite happy to do that. I mean, if you listen to Springsteen's 'Blinded By The Light,' I've taken out words, I haven't been very honest to the original at all. I think that's quite important." For that matter, Mann's reworking of Dylan and Springsteen doesn't seem to bother him in the least. Dylan once said in Melody Maker that' "Manfred Mann… they've done three or four of my songs. Each of them has been right in context with what the song was all about."
"It have me far more pleasure to hear that than anything else." Responds Mann. "For Dylan to say we do his stuff better than anyone else really is nice. And from somebody who knows Springsteen, I gather he finds it quite interesting what we've done… I don't know whether he likes it."
After 17 years of performing - along with a film score (for Up The Junction), dozens of commercials and various stints teaching - Manfred Mann doesn't get very excited about much of anything anymore. He takes his first hit American single in a decade in stride, and has no particular plans for a follow-up. "There's no song I want to do," he says oozing detachment. "I don't think in terms of theory and ideas. People say, 'What you do, conceptual albums?' and I answer, 'No just a bunch of songs.' I feel I ought to have a guru so I can talk about some evangelical message that people feel is significant."
As Mann starts to clean off his fingers before going onstage, I ask one final question about the metaphysics of "Blinded By The Light," and the unreal elements of his first Springsteen reworking, "Spirits In The Night," scheduled to be the Earth Band's next single. As he heads for the door he tosses me the sort of look one might give a squashed bug, and with the roar of Winterland surging into the dressing room, leaves me with "I'm kind of against ever explaining things that I do. My feeling is that everybody hears it how they hear it and I let them, without explaining why, what and wherefore. The answer is really, 'It sounds good'".
Merrill Shindler 
"The Watch Cover Saga"
By Michael Sanz
There are many ways to create an album cover. The story of how the Manfred Mann's Earth Band's 'Watch' cover came to be is probably one of the less common. Michael Sanz, who designed the cover, tells us in his own words:
"Sooner or later a dedicated fan likes to come a bit closer to his idol. Back in 1977 I was a young Swedish art student. Having been a Manfred's fan for some years, I decided to try to meet the Earth Band in connection to their gig in Stockholm that year. For some obscure reason I felt like showing Manfred some prints of oil paintings I had made  .I was lucky. After the concert in Stockholm I succeeded in approaching the band. Being quite a discrete guy I asked for the band's autographs, I handed over the prints to Manfred and quietly left the premises.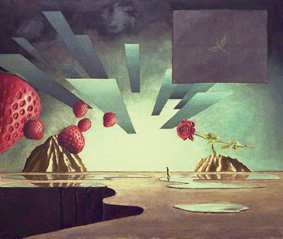 One of the pictures Michael showed Manfred on sidewalk in Stockholm. 'La Rose Morte'. Slightly surrealistic, yeah… but Manfred actually bought it!
Before I have had the time to vanish completely from the band's horizon I heard Manfred calling me back. He then asked me if I had done the paintings on the prints. Obviously a bit impressed he asked me if I would be willing to make an album cover suggestion for the band's next album. WOW!
Of course I was overwhelmed by this offer – who wouldn't be. Manfred explained that the cover should show a man running on an airport runway, trying to take off. To emphasise the motive Manfred spread his arms and ran away on the sidewalk …
Naturally this chance was an enormous challenge for me. I knew that somebody in England probably would do a cover suggestion that the band or the record company might prefer.
During the summer of 1977 I painted the cover art and kept sending slides of my work to Manfred at the Workhouse. After a couple of months I had made it: Success! My work was accepted and I was told that my painting was going to be used on the cover. Phew!
In addition to the front cover painting I suggested the band a back cover idea (the hanging cliff - or 'Platform End' - motive) which was eventually accepted.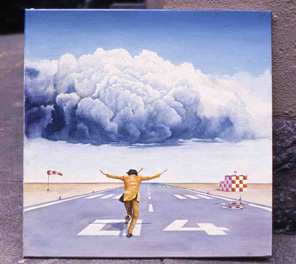 The original front cover painting, at Michael's back yard
in Stockholm, summer 1977: Darker cloud, no "steam" at
the man's feet. A yellow tie in the wind!
So I flew over from Stockholm to London with the paintings. Manager Harry Maloney picked me up at Heathrow in his Volvo combi. He drove me to Bronze offices at Chalk Farm Road and then on to the Workhouse Studios, where the Earth Band was working on their new album. Besides meeting the entire Earth Band line-up (Mann, Slade, Flett, King and Thompson) I also met Zaine Griff, an artist Manfred was producing at the time, at the Workhouse. I also remember Chris Thompson holding a tiny little pup in the palms of his hands!
The Watch cover art was executed as oil paintings on two separate 60 X 60 cm canvases – one for the front, the other one for the back of the cover. Typography was added in England.
Some years later a curious fact about the Watch cover motive came to my knowledge while speaking to Manfred's Swedish tour manager Thomas Johansson, who told me that it was he who had suggested the "man-on-the-runway" motive. And the idea was lifted directly from a Swedish ad at the airport - Johansson had showed it to the band when arriving in Stockholm.
I must admit I was a bit disappointed. I had thought "Gee! Manfred's a genius to came up with such a fantastic cover idea!" Sic transit mundi gloria…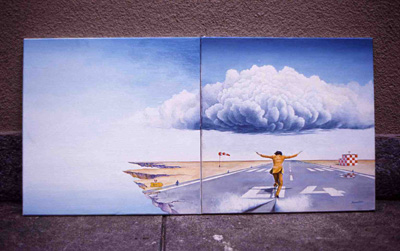 The final version: No tie, "steam" added (Band's request), lighter cloud. Back cover idea has been painted. Same back yard
In 1978 Manfred asked me to design a cover suggestion for 'Angel Station'. Soon the album title was changed into 'Choice' as was the cover concept. Manfred and I worked quite extensively on a cover solution, involving the record buyer in the cover design! The actual cover was intended to feature a graph pattern that would permit the record owner to colour it in one way or another (thus the Choice album title). A bit like a children's colouring book. We also added symbols, figures and even the yellow-suited 'Watch cover man' (now flying up in the sky) on the cover sketches. Finally it all failed and the album was again re-titled – back to Angel Station. Meanwhile somebody in England came up with that absolutely stunning picture that finally was printed on the cover."
After graduating from Art School Michael Sanz has worked with graphic design and illustration. He has continued to design album covers in Sweden. He's also an aviation enthusiast and has written two books on the subject. He's also the editor of Sweden's Aviation Yearbook. Michael has also collaborated with Chris Thompson: Illustrating Chris's children's book 'Where Is My Home?'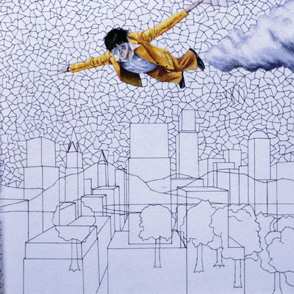 One of many 'Choice' cover suggestions. The Watch cover man is now flying in the sky. © Michael Sanz

Play Chess The Manfred Mann Way - UK Article 1978 
The Danish Opening  - Journalist – K4
A typical beginning to any 'on-the-road' game. The Journalist is ferried out, preferably in the company of a press officer to provide that touch of cosseting necessary to his physical and mental well-being, to liaise with the band. This he does in the foyer of the Plaza Hotel in Copenhagen (a plush place) where the band are gathering to be whisked to and from the evening's gig.
Manfred is holding a pair of plimsoll's in one hand, a portable chess set in the other. He is playing chess with tour manager Mick Cater. They have been playing for three days continuously. Manfred won the first six games but has lost the previous dozen, much to his chagrin. He now suspects 'he was softened up'. The Journalist introduces himself to all the band and to a couple of Patti Smith's band by mistake. They are appearing in Copenhagen tonight and will provide an interesting diversion to the middle game later on. Patti herself is whisked past to the lift. She looks like death warmed up.
"Can anyone take my shoes?" ask Manfred who has no bag in which to carry things. The Journalist, who has a bag, quietly offers to take the shoes, feeling that a friendly gesture at this stage might help create a warmth and intimacy between the two players.
"It's OK. This arse-licking crawler will take them," Manfred says loudly. A close encounter of the Manfred kind.

The Swedish Attack - MMEB – QB3
A fairly straightforward move this, requiring forethought and careful juxtaposition of limousine, hydrofoil (to cross the channel between Denmark and Sweden) and second limousine. Manfred scarcely looks up from the chessboard for the whole journey. Even standing in the queue for the hydrofoil he stares intently at the tiny board, not really concerned with winning, more with ignominious defeat.
His team – lead guitarist Dave Flett, vocalist and guitarist Chris Thompson, bassist Pat King and drummer Chris Slade – amuse themselves quietly during the move, occasionally making offensive jibes at Manfred's chess prowess. He is affectionately called 'The Legend'. The Journalist and the press officer make a bit of a hash of the move. Their hydrofoil tickets have not been encoded with the correct numerical equation necessary to beat the Danish 'system' and they will have to miss a turn, finally catching up with the band in the dressing room waiting for the sound check at the sports hall at Lund where the evening's gig is to be held. A sports hall it may be but with the typical Swedish efficiency and duplicity, it makes a good auditorium as well.
In the dressing room, Chris Slade is preparing his daily brown rice feast, meticulously arranging bowls, pressure cookers and Camping Gaz. He accepts the good natured ribbing with a smiling tolerance borne of years of practice. Manfred, Chris Thompson and Pat King are preparing a bet on the likely success of the band's new single, 'Mighty Quinn', in the British charts. Manfred is considering taking on a bet that it will make the Top Twenty (presumably if it does make the charts he'll have enough royalties to pay out).
He reasons it out laboriously, complicating the bet to ridiculous degrees. Chris pins him down, "Make up your mind", he says when the bet has been worked into its final draft. "Just take a simple decision. Will you take us on or not?"
"But if I do that then what am I going to do for the next five minutes?" He has a point; Mick cater and band manager Harry Maloney have commandeered the chess set. "You know if 'Quinn' does fail, there's a part of me that;s going to be really pleased," muses Manfred. "I've been badgered by so many people for so long to put it out as a single, on this album, on the last album. Finally I've given in so now we'll see if all these people who know so much more aboit it all than I do are right or not."

The Swedish Gambit Declined - Manfred – 0-0
This precautionary manoeuvre – a sound check – is nearly jeopardised when Manfred stomps out in the middle. He has been trying to edit a tape to be used during the show by shouting instructions to the sound desk at the back of the hall. Chris Thompson and Dave Flett are meanwhile practising for a forthcoming appearance on 'The Muppet Show' where they will sing 'Ramblin' Man'. The joke goes on a little too long and suddenly Manfred is off, walking down the hall and out to where a car is waiting to take him away for an interview before the gig.
"That's it," mutters Chris. "We can't dot he sound check if the Legend isn't here." The group amble off and Chris atones by organising the tape edit himself.
Manfred returns 10 minutes before the gig is due to start and there's no grudges held. The rest of the band change into their stage gear. Manfred exchanges one scruffy shirt for another. As the band file out the door towards the darkened stage, Manfred approaches The Journalist and picks up an earlier conversation about editing album tracks for a single release. The Journalist enters the discussion nervously, acutely conscious of 1,500 pairs of hands clapping rhythmically in the darkness outside. The point made, Manfred hurries to the stage.

The Swedish Gambit Accepted - MMEB x Lund
Our chess correspondent writes: Manfred Mann's Chess Band are returning to live gigs after a lengthy hibernation caused by the recording of their new album, 'Watch', which is a cool 8 months behind its predecessor 'The Roaring Silence' and Manfred's last major success, 'Blinded By The Light'.
A lot has happened in Britain during the intervening period and the band have a good deal of ground to make up here. In America and Europe, however the band have not been forgotten. Their reputation is established, and the audience tonight gurgle happily at the beginning of every song, whether it's from the earlier albums or the new one.
Showing just one change from the line up that toured Britain well over a year ago – Pat King replacing Colin Pattenden who failed a similarity of musical opinions test – the band are a tough functional unit, professional enough not to be able to play badly, unselfish and tightly co-ordinated, always trying to play to each other' strengths. Chris and Dave share most of the spotlight, being your actual mobile guitarists, but Manfred occasionally wanders out from behind his keyboards, waving a tambourine and joining in some backing vocals, generally to the amusement of Chris. As a band they merge the basic ingredients of rock music with a sophisticated touch that never losing sight of what rock music's all about. You feel a whole lot better watching this band on stage.
After the surging instrumental 'Waiter There's a Yawn in My Soup', they move straight to a loose, swinging version of their other Springsteen number, 'Spirits In The Night', that packs a deceptive punch. Then for some reason 'Davy's On The Road Again', one of the other gems on the new album fails to ignite. 'father of Day' too sounds ponderous and only Flett's guitar solo, switching to harsh from soft midway through, carries the song through.
'Martha's Madman', another new song, sprints away right from the starting gate with an insistent thudding beat and some crisply taken solos. But it's not enough to put the gig on an even keel; 'Blinded By The Light' is so lack lustre and even gets a bit confused half way through. So it's sheer professionalism that pushes them through another instrumental with a drum solo to the encore of 'Mighty Quinn' which brings out the cigarette lighters and V-signs among the happy Swedish audience. A patchy gig nonetheless.

The Swedish Retreat - MMEB – R4
A defensive move giving time to prepare a more considered attack next time. The band know its been a patchy gig as well. The cause is quickly identified in the dressing room as everyone adds a cogent two pennyworth: the new numbers have been rehearsed before the tour at the expense of the older ones which have been left to take care of themselves. Conscious that the older songs are not going too well they've started thinking harder about them on stage; which makes it worse because they lose the natural flow.
The cause is discovered. Manfred resets the pieces on his board and prepares for another drubbing. A couple of Swedish girls who've been hanging around since the sound check – one of them in a ludicrous pair of white fur thigh boots – are ushered in but quietly ignored as the band continue their mopping up operations. Chris Slade's pressure cooker handle breaks, threatening him with starvation for the rest of the tour. Pat King moves purposefully towards the girls but it's only because they are standing between him and the beer. By now slight embarrassment is being commented on by one and all with a fair amount of amusement and its with a certain amount of relief that the promoter arrives to supervise the retreat to Copenhagen.

The Patti Smith Gambit Cautiously Accepted -MMEB x Queens Knight
A table has been reserved at Daddy's Dance Hall for Patti Smith's performance which starts about ten minutes after the band and entourage get back to the hotel. The Journalist is tired but keen, never having seen the lady. The band are tired but curious. They're not expecting to enjoy it much but none of them remain unmoved by the show, (mind you, have you tried to remain unmoved by a Patti Smith performance).
Manfred is impressed by her conviction which, if it's not consistent, provides some remarkable spurts. Chris Thompson likes her voice and Dave Flett raves about the drummer who he reckons holds the band together. The Journalist agrees with them all, the smarmy creep.

The Copenhagen Bait - Pawn x Porn (check)
Walking back to the hotel, Manfred and The Journalist are lagging behind the others, locked in a musical debate. Out of the corners of their respective eyes they notice two girls following them. Manfred and The Journalist pause to look in a shop window. The girls do likewise.
"It's a pretty dumb thing to do, following a rock group around," says Manfred. "It's not as if rock musicians make scintillating conversation after all. The sort of girl who hangs around a rock group, making herself available, can't have any self respect. I mean would you talk to a girl like that?… Jesus she's got a nice arse."

The Copenhagen Endgame - MMEB x Tivoli Gardens (Check)
With all the major pieces intact and well briefed on Manfred's side, the game can now be brought to a brisk conclusion. The band attack the evening's gig at the Tivoli Gardens with a determination that's apparent from the start. They push aside technical hassles with backing mikes and the synthesizer in a relentless drive to gain and hold the momentum they never quite achieved the previous night.
Dave Flett's guitar, which suffered from a fuzzy sound quality earlier, is now piercingly clear and his solo on 'Spirits In The Night' cuts and thrusts like a fencer aiming for the eardrum. Manfred's playing too is forthright and direct; he solos with uncharacteristic effervescence and his segues between numbers are probably the biggest single factor in the success of the gig.
They haven't solved all the problems – 'Father of Day' still sounds lethargic and it takes a couple of excellent solos from Flett and Manfred to shake it into action, and 'Blinded By The Light' gets bogged down in the middle although the vocal duet between Chris Thompson and Manfred towards the end launches a splendid climax.
They allow 'Might Quinn' to go slightly over the top in the heavy metal sense, a fault that is made forgivable by drawing the relatively reserved audience to their feet and bringing the deserved reaction.
Afterwards The Journalist scurries backstage to find a brace of guitarists basking in the quiet inner euphoria that follows a 'good gig'. "That", says Flett, "is the first time I've felt really in the gig on this tour. From now on it's just going to get better."
Manfred however is upset by the technical hitches and is involved in a heated debate with the road crew. But it's not a prima donna-style tantrum. There's no abuse being thrown around. The argument is kept to the strictly practical level of ensuring that the problems don't occur the next night. A new routine is agreed and will be tried tomorrow. Only then is Manfred prepared to admit that the music was a great improvement and he doesn't concede that his own contribution was anything special. The Journalist has already noted that Manfred is not prone to false modesty.

The Pussy Cat Endgame
MMEB and Entourage x Pussy Cat Discotheque (check)
Mate in five moves (some more, some less).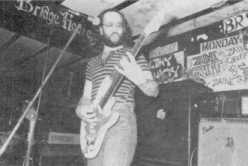 New Musical Express - April 15, 1978 - A Manfred's Day Off
Chris Thompson is a mildly manic New Zealander who lives in a flat with Chinese prints on the walls above a hairdressers in the East End of London.
In the evenings, Chris plays guitar and sings with a band called Filthy McNasty in a pub called the Bridge House, a few miles from the flat.
 
Nobody noticed anything strange about Chris Thompson. Weekdays he was just a regular rock superstar, touring American stadia and keeping teenagers off the street..
But at weekends he underwent a strange transformation in a public house in London's notorious East End...
 
When he's not doing that, he's much in demand as a sessions singer. In prospect are two major album's: Elton John's next one and a multi-million dollar epic adaptation of H.G.Wells' "War Of The Worlds" featuring Richard Burton.
Chris also does the vocals for television ads. A lucrative business if you're versatile. Chris is currently the voice of a singing bottle in a commercial for British Glass.
As if that's not enough to keep him busy, Chris Thompson also has ventures in a couple of business ventures. One involves an eight track mobile recording studio. The other one is to do with second-hand cars.
Chris Thompson is a busy man. But there's also what he does in his remaining free time. He's the lead singer with Manfred Mann's Earth Band. This involves being on the road in Europe and America for weeks on end, as well as vast amounts of time spent in the recording studio.
Chris Thompson is a very busy man.
The Bridge House pub is in the Canning Town area of London. A rambling sort of place, with and olde worlde decor of exposed beams and plaster and lathe walls.
The pub nestles under a flyover just across the main Southend road from the East India dock. When the traffic gets busy on the flyover, the bands need to play loud. But in the view of the guvnor of the Bridge House, Mr Terry Murphy, they don't need to play too loud.
Terry Murphy is an amiable retired boxer who these days is built like two heavyweights rolled into one. When he politely mentions the excessive loudness of Filthy McNasty, Chris Thompson obliges by turning the sound down a little.
"Chris Thompson is a real professional," says Terry Murphy. "He's never late on, and that's important in a pub when you've got to think about the pints you're selling."
"And he's so modest, you'd think every gig was his first, because he puts so much into it."
Filthy McNasty play the Bridge House three nights a week. If you ask Mr Murphy whether they're his star band, Mr Murphy diplomatically declines to comment. Filthy McNasty are basically what used to be called a soul band, though that category's long been succeeded by a whole welter of different labels. Intriguingly, though, the focus of attention within the band is not Thompson, but a sensuous lady singer called Stevie Lange, also a sessioner. Ms Lange says the band is a "cross between Ike and Tina Turner and Boston", and she's not entirely joking - though it's hard to see what Boston have got to do with it.
Stevie Lange's voice is somewhere between Elkie Brooks and Janice Joplin. She performs the Joplin classic "Move Over" and does it considerable justice. When Lange and Thompson duet on a version of The Temptations' "I Can't Get Next to You", the punters go suitably ecstatic.
But what's a gut like Thompson, who plays to packed concert halls all over the world with Mr Mann, doing singing in a pub in the East End three nights a week?
Chris says: "It started out as a way of keeping my voice in shape while the Earth Band were off the road, and it just grew from there." But, in truth, isn't it perhaps because he's disaffected with Manfred?
"Not at all. The Earth Band are doing better than ever. I just enjoy the extra work. I think you should work, and I hate being idle."
Wasn't he unhappy, though, that the Earth Band had failed to consolidate the success of their hit single 'Blinded By The Light' eighteen months ago? "Well, we've tried to consolidate it, but the singles we've put out haven't made it. Maybe the next one will..."
In the meantime, Chris Thompson's off on the road again with Manfred on their British tour, and other projects have to take second place.
Filthy McNasty can take a break, and other people will have to become singing bottles in Thompson's place. The big difficulty will arise if Elton phones up. Chris and Stevie Lange did the back-up vocals at Elton's farewell gig last year. "There's no way you can turn down a guy like Elton who you've respected for years," says Chris. Now, Chris and Stevie are due to put the backing vocals onto Elton's new album. But Elton's become so prolific with his new writer Gary Osbourne, that they're always recording new songs instead of finishing the one's they've started.
"Well, I only do things that I enjoy, and people keep offering me things that I enjoy. If it all gets out of hand, then I'll have to slow up. But there's no sign of it so far."
Bob Edmonds
'Beat' Magazine March 1978 - Manfred's Mannerism's
The newly nicknamed Legend views rock, the Earth Band and the new album (Watch interview from 1978)
By Chris Simmonds
(Thanks to Geoff Baker for sending in this article)
Interviews with Manfred Mann usually start the same way don't they?  Not an easy man to talk to, a bit on the brusque side etc. etc.  This one won't – promise.  Manfred's OK so long as you can stick to music.  On the other hand, this is where the ogre fable originates, slip in something irrelevant and/ or ignorant and he eats you up for breakfast.  So we stuck to music.  The first arrival was Chris Thompson, lead singer/ guitarist with the Earthband and a few minutes later the Mann himself strolled into the interrogation chamber, not absolutely raring to go but ready to do his bit so long as liberties were not taken.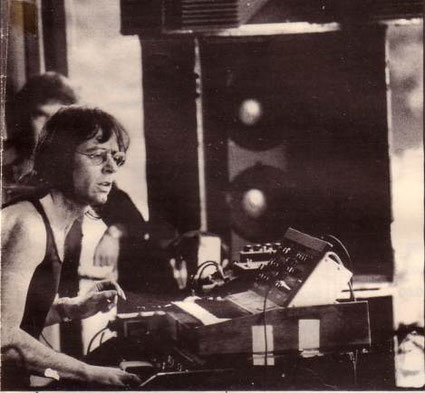 Exciting
"There were two reasons, really," Manfred began.  "One, we took a holiday in the middle and two, we did extra tracks which we didn't use in the end.  I don't think it took much longer than the previous album in hours.  I prefer the studio side; it's gentler, with a nice flowing vibe about it.  The other side is more exciting and up front."
The Legend paused for a bite of cheese and Chris took his opening from the other side of the tape recorder.  "The live side is representative of the band for a change.  The other albums are all much gentler than the band really is.  The band is a loud, energetic outfit – you don't get this from the records."  In that case was the live side included on purpose to give a more accurate impression of the band?  "Not Really", Manfred replied.  There was aa little silence as he considered whether to elaborate or not.  "Everyone kept saying 'put some live stuff on it' ", he continued, having decided to go along with the question, "but I resisted it for years on the basis that the live tapes sounded pretty crappy."
"The actual reason, if you think back, was to cut down on the time the album was taking", interjected Chris, quite unconcerned about revealing a less artistic motive.  "But it took just as long anyway."  I must confess I was rather taken with their inclination to call a spade a spade.
Democratic
Manfred, quite unlike most stars with a new album out, was as prepared to concede that a couple of the tracks might be duffers as he was to admit that he thought others were fine.  Another of his tactics was to throw a debatable point across to Chris or anyone else in the room to get different opinions, and by this method I discovered that Chris, quite unlike Manfred, preferred the live side.  The Legend is a democratic man, after all.
I thought I'd slip in one last tiny question about the album as my luck seemed to be holding.  There's hardly any Earth Band penned material there I ventured, mentally preparing myself to abandon ship if it went down with all hands on deck.  Manfred confirmed, "That's correct."  Does this worry you then?  (The 'then' was to keep the question sounding innocent, neither here nor there, but I knew The Legend could provide a slightly less cryptic analysis of the matter.)
"No, I'm extremely proud of the fact.  If you can write great songs, put them on the album.  Too many people write bad songs, or one or two god ones and the rest pretty dire.  We pride ourselves on being flexible, on being able to take the best material at our disposal without worrying who wrote it.  In a nutshell, we don't think we write good enough songs."  There they go again – you can't knock a man for being tough to others when he is equally frank, nay brutal, towards himself.
Right then – how democratic was The Legend's democracy?  To what extent was the law laid down by the said Mann?  What, come to that, influenced his and the band's policy decisions?  Away he went: "I'm influenced by everything I hear – I think everybody is.  I'm very much a chameleon.  I take on the character of the band of the guys I work with so that the character of the band is the character of all the people in it.  In many cases I might appear to be doing all the stage arrangements, running the rehearsals and generally being the guy that gets it all together, but that's only because someone has to say 'right, let's try that, one two three…
"My musical outlook has changed depending on who's in the band.  I don't work from any clear, defined idea of what I want to do.  Of course I am influenced by music I hear on the radio, by the general climate.  The only difference between now and the sixties was the cold blooded attempt at continually making hit singles, but to my mind there aren't any compromises going on now.  I've become a rock musician, rather than a jazz or pop musician as I was in the sixties."  (Cheers and whistles from Chris, he loves it when Manfred starts getting pseudo-serious.)  "I exist naturally in the world I inhabit", he continued, undeterred by the barracking.  "In the sixties, some of us in the band were clear anomalies."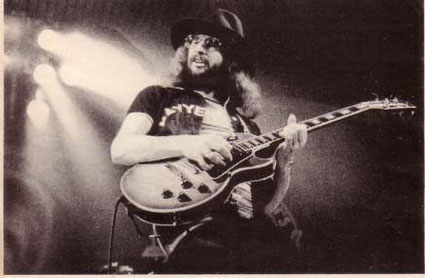 Changing
The sixties were all about gaining experience to travel onwards into the seventies as much as anything else.  Anyone who was to survive in a completely changing climate – as Manfred has done – had to store the lessons learned and draw on them when necessary.  One effect of his glorious past has been to give him a very definite idea of the values of the various aspects of the business.  "I tend to feel that recording is the most important thing," he volunteered, "far, far outweighing the benefits from any other factor involved in making it.  Unless you're like Kiss, doing the kind of show that makes incredibly dramatic impact.
"You see, the great danger in the music business is knowledge.  It is possible to build up a following through touring, but I'm not sure it's possible to build up a following by doing one tour per year in a territory – which is the area we're in.  The question of the benefits of touring must be regarded as a statistical one.  If a tour boosts record sales by one per cent, it's not worth going on tour."
"Look at Boston," offered Chris, "the reason they're doing so well on the road is because their record sold so well."  The Legend took over: "It all boils down to a record on one side and the public on the other.  You mustn't get side-tracked by talk of promotion, hype, press, the concerts; they might all be slight influences but someone will only buy the record if he likes it.  So how do you find out?  You hear it on the radio, most important, or round at a friend's house.  For those band's that don't have access to radio and so on the other things assume more importance.
"Look at the facts in our case.  In America Roaring Silence got to 117 and was on the way down before Blinded By The Light hit and took it up to number 10.  That gives an accurate picture, you see, and that's why we don't have any illusions.  We know where we have a following and where we don't.  I'm extremely reluctant to tour this country on halls that hold 2,000, because I'm not sure that in places like Bradford 2,000 people would want to come and see us."
It's just as well that Manfred doesn't rate The Tour too highly.  Touring is not his favourite pastime, "not because I don't like playing, but because I hate the physical aspects.  I've had some incredibly good times because there's always a lack of responsibility when you're touring, you can become a temporary teenager, but after a week it gets desperate."
The Legend blew a puff of cigar smoke into the air, and delivered one final instruction.  "You must leave out the jokes, because they don't come out very well in print.  It's all in the delivery."  Then, just to make sure: "That's another joke."
Sounds (UK) - June 16, 1979  - Ping Pong Polemics
'Manfred's bank balance is a bit low so here comes another Bob Dylan song'. That's the kind of thing the music papers were saying about 'You Angel You' wasn't it? It doesn't really affect me: if a song's good enough it'll sell; if it isn't it won't. But it upsets my accountant. When somebody made that criticism a few weeks back, he rang me up and complained about how the press were treating me. "It isn't true", he kept saying. And I had to calm him down.
Manfred Mann is musing over the standard treatment he gets in the British music press. In his hotel room in Ravensburg, deep in provincial southern Germany, he's as far away from those papers as they think he is from the current rock and roll epicentre. But any rancour he might be feeling is tempered by the success of the European tour he's in the middle of.
"There's a kind of democracy about the rock business which I can enjoy," he continues. "I'm a real capitalist about the music business; it's so much better to let people decide on the basis of their own ears than on cultural grounds. I don't want a committee of people deciding what's right, good or fashionable. And I certainly can't base my career on appealing to the hip journalists who are raving over the latest fashions."
But then he doesn't need top. Out in Germany Manfred Mann's Earth Band are doing the kind of business that put's them in the big league. Their first album, 'Watch', has sold over half a million copies here and all 5,000 tickets for tonight's gig have sold out, as did last night's shown in front of 7,000 at Nuremburg. And you'll have to pay the touts' prices for the next three nights at the Munich Circus Krone. Germany is 'the business' (as tour manager Mick cater would have it), but the rest of Europe isn't lagging too far behind. It's only when you cross the English Channel that he starts becoming an ageing has-been who's valiantly plodding round the circuit.
Manfred, it has to be said, is a bad interview. But today - considering the hassles he's been through in the last eighteen months and the spectre of further change that looms on the near horizon - he's remarkably chatty.
After his last British tour following the release of 'Watch', Manfred disbanded his EarthBand and then reassembled it with a new guitarist - Steve Waller from Gonzales - and a new drummer - Geoff Britton from Wings. They recorded the new album 'Angel Station', together in Ireland, but before they started touring Geoff Britton had to drop out with glandular fever and was replaced by the virtually unknown John Lingwood.
And as if this weren't enough, Chris Thompson, vocalist and guitarist who has been Manfred's longest mainstay in the current band, has been plotting a group of his own called 'Night', which will come to fruition later in the summer with their first album and an American tour with The Doobie Brothers. So he'll be leaving a large hole to be filled by one or possibly two new members.
For Manfred - a firm believer in Murphy's law that 'if everything's running smoothly then something's wrong only you don't know about it' - such a situation ought to have induced paroxysms of self-doubt and worry, but he's remarkably untroubled by it all.
"Chris's replacement is a big problem, obviously, but it'll be solved. What I said on the back of Angel Station' about Chris' departure was genuinely meant. We could have smoothed things over and then announced in a few months that Chris was leaving. My explanations then that the vibes between us were good would have met stony cynical journalists' ears. By saying it early people would realise that the vibes have got to be OK because we are still working together."
And to judge from the three gigs I saw them play in Germany, Manfred's gamble has paid off. The current Earth Band are a stronger, more resilient group than their predecessor. They've always had a reputation for doing really good live gigs and their European following has been built on previous tours.
Their set is built around the gems from their earlier albums - 'Davy's On The Road Again', 'Chicago Institute', 'Blinded By The Light' (which was Manfred's first try at a Springsteen song, but has reached epic proportions live) and of course 'Mighty Quinn', which now comes complete with a Pretty Flamingo introduction which passes over the heads of the German audience, but makes entertaining camouflage. But no fewer than four tracks from 'Angel Station' have been incorporated into the show, an unusually high number for Manfred to pick from his current album.
This time around there's a number of films projected onto a screen behind the band, which form an integral part of some songs (at one point Manfred even plays a silent movie accompaniment to the image on the screen) and several other little tricks add up to a rock and roll concert where the emphasis is on enjoyment.
John Lingwood is a lighter, springier drummer than Manfred's used to, but once he's miked up he carries all the necessary heavy metal power. And he's quickly established a rapport with Pat King on bass, who's now playing better than I've ever seen him.
Steve Waller's more soul-orientated background isn't the kind of style that you'd think would fit the Earth Band's solid, rocking style (and neither is his penguin-like appearance), but he adds a swing to the newer songs, particularly 'Don't Kill It Carol' and 'You Angel You', where he also takes the lead vocals. He still needs to do some homework on some of the older songs, however, sort out just how and why they have the status they do; then he'll be able to make a stronger contribution to them.
For Chris Thompson it must be a rather schizophrenic phase, playing with one band while actively planning the future of another. But from the evidence of this tour and what I've heard of the Night album which comes out on Planet soon, he's thriving under then workload.
Manfred seems genuinely surprised by the success the band enjoy in Europe as well. "Having gone through a period of total failure I find it quite incredible what is happening in Europe. I'm doing so much better than in the mid-sixties when we were having hit singles all the time. When I think back to the Sixties and having achieved household status - if that's an achievement - and now I'm playing modern music in 1979 - the argument over just how modern it is and whether it's just another boring old fart doing the rounds is ultimately a small one; the fact is that young people find it modern - it's quite incredible."
What about a musical comparison? "There's no comparison. The Sixties was this continual voice telling you that you weren't doing what you should be doing. That you sold out to yourself. I don't like saying this to a journalist because there's nothing worse than reading about a gut who puts down his past that a lot of people know him for. I can't blame anybody else. There was no-one with a gun at my head making me do it."
"I was uneasy about being a pop star, and about making three minute singles like 'Ha Ha Said The Clown' and 'Do Wah Diddy Diddy.' I felt that there was more in me and it was always a little frustrating to watch other people doing well at music that somewhere inside me I felt that I could do to. I couldn't do it because it wasn't the right band and because the public wouldn't accept it from you if you did."
"In 1969 when we broke up my instinct was to go back to a kind of jazz thing. I fell behind in the public eye with Chapter Three: the band just wasn't good enough." But was it satisfying musically?
"I was proud of the first album, yes. It meant a lot to me to put out something that was good. Mind you, you start getting a little wary when nobody buys it (again his lip curls). But after Chapter Three I decided to try almost anything I felt like without preconceptions. And that, as they say, was the turning point."
He's not even worried about being tagged as an interpreter of other people's songs which is sometimes all he's given credit for. "I'm proud of it, because now I can accept that I'm not a great writer - although I've written some things on the new album I'm quite pleased with."
And finally Manfred on Manfred - "A bit of a craftsman with a lack of flair but keeps working away and seems to do well."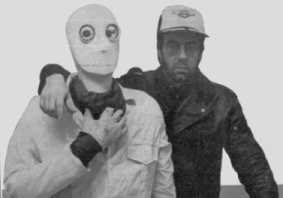 Impeccable Manner - The Music Is the Message
Soundmaker (UK) February 19, 1983
Manfred Mann flicked through Soundmaker. We had been talking about what is and isn't important, and what is and isn't necessary - to begin with, because I had noticed all the Gold and Platinum discs (who could miss them) in the offices where we were, and I had seen that nearly all of them were for European sales. Many people would be surprised by the difference between Mann's popularity abroad, and in the UK.
Manfred Mann (that's not exactly his real name) was philosophical: "You have to realise that you can only succeed in some markets, not all of them. In the end, you take popularity and success where you can. It's just one of those things."
Hence the delayed release of the new album - 'Somewhere in Afrika', which has been on the market in Europe for two months. Also the 50 date tour now underway which comprises only two UK dates.
But it's not strictly true. Mr. Mann has a hardcore of UK fans (he's doing three warm up dates this week which were sold out soon after being announced) and he has a long history of good UK sales. Part of the reason may be the new album, which has put him out of circulation lately - it's been two years in the making.
"It should be taken on two levels, firstly as a piece of music, and secondly as a political statement. The African content (beat, chant, Homelands, and perhaps a little anger) is not exactly secondary, but there are definitely two facets."
Manfred Mann knows that there is room for both on a successful album if it is done well enough. But politics?
"In fact politics is diametrically opposed to my approach. The political content occurred naturally, slowly becoming a unifying concept. When you have a lot of material to which you wish to add taped African rhythms, then when it all falls into place the first time, you know that you are on to something. Call it fate or what you will - you know when it works.
Anyway I think it's the best that the Earth Band has done for some time - that doesn't mean that it's good enough, but I think it will be the end of the line of semi-serious albums - one gets torn between making hit records and being serious ultimately you do what you are best at."
Yet the outcome on this album has an obvious political message. "But much of the African theme is because the sounds are good in themselves. Zulu, Sotho, Bantu. They are resonant - powerful sounds. I am more keen on the chanting than the drumming. As it happened I started with the modern material and grafted a lot of the secretly recorded tapes on to the tracks I had. 'Redemption Song' was like that - it fitted beautifully.
'Demolition Man' was included because it was a stronger track than a lot of the African stuff. Whether listeners will appreciate the message behind the music will depend to a large extent of their awareness."
Awareness. Now there's a subject. Does it mean that I have to go to Swaziland to appreciate the album's message?
"No! Not al all. One of the major fallacies is that travel broadens the mind - it's just not necessarily so. It depends on whether the traveller's mind is open in the first place - you see to a large extent what you want to see. On the streets of Johannesburg or Berlin you see people going about their daily business - it's just some people who feel the oppression, who notice the attitude!"
But isn't that sort of awareness increased with for instance the increased trend towards the African music?
"That's another fallacy. The African music trend doesn't exist. It's just another invention of journalists who want something more interesting to write about than the real trend - bland disco electro pop!"
"People keep talking about the modern computer age, but in fact we're in an extremely infant stage. It's like people in the twenties sating how modern and sophisticated crystal radio sets were, when we see them as very primitive. Computers haven't really begun to take off in music yet. It's all at a very early stage - the machines we have at the moment are simply toys compared to such complex instruments as the ear and the brain. What is interesting is that people still compare computer synthesises sounds to 'the real thing'. We still have the thought that computers do not produce a 'real' sound like the 'real' instrument. And they don't. We still have a long way to go before computers can capture the feel of a real sax in digital code. That's not to say that I don't like them - I use them all the time."
"The danger with computer instruments is that everyone's beginning to sound the same. All the studios I go into up and down the country have the same standard Linn drum machine, MC4 or the like digital equipment and sequencers. No one uses a good old Fuzz box anymore. Mind you, some people like the straight electronics."
That seems to come back to this thing of awareness and subjectivity.
"Yes. Exactly. Most people would say that Britain is not a racist country in the same way as South Africa where it is a government policy, but when I see some things in Britain, it makes me very sad. There are many people who would not consider themselves prejudiced, but some of the things I see make me cringe."
Manfred flicked through Soundmaker. "It's the same with the press. You will not be able to write about me without including some of yourself, your thoughts, views and prejudices."
He is right. Listen carefully to the lyrics of the album and just as there are two facets, music and message, sop there are two messages, politics and awareness.
'Brothers and Sisters of Africa, they cannot control what's in your mind and in your soul. Mothers and Daughters of Africa, it's not for me to say to you what you must do.'
I Hear The Drums Echoing Tonight
Karrang April 1983 (Thanks to Mick Maloney)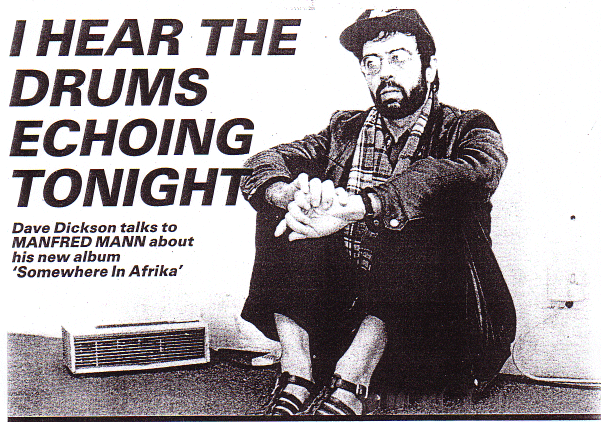 Because of the nature of the new album the content of the interview was largely political. However, for personal reasons, Manfred chose to cut off my tape recorder before disclosing the more sensitive details behind the album's political connotations; and I, for one, am not about to blow the gaff on that confidence. Politics is a very delicate subject in the state of South Africa and noses can easily be put out of joint, but that's what I was here to discuss, and that's what I got.
What made you write 'Somewhere in Afrika?
"It was a sort of accident, I didn't mean to write it. We'd recorded 'Redemption Song' and I didn't think it had succeeded. This was an earlier version, I record things about three times, but the backing track wasn't bad so I decided to write another song over that. I went home and looked through some books on South Africa looking for some lyrics and the first lines I came to were: 'What do they do to a man whose Father was a Swazi?' etc. (To Bantustan?') and I just started using that, and the song was written over the same three chords as 'Redemption Song'. That seemed to work so then I thought I'd write an introduction, which was 'Brothers & Sisters of Africa' . . . so there you go. "And there we were singing 'To Kwazulu, Bophuthatswana . . . ' and I thought the real way to do this is to get African guys to sing it; and then if you're going to get Africans to sing it why not do it in Africa?! Then I started using some ethnic African tapes and I know some guys who've got access to other tapes and things.
"Some of those tapes, like the beginning of 'Brothers & Sisters Of Africa' and 'Somewhere In Africa', are just traditional African music which we just mixed in with what we were doing; put a few tambourines on one, mixed one in with an organ ... and it was all so easy, that's what's so ridiculous! We just switched on the African tapes and found it was all in the same key we'd recorded our stuff in quite by accident-you just have to go with a thing when it's working like that.
"You go along and get a tape that's recorded 20 years ago in South Africa, the opening tape on Side 2, and you plug it in on 'Brothers and Sisters of Africa' and it's in a relative major key, and it works! You didn't plan it, it just works!"
Can you explain how the system of the Bantustans works?
"Well, I can only explain it in very layman terms, I don't really know it well.
"The whole basis of South African racialism is ideological and that base is that these people are not being deprived of rights in South Africa anymore than a Frenchman is being deprived of his rights in England. When he comes to England he doesn't have the vote, he can be thrown out if he doesn't have a work permit- I don't know about the Common Market now, but normally when someone goes to another country- and the basis is very simple! These are not actually South African citizens, these are citizens of Kwazulu, Bophuthatswana, Transkei, and these places are areas of the country -and I'm explaining this from the South Africans' point of view- and the people who come out of there are just migrant labourers, just like Turkish people in Germany.  "That's how it works. So when you're in White South African areas if you have a job that's fine, but if you lose your job you can be sent back home Well, great! Except that these people ARE South Africans, and the whole thing is based on nonsense.
"Some of these areas are no larger than a big farm, with no industry, therefore the song goes: "What do they do with a man whose Father was a Swazi? etc . . . /Do they send him to Kwazulu, Bophuthatswana or Transkei? ask why?"  I mean, where would you send that person to They're just making this up!  So when you attack that you attract the whole basis on which their system rests in their minds. They're not racist! These people are just migrant labourers.  Soweto's full of people who don't really belong in Johannesburg, they're just there as guests while they're working in that area, which is OUR area!  They can go back to their own area!  But they want to be in White areas, in fact, because that's where the employment is, so they're flocking in; but if it's so terrible
why do they all want to come here? It's all quite funny really
So according to the South African Government what constitutes a South African citizen?
"I don't actually know how they would define it, but I've got pretty close to having a skin that reflects a bit more light than some of the other people! Ha! I don't know. It's very difficult to be a South African citizen if you tend to be absorbing the sunlight!"
Do you think politics should intrude into the world of commercial pop? Does it have any place?
"It's very hard to do and the problem I had all the time was to try and ensure that the words sounded right and that it was music. The most important thing was you could listen to it without having to think and be terribly serious, that it's music first and foremost. If the drummer's out of time it doesn't matter that you happen to be writing 'Das Kapital', you know!
"If some message comes across that's fine, if it doesn't that's fine too. The important thing is-does it sound good? The politics are secondary, that's a personal thing for the people who want to pick it up, and if you don't you should be able to leave it."
Do you think rock 'n 'roll can ever change the world?
"Ha! I certainly don't think rock 'n 'roll can change the world! I don't mean to laugh but it's such a delusion. I mean, seriously, look at the world and try and imagine if rock 'n 'roll could actually change it! It's crazy!"
But as rock 'n 'roll is very much a youth orientated culture, what if someone could capture that and motivate them into some sort of action, which no-one has actually done, it could be a very political force.
"But that would probably be a terrible thing!"
Why?
"Well, first of all, who wants a 'powerful political force' based on songs? Could you really imagine, and reality now not just words, all the people who go to gigs actually dealing with unemployment in the Midlands? I mean, I'm not saying the Government can handle it, and I'm not saying the guys in Parliament are wonderful human beings, but, Christ, there's no unity of ideas, the only unity is the music, that's the ideal!
"You'd probably land up with something incredibly fascist. I don't know what it means: 'powerful political force' for what? What would they do? What would be their policy
on . . . capital punishment? What would be their policy on someone raping their sister? If you really put it into real terms: OK, here's the 'Youth Party', now let's see their policy on hanging; what's the budget going to be? What are we going to do about single-parent families? What's the budget for housing this year? Is it socialist, is it not-socialist; is it left-wing, is it right-wing?
"I don't know what it means to say 'youth'. I mean, youth is pretty self-obsessed, finding out who you are and stuff, which is fine ... but really! Christ, who's going to lead this 'Youth Movement'? Musicians!? F**k me, mate, go out and meet a few rock 'n 'roll musicians and try to figure out what problems they're going to solve! Ha! I mean, it's nice to talk about over a coffee table, but if you actually take it seriously it's crazy!"
So politics for politicians?
"I must say, generally speaking, I trust politicians more than the people because I try to imagine what would happen if you actually asked THE PEOPLE what to do about Northern Ireland-they'd probably be hunting terrorists, or inventing terrorists, on every street corner; what to do about football hooligans-they'd probably have their hands cut off if it was left to The People. You'd be putting people in the stocks, and drowning them to see if they were witches! No, I don't believe in The People at all. People are pretty fascist actually.
"I honestly believe if you went round a few housing estates and held up a lot of political policies and took them away from being associated with any political parties, and you asked them what they felt about various social issues you'd find people's general feelings very close to the National Front. If it wasn't couched in those terms and if it didn't have 'National Front' on it and somebody appearing as those guys are, just took it away and made it look more respectable ... That's my view, maybe a depressing view, you may disagree with it."
What would you like to see the British Government doing about South Africa?
"I don't really know what the British Government should do. At the end of the day I must say I really do feel the African Struggle is an African struggle. What I don't like in Britain is the total and utter hypocrisy of people who are upset about cricketers going to South Africa while British Leyland has factories there. I just find that unbelievable. I don't have any sympathy for the cricketers although I understand their point of view; here's guys who don't earn a lot of money suddenly offered a fortune, you know.  "But it's just crazy! Trading all day long! But even people on the left who are against South Africa and the cricketers, fine, but they wouldn't say let's cause some unemployment in the Midlands by closing down the factory that we provide some equipment for in South Africa, just ignore that!
If we didn't trade the French would or the Germans would. And these economic boycotts are just pointless activity. Going round and not buying South African grapes is crazy, you just put one African labourer out of a job! You're either effective or you're not. And if you're going to be effective then everybody does it, then it's really damn effective. But if only Britain's going to do it then you might as well not bother."
Then were UN sanctions a waste of time?
"UN sanctions against South Africa? Waste of time! Nobody would adhere to it in the end. In fact the only thing that will change South Africa is the people themselves. That's the sad truth, I certainly don't think it's my job."
Does the kind of cross-cultural influence used on 'Somewhere in Afrika' interest you?
"It did on this album. I thought there was great atmosphere to that flute playing and that kind of electric vocoder in the background. It just all fitted so well, there was a unity between something very tribal, in that case very ethnic, and what we were doing which was generated by a machine in some instances. 'Brothers & Sisters of Africa' starts off with a choir singing 20 years ago, I think, and the first sounds that come in from us is a Roland drum-machine, and it all hits!"
Is this something you're going to explore again?
"I don't think so, I wouldn't know how to go about it to be honest. I might do at some point in the future. It is difficult to know where to go nowadays because so many people are using computers and they all end up buying the same as everybody else."
But on the evidence of 'Somewhere In Afrika' I wouldn't have thought Manfred Mann was going to have too many problems on that score.
---
Billboard March 24 1984 - 20 YEARS AFTER FIRST HIT Manfred Mann Back On Charts
New York----Amidst all the hoopla over the 20th anniversary of the British invasion, one of the artists who rose to fame during the onslaught is back with one of his biggest hits to date.
Manfred Mann who has performed as part of Manfred Mann's Earth Band for the past 12 years, climbs to number 22 on this week's Hot 100 with "Runner." The single from the Earth Band's debut Arista album" Somewhere In Africa," brings the quintet back into the top 40 for the first time since 1977. That was the year the group reached No. 1 with a cover version of Bruce Springsteen's "Blinded By The Light." Mann also topped the chart in 1964 with Jeff Barry and Ellie Greenwich's "Do Wah Diddy Diddy," and returned to the top 10 in 1968 with Bob Dylan's Mighty Quinn ( Quinn The Eskimo),"
Written by Mark Cain, "Runner" continues Mann's strategy of making hits of other writer's material. " I can write," Mann says, noting the four original compositions on the album. "But my song writing isn't strong enough to base a career on." The four songs Mann wrote reflect his South African upbringing, but don't represent a new musical direction for the Earth Band. "If anything, I see us moving more into mainstream rock, like "Runner." says Mann.
While the Earth Band has always incorporated visual effects in it's live shows, Mann and the group's vocalist/guitarist of nine years, Chris Thompson, are not vivid supporters of video. Both agree the medium differs from the recording process in that a bigger budget virtually guarantees better video. But this doesn't keep Mann from smiling at the success of the "Runner" clip, which features timely Olympic footage in keeping with the song's "pass the torch" theme, and is now in heavy rotation on MTV.
While the Earth Band tours Europe every two years, Mann hasn't felt a strong enough demand to tour in the States since 1978. Now, he and the group are back in their London studio, The Workhouse, working on their next album. " I try not to think about it, " says Mann of the length of his musical tenure. And, as the group goes to work on its 13th album, Mann shows no signs of losing interest. " If I can't be successful musician in 10 years."
Kim Freeman
(Thanks to Mike Schild for this article)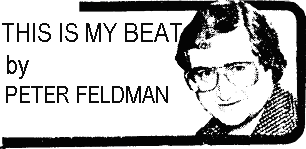 They said he 'could do better' so he did...but not in the classroom
The Star TONIGHT! Thursday May 24 1984 (South Africa)
They said he 'could do better' so he did...but not in the classroom
Manfred Mann, whose latest single, "Runner", has been chosen as the official song for this year's Olympics in Los Angeles, was the despair of his teachers during his Johannesburg schooldays.
According to his father, Mr David Lubowitz of Highlands North, Manfred's absorption with music affected his school work. He said: "The doleful footnotes to his reports reflect the despair of his schoolmasters. In one footnote a master, Mr E Pienaar, wrote 'Manfred could do bet-. ter if he did not waste his time in class. Manfred has great ability and many other good qualities, but he must concentrate on his studies'.'
It's an interesting point when one looks back now at the musical achievements of Manfred Mann, a musician who left South Africa to achieve a major international breakthrough with such classics as "Do Wha Diddy Diddy", "Mighty Quinn", "Pretty Flamingo" and "Ha Ha Said the Clown".
His new album, "Live at Budapest", a live recording of a recent Hungarian tour, was released by Gallo this week.
The teacher did not perceive that under that  scholastic indolence there were capacities of some worth, said Mr Lubowitz.
"The trouble was that Manfred found schooling an exasperating interference with his musical activities."
His father remembers the "quality" of the schoolboys in those days. In between playing they would gather in the bedroom and discuss world affairs with 'a maturity beyond their years.
Mr Lubowitz says he did not pass on any musical genes to his famous son. "My achievements in the field of music do not go beyond being able to croak `Bobbejaan Klim Die Berg'.
"This shortcoming," he said, "was made up for by two people. His mother is a fine piano player of the classics, so from his first days he heard beautiful melodies.
"The other person who developed Manfred was Professor Hartmann with whom Manfred took lessons which helped him enormously."
Mr Lubowitz recalled the early days when Manfred and some musically inclined friends got together at his home for rehearsals. "They also collected some girls to sing, among whom was Barbara Itzler who later became an actress. "Manfred's younger sister, though she had a thousand charms, also had a singing voice that could startle a crow. She was excluded from the band and bitterly resented it."
After leaving school Manfred joined his father's business, later moving across to England. "When I reckoned he was running out of funds, and to spare him the discomfort of sleeping on the Thames embankment, I sent him money.
"After awhile I got a note to say it was unnecessary to dispatch these funds as he had started to earn as a musician."
Manfred visits his parents in Johannesburg. But he always maintains a low profile. Once I saw him taking in the music at a Johannesburg restaurant, sitting unobtrusively in the corner enjoying a' meal with a friend.
My first meeting with Manfred Mann was shrouded in secrecy. It occurred in the early  '70s. His close friend in Johannesburg, Saul Ozynski, who had been his drummer in his schoolboy band, telephoned me one Sunday morning to ask if I'd like to interview Manfred Mann who was here on a private visit.
I jumped at the opportunity, but I only got to meet the musician after two infuriating false-starts when the artist failed to materialise.
The meeting eventually occurred hours before 6e was due to catch his flight back to. London. Our rendezvous was the lounge of a small hotel in Berea and Manfred spoke about many things including politics, a subject close to his heart.
As I was leaving, Manfred said I shouldn't print any of his political comments. I argued that he had given them to me during the course of the interview and I was perfectly entitled to publish what he had said.
That was the last time we spoke.
MusikExpress/Sounds 1986 - How Manfred learned to love black leather.
It's getting harder for him to step into the pop-arena. Manfred Mann, 45, family-man with receding hairline has problems playing the role of the youthful hero. Steve Lake assisted in getting over the identity-crisis.
Who's the guy wearing a black leather suit and sunglasses? The bearded guy who is frowning into his tea-cup? Yeah him. I think I¹ve seen him before. Of course... it's Manfred Lubowitz! Our favourite 45 year old white South-African! Who? You know, Manfred Mann! Are you kidding? No it's him, honest. Whew!
Mr. Mann isn't too sure about that either. He is in transformation, feeling uncomfortable like someone who is halfway through turning into a werewolf. It's always like that when he has to quit being M. Lubowitz, the guy who can take his dog for a walk without anyone noticing.
The new leather suit - with extravagant zips like a "Clash" outfit – is making a lot of noise every time he moves about uneasily on his chair (which he does a lot). "Have a cup, it's really good Earl Grey" he says, trying to appear relaxed. Thanks Manfred, and what about all this stylish black leather? "Hmm, photo-shoot. The Earth Band-image is not the best I've noticed." Age, hair-loss..? "Yeah."
He tells me about Steve van Zandt, who has been working at his studio lately. "He looks absolutely normal, to be honest he is an ugly little guy really. And yet he projects a very unique identity, I think. You say 'Steve van Zandt' - and you imagine this gypsy-like person with bandanas and earrings."
And what do you see when you say Manfred Mann? "It's too vague, isn't it. I have to try and work out a deliberate normality, which adds up to an image or whatever you may call it," he says, laughing. "Maybe it'll work if I wear this leather outfit and my favourite cap. I've seen the polaroid's from the photo-shoot today, and if every photo comes out as good as those..." his fist slams down on the table, meaning, all problems solved.
Not that he thinks image is important. "My step-daughter always tells me that image is everything. I don¹t believe that." Every record-company has got a big filing cabinet full of old photos of forgotten beauties, he says. "I mean if you are looking for a commercial female singer, you wouldn't say: I need a fat one with a big chin" would you. But that's what Alison Moyet looks like! And who wants to see a bald small guy in a baggy suit and a sweater? Not me. No one, correct. But if that small guy happens to be Phil Collins, everyone wants to see him."
Manfred Mann's Earth Band, you might have guessed it, have released a new album. It's called 'Criminal Tango' and among the singer/songwriter material - e.g. the old Joni Mitchell song "Banquet" – I've found some surprising tracks. 'Going Underground' by The Jam and 'Do Anything You Wanna Do', a hit for Eddie & the Hot Rods several years ago.
Musicians of Mann's generation must have taken this for Punk Rock when it was first published. He gives me a stern look over the frame of his spectacles when I make the remark. Do you think they still have any significance (you always have to prod him a bit to get an answer). Deep sigh. "In this business too many presumptions are made too quickly. I know Punk is history, but at home I mainly listen to that kind of stuff and I think a lot of it is very good material. The arrangements are simple and the home-made productions sound dated, but the songs... I'd like to do some of them on future albums. And I always liked 'Going Underground'."
Manfred Mann starts singing, swinging his cup from side to side like a beer-mug. "Underground, we're going underground..." He is almost looking happy. "What a great song! And I think it would be useful for other people to open up to that era again. Not all of these guys were singing let's go trash a pub."
It took three years to record Criminal Tango. That's slower than Frankie Goes To Hollywood and Fleetwood Mac. But Mann didn't spend all that time to rummage through the archives of Punk! No, he got distracted by completely different influences. Especially Thomas Dolby and Howard Jones and their way of working with machines and programmed synthesizers. "I haven¹t heard anything extraordinary from them as pianists but they don't have to prove that, they have chosen a different way. Their ideas... I am really impressed by what's in their heads. They have influenced my work so much, I had to get into the complexity of programming. The programming and sampling with the Fairlight has slowed down the work on the album. You know, I¹m blessed or should I say cursed with a very open mind and that's why I get distracted sometimes. I listen to a - say - Howard Jones record and I think oh that's fantastic, how did he do those sound effects? And then I go and buy a terribly expensive computer..." Manfred cringes at the memory. "And then I sit for months trying to find out how it works. After a period of three years I had to face the fact that computers and synthesizers aren't things I can work with spontaneously. I mean I didn¹t give up on it, I'm still using some of their features. They can be useful in creating a certain atmosphere."
Despite using a lot of computer programming, which imitates rock instrumentation, the album has a strong "live" feeling to it. (The Earth Band joined the recording process when Manfred had finished giving the tracks 'substance'.) It sounds as if it had been recorded in three days and not three years. "Yes, that's crazy. To create the mood we had in mind, we organized the program in a way it came out sounding like a live-recording sometimes. It sounds more like one of the older records, when production costs made it necessary to rehearse a couple of weeks before we could go and record everything in a live situation."
"Older records..." - it is a miracle to hear Manfred accept their existence. Years ago, if you wanted to make him go all paranoid you only had to look casually in his direction and say "5,4,3,2,1 Manfred?" "You know, a couple of years ago when I was at a friend's place he put on 5-4-3-2-1. It was fantastic. I thought: why did I have a problem with this all those years? This is great! Then I noticed that something was different. I said, is there something wrong with the speed of your record player and he said, it¹s going a bit too fast. And I knew the mistake Manfred Mann had made all those years: we always played too slowly! In the studio I started to change absolutely everything into a faster tempo. All this technology you know. But I¹m not complaining..."
In England Manfred Mann is inseparably linked to Bronze Records - a label which all journalists have tried to avoid. What a repertoire! Motorhead, Uriah Heep, Sally Oldfield - all of them very successful in Germany for some reason. But Bronze went bust two months ago. Manfred Mann got out just in time. Still it is surprising to see him signed up with the Virgin linked 10 label where he is in even more obscure company: The Flying Pickets, the melancholy poetess Anne Clark and the Welsh gnome Aled Jones. The German branch of Virgin initiated the contract. "Udo Lange (Virgin boss in Munich) played our material at a meeting of Virgin International, and two of the smaller British labels where very interested. 10 Records seemed to be the better one. I liked the fact that they weren¹t interested in MMEB as a brand product, because you can't say our sales-figures in England have been impressive during the last eight years..."
He has to laugh at his own words, and still it is sad but true: in Britain Earth Band couldn't get rid of their records even for free. Does he suffer from a lack of respect in his home-country? Manfred gives a cynic smile: "I wouldn't use the word suffer. Professionally I am disappointed but personally it is very convenient. Because I can lead a very private life. No one bothers me. That's wonderful. And it's nice to come over here once in a while, buy some leather pants, pose a bit and act like a star. If I had to choose between privacy and fame I would always choose privacy. My private life is very important to me."
And if "Do Anything" sells in England as expected at 10 Records? "I would be... delighted, but they would also make me do things. I don't enjoy appearing on talk-shows and getting asked: "and what did you do since Mighty Quinn, Manfred." He shudders at the thought. "I don¹t know if I could do it. But I think as a professional I'd do it anyway."
"Pro" is almost a bad word in some places and conjures up the image of a miserable paid-for-the-job musician who grudgingly does his job. Inspiration? Forget about it, that's for poets. Manfred is a down to earth craftsman. He has got more musicianship than most people know, but he has decided to work in a business where a demonstration of musicianship provokes nothing more than a shrug. Who needs a ten-minute piano solo on a pop-record? "I don't play music I don¹t like. I would never do that! And it wouldn't work - although it did in the sixties. I have got to work within certain limits, but some day I will leave this genre for a while. Do you know those Windham Hill, New Age Music records?" Now it's my turn to shudder at a thought. Yes, I know them. "I really like this stuff. I would like to do an album of this kind. Just me and Mick Rogers. A whole album of improvised music, very calm, very subtle, but as themes I would choose well-known Rock-songs. A large proportion of the album would be just layers of sound, varying in rhythm and structure and then the themes, God only knows', Blinded (here the transl. shudders at the thought) - which get the listener¹s attention. I am certainly going to do something like that. But first I have to learn to work more effectively as far as the completion of MMEB-albums is concerned. Otherwise I¹ll never find the time."
I remember the last MMEB album release. During the PR tour of 'Somewhere in Afrika' things didn't go well between journalists and Manfred. When we met in Munich he had reduced his means of communication to an impatient growling; he refused to talk about the album he was supposed to be presenting. When I asked him if there were musicians who resented him because of his South-African background, he started a long sermon about the general political ignorance of musicians. "Oh I probably said that but I didn't mean to put it that way. I have always resented people telling people what to think. I don¹t like politicians telling me what to think. I feel uncomfortable with preachers of any religious faith trying to convert me. And I feel especially uncomfortable when I... have had too much tea. Earl Grey... it's a diuretic, you know."
May I just ... thank you. He returns with a relaxed smile. "That's better. Where was I?... And I¹'m extremely annoyed if a musician tells me what to think. And still... I don't resent Steve van Zandt singing ('I Ain¹t Gonna Play Sun City') That's OK, but sometimes with musicians and politics it's..." he grimaces, shrugs (leather-jacket making a hell of a noise) and gives a thumbs-down.
"... you know. It seems childish to me. Those guys on the Sun City album are no experts on South-African politics. They don't need to be. They concentrate on the essential part. I'm sure most people in Band Aid didn't comprehend the economic system of Ethiopia and didn't understand the reason for the catastrophe. Maybe it isn't necessary. Anyway: I don't want my statements to be understood as the only reasonable point of view." Did you get a lot of feedback on Somewhere? "Some. But mainly I remember the horrible promo-tour, when I had to talk about politics all the time. Every journalist brought up the topic. 'Criminal Tango' is just a collection of songs, no big concept, and that's why the interviews are more like a.... chat. Very well. But with the African thing I had to give so many explanations about the system down there that it got to me. First of all the album was a musical statement. Sure it expressed my political opinion. But first of all it was about music. But nobody, nobody asked anything about the music."
Manfred looks at his watch. "How about finishing the interview? You have heard enough by now, haven't you? It's getting late, and I have to join the record company people for dinner." You sound as if it were a punishment. "I¹d like to get it over with let's put it this way. Would you like to join us?"
Half an hour later we're in a small bistro in Schwabingen. Maybe it's the full moon, I don't know... but our artist is not a hesitant guest at the dinner table. The Werewolf-transformation from Manfred Lubowitz to Manfred Mann is coming to completion. There is a wild look in his eyes as he is dominating the conversation for the following hours. He attacks the wine and entertains the table with terribly dirty jokes about sex in the desert - with camels. And worse... I overhear people at a table nearby: "Who's the guy in the black leather suit? I've seen him before . Oh I know...it's Manfred Mann." "No!" "If I tell you so, it's him. It's him, honest."
Steve Lake
Thanks to Annette Grah for translating this from the original German article
---
On The Record - Manfred Mann
(Article from late 80's) - Thanks to Keith Sheen
Manfred Mann has enjoyed an eventful career in music spanning more than 25 years.  Throughout the Sixties he and the band named for him scored a succession of hits like 5-4-3-2-1, The Mighty Quinn and Semi-detached Suburban Mr James.
A keyboard virtuoso, Manfred then went on to form the more rock-orientated Earth Band whose hits included Joybringer, Davy's On The Road Again and Blinded By the Light which topped the charts all over the world.  In 1983 he released an album called Somewhere in Afrika which pre-dated Paul Simon's classic Gracelands by three years. 
"I don't want to make too much of it says Manfred, but some of the musicians I've met who worked on Gracelands told me he was constantly using my record as a reference point."
Right now he is recording an LP with Greg Lake of Emerson Lake and Palmer fame.  For the first time he is working with computers, rather than musicians.
"I spend all day in front of a computer screen thinking: 'I didn't start out in this business to be doing this!'  But there are two main benefits.  First you get the exact notes you require and second, you don't have the expense of employing musicians." 
"But working by yourself is a burden - you miss the input of your fellow players and the camaraderie."
Enjoying performing with a group led Manfred to spend most of the Seventies and Eighties on the road.  "Manfred Mann had toured before then but to be perfectly honest it wasn't much fun.  The shows were full of young girls screaming because they had seen us on TV.  With the Earth Band, it was very different - the audiences were into the music.
"Mind you, being on the road can present a whole new set of problems.  It isn't really the concert which is exhausting or even the travelling.  It is the emotional deprivation: when you want to be alone, you are in a bus with the rest of the band.  When you need company, everyone else has left the hotel.  "Then  on stage, thousands of people are cheering.  I think it is the sudden contrast between adulation and loneliness that is responsible for the strange behaviours on the road.  It's the result of usually reasonable people being subject to a particular kind of cruelty."
At the moment Manfred has no touring plans.  Apart from working on the new album, he is overseeing the release of 20 Years of Manfred Mann's Earth Band, which contains two compositions by Brice Springsteen.
"Determination is not separate from ability.  A musician instinctively knows if he's capable of producing the goods.  That's what keeps me going.  Which is a terrible curse because I'd much rather go on holiday!"
---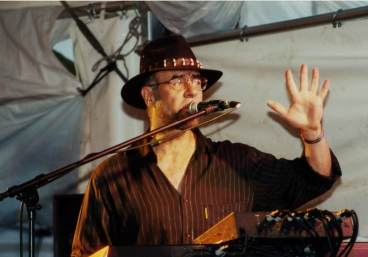 Manfred Interview 1991
This article appeared in "Fachblatt", German original by Udo Weyers 1991.
The man is a legend. From the early 70's to the mid 80's he has continuously produced successful albums, unique for the characteristic voice of Chris Thompson and Mann's Mini Moog solos. His musical roots are in Jazz but he chose pop music soon after he arrived in London in 1961.
"Ha Ha Said The Clown", "Fox On The Run" and "Mighty Quinn" are songs known to anyone who has been to teen-dance-parties in the sixties. They are still popular at any "Oldie"-festival. Mann's attempt to return to Jazz in 1969 remained commercially unsuccessful.
Earth Band got him back to success. Albums like Solar Fire and Roaring Silence sold extremely well. Musicians joined and left the Earth Band, among them singer Chris Thompson whose unique voice had brought a change towards a more commercial repertoire. New versions of Dylan's "Mighty Quinn" and "You Angel You", or "Davy's On The Road Again" are 'evergreens' of Pop-Rock. After Chris Thompson left, the new EarthBand albums didn't sell too well. Projects like Somewhere In Afrika (1982) or Criminal Tango (1986) were very good productions, but weren't commercially successful and not received very well by the critics. 
It has been four years since Earth Band's last album "Masque". Mann's latest project, the solo-album "Plains Music" is put into the world-music category in the record company info, although they don't use the word itself. After Quinn the Eskimo, another attempt to fraternise with indigenous people? Or is Manfred following a musical trend which is already getting a bit boring?
My first try to confront Manfred with such ideas has a surprising effect. He jumps out of his chair and disappears into the bedroom of his hotel-apartment. Did I say something wrong? I had been assured he was "quite easy going". But I needn't worry, he returns with a book and shows it to me, it contains musical notes. "I found this book in a shop. It's called 'The Indians Book', written in 1910. I put the melodies into the computer note by note and let the computer play it for me. I'm not very good at reading sheet-music."
My questions about the sources and even a philosophical background of those ancient melodies bring up a different view on the new album. Q: Did the original American-Indian melodies sound very characteristic? A: "No idea, I don't know characteristically what Indian music sounds like." He doesn't care what it says in the record-company info. The melodies were a basis, raw material which he used to create something new. So I cancel all further questions about motivation and concept.
The music is atmospheric, nothing exciting I think, more appropriate for the quieter moments of the day. My comparison to film-music hits a nerve. Manfred reacts: "I must say my music is definitely more than that. Film-music has become the simplest thing on earth. Take a pattern that repeats itself, put some effects on it - there's your film-music. Every other film has got a soundtrack like that - terrible." His idea is that ambient music gets the listener to a level where it triggers emotions, and he hopes his music can do that. At least he tried to achieve that. A follow-up to this project isn't planned yet. Mann sees himself as a rock-musician, who likes to perform live.
Earth Band studio recordings are in preparation but there's nothing definite yet. He is very open to new technologies but sceptical at the same time. "I try anything new on the market. Most things don't sound good live, just another string sound, and more brass sounds. And all the pianos are terrible. I wanted to replace the piano I use on stage. At the moment it's the M-1, but I'm not happy with it. If I can find a decent sample, I might use my Akai-S-100."
Don't you think that keyboard-players have been downgraded to mere sound-bank administrators, like 'can you do strings, brass, effects...?' "That's right", he agrees without hesitation, "in most cases you're only supposed to do the Jumbo-Jet. But that's not the keyboard-player's job in it's original sense. I'm lucky to have my own band, so I can say: trumpets? no, we don't need trumpets!" Imitated sounds are just an add-on for Manfred.
Original keyboard-sounds are more to his liking. For years he has been relying on his good old Mini-Moog. He has got two of them. Both have been 'midified' to make them compatible to the digital age. Manfred laughs at the idea of squeezing the sound-quality of a Moog into a mundane sample. "How ridiculous to do a sample of it! The controls of the Moog allow thousands of settings which make up the character of this instrument. For instance you can change the filter-frequency while you are playing. You can't sample that." He isn't so sensitive regarding other keyboards: Hammond-imitations in the usual keyboards and modules are ok for him. He's got his own theories about sounds: "Apart from the lead-sounds it's not important what you choose. You need piano, organ and a few good string-sounds. And you get those out of most devices. A guitarist also only has four or five good sounds he's working with. Look at what Bruce Springsteen uses on stage: piano, organ, a couple of synth-sounds. That's it. The atmosphere is what's important." Technical developments for guitars also don't seem to matter to him. "The audience doesn't notice if the guitarist is playing over a combo or a monster-rack. People want to be entertained and dance."
He rejects my opinion, that audiences have become more demanding as far as live-sounds are concerned. It's mostly the critics who think that way. Sure, Earth Band wants to produce a good sound quality on stage, but a gig has to be more than reproducing a studio-recording. Lots of things can't be reproduced in a live situation. One example was trying to sample an African instrument for a gig. "The technicians tried to record a sample. On the album we used the original. The sample was awful. So I said, let's forget about it. The technicians couldn't understand my decision - the instrument was on the album. That's the point. It's not important what's on the album. You just need a good live-atmosphere, you need to entertain the audience. It's not important if one instrument is missing somewhere in the background. On another album was a song which had a recording of an African choir in it. "How can I do that live?, I asked myself. Sample, play a tape, use a smaller choir? Do you know how we did it? With a vocalist and an acoustic guitar! It sounded fantastic. It's so easy! Of course it was completely different, but nobody asked, where are the drums, where's the choir?"
Things are different in the studio. That's where Mann uses all the blessings of modern technology, although deliberately. Songs are recorded in a live-situation. Two African orientated songs were completely programmed. It didn't work to do them with musicians afterwards. The solo-album material won't be played live at this summer's EarthBand gigs of course: one or two new songs, everything else will be from the older albums. It wouldn't be wise to do meditative music in a set along with the Beach Boys and Allman Brothers.
The live-set-up will be, according to Manfred's philosophy, reduced to a minimum. A Yamaha SY77 (the signal going through the Moog filter), with a sound bank, a Korg M-1 (just for piano and a string-sound as backing for the vocals). The sound-programming is not his thing, he only does minor adjustments here and there. His opinion is that musicians shouldn't try to be programmers, or, to quote a colleague's opinion about keyboards: if some new keyboard which arrives in the studio doesn't sound good right away, it will have to go instantly. For Manfred, we live in a world where theoretically any sound can be created, but still different productions sound more and more alike. A strange contradiction.
Can an experienced pro like Mann give young musicians an advice? "People should do what they feel like. If there's an advice, it's do not pay attention to any advice! If you want to program, do it, if you like to just play, you should do that. You can only be good at things you really like to do. Who doesn't enjoy fiddling around with all that technology should just leave it to others. You will find someone who really loves programming and who will be ten times better at it than you. So why bother?" He's not very keen on working with all that electronic stuff himself. "I try to avoid working with computers as much as possible. Through communicating with other musicians you get ideas you never would have come up with yourself. If you ask your drummer to play something a bit differently he will do that, and in a way which may even surprise you. But try and tell that to your computer and see what it will come up with!"
So it's less technology and more skill? He has a split opinion about this. "It's all about the question what you would like to achieve. Skill isn't everything. The process of learning to play a piece of music on the piano doesn't have much to do with the result. It's a mechanical process. Making music should be fun though. Although you have to get to a certain level of skill to be able to translate your ideas. A lot of things, especially in classical music theory, don't get you anywhere in pop-music."
He has got a funny example for frustrated yet ambitious virtuosos. "I used to torture myself with all sorts of technical exercises, for instance, trying to hit one key as fast as possible with three fingers of one hand one after another. It took me several months to become really good at it. At a concert I saw a keyboard-player who could do it even faster. I went around the piano and saw he was using both index-fingers! Since then I'm always holding up one hand while I'm playing passages like that. Somehow you've got to show people how good you are!"
Thanks to Annette Grah for translating this article
---
Manfred talking to Andrew Brel in November, 1993 for Keyboard magazine.
Manfred Mann is now in his fourth decade in the music industry. Having announced his arrival in the UK from his native South Africa with a string of hit singles which illustrated his special skills in finding the arrangement that turns good songs into massive radio play hits, Manfred has consistently produced high quality albums that have achieved notable commercial and critical success while bypassing the usual media hype associated with big selling albums. Success on his own terms.
Blessed with a sound ear for a good song, as well as a respected business sense, Manfred's success in the music industry has been built on a solid platform. His piano playing skills.
In the beginning.
There was a piano in the house. If there had been a guitar I might have learnt that. My mother played the piano. When I was about six, I gravitated to the corner of the room, and started playing the piano. I was primarily self taught. Eventually I took lessons, but I soon got bored, because they were teaching me to read, and I could play better than I could read. I found the reading process very frustrating, so I kept giving it up. Even today I don't read very well. I had to teach myself in my thirties.
My first influences were boogie, sort of blues really. I got hold of a book and painstakingly worked my way through it, but, growing up in South Africa at that time, what could one hear? I had very little access to anything.
When I was around 14 I started hearing different music, and that helped. I practised really a lot, and then an American piano player, whose name I forget, came to South Africa. I saw him playing a concert at the Johannesburg University, and I thought he was great. Then, one night I was playing in a coffee bar, and he came in. He told me he thought my playing was great. I thought 'fantastic. He thinks I can play.' I suppose around then I realised that I could play, but I never thought I'd earn a living as a player.
Around 1960, I decided to move to England. I thought I might be able to make a living out of teaching, although I came mainly because I didn't want to be in South Africa. I certainly wasn't overconfident. In fact, I had no confidence whatsoever. I've never had any faith. I always think when people say you've got to have faith in yourself, they're trying to talk themselves up to a state of optimism because they've got no faith in themselves.
A user end view of the arrival of technology in the world of keyboards.
When I first started playing there wasn't a whole lot of choice in what keyboard you played. You played an acoustic instrument over which you had no control except to hit the notes. Then came the organ, where you had marginal control over the sound, but which took away the touch response. That was the whole sixties period. Either piano or organ.
In the seventies, you started getting synthesizers which gave you more control over the sound. When the Mini Moog came along, for some reason or other I found a way to play it which is personal. To this day I use it all the time. I have two Mini Moogs midied up, and it's there on the albums and on the gigs.
The Mini Moog gave you instant physical control of the sound parameters with your hand. It didn't give you an immensely rich sound in some ways, but it gave you a degree of control that no other electronic instrument, except that particular breed of synthesizers, ARP, etc. gives.
What's happened now with keyboards is, you get more and more sounds, and no real control. You get phoney control, where you can alter a lousy filter or whatever, but not real control. So keyboard players are now more the keepers of the sound, and not the players everybody admires. It's usually the guitar players because they've got their hands on the instrument. A direct physical relationship between the player and the sound. The keyboard players are there using their sounds to imitate real instruments. I can be a string orchestra one minute, and an African marimba band the next. The importance of the actual playing is diminished. I think it's led by the manufacturers making what they think people want. More and more sounds, with less control over those sounds. I think it's a mistake.
If you think of all the control we have in terms of sounds, and then you think, well what have these keyboard sounds given us over the acoustic world, apart from the fact you can do it through computers, what sounds do you hear on records that are new? I can't think of more than three. A reedy string synth sound that's quite unique to synthesizer. It imitates strings but isn't strings. A mini Moog type synthesizer sound, and I battle to even think of a third. Maybe someone reading this article can tell me what new sounds there are that are actually useful. I'm not saying you can't make up your own wave forms, but what's useful? For drums, you can have buildings falling down, breaking glass, explosions, and yet people use the snare drum most of the time. So it seems to me that there is something quite fundamental that comes from the acoustic world that you can't get away from too much. It's what you hear with your ears and what is made with organic, natural instruments.
I don't think that all this available technology has had a negative effect on developing players. There are still a lot of people wanting to play. I think the live player thing is very much alive. The big market is still for people who play instruments. I think there are a lot of other people around who can't play instruments, who program, and are very good with technology, but players are still the most important thing.
If you're thinking of making a living as a keyboard player.
Don't do it. It's the only advice you can give, on the basis that someone who really wants to do it won't listen to you, and anyone who has any doubt will listen to you, and if they had any doubt they shouldn't do it anyway. There was a woman here the other day whose son wants to be a guitar player. I said don't give him any assistance whatsoever. Just hassle him to do his schoolwork. If he really wants to do it he'll ignore you, and he will come through. You don't have to encourage people. You've got to be good enough deep down. In my case, nobody made it easy for me. I wanted to do it enough. You talk to anyone who's had success. They wanted to do it enough. If your parents can talk you out of it, you may as well be talked out of it.
For those players who make it onto the next stage, I would say this. I have never met a single individual that never had an opportunity. Everyone gets a chance. This idea that you never get a break is nonsense. Everyone meets someone who listens to them. So if you really are going to do it, there are just three things to remember: Work Work and Work. Because one day an opportunity will come your way, and when it does, you'd better be ready.
Something that many people reading this might not fully appreciate, for all their faith in themselves, and all their determination, is the real sense that it is possible to just deliver a record, and the next minute the whole world is playing it everywhere. Now that's happened to me a lot over many years. It hasn't happened for a while now, but I know it's possible to go into the studio, make a recording, just hand it in, and six months later the whole world's exploding. So now when I work, for all my realism, and for all my self deprecatory kind of attitude, I know that it's possible. I actually know it. I can feel it. It's tangible to me - the possibility. Maybe for someone who hasn't had that experience, there's a need to rely on optimism. Maybe an empty optimism. Not real hope.
Still playing after all these years.
Having played the piano virtually daily for approaching half a century, how does he feel about playing now.
It's a difficult one. Like a mountain climber. You ask him if he's happy when he's half way up the mountain. He can't breathe properly, he's freezing and there's no oxygen. I suppose his answer is 'I'm cold, I want to have a hot bath, but this is what I do. I'm a mountain climber.'
I don't think I enjoy music in the naive kind of sense I might have when I first started, but it's part of me in a way that it wasn't then. That's absolutely what I am now. I'm a musician. I will play that piano everyday. Sometimes just to practise, sometimes just to muck about. Sometimes just to enjoy the sound of the instrument.
Earlier this year I took some time off to visit Africa. I absolutely love wildlife, and I went to Botswana. Just one guide, and an open top vehicle, going round the bush. It was wonderful. I completely forgot I was a musician. It just didn't matter. Completely inconsequential. When I got back, and played the piano, I was astonished that I could play as well as I could play. I just couldn't believe it. I spent hours just sitting there playing, and I enjoyed it immensely. I thought 'God I can play this thing'. It seemed like something that had just been given to me. So perhaps if I was in Africa living in a tent I wouldn't bother much. It's really hard to say. But, if I'm on a gig, and it's going well, I get a lot of pleasure out of that.
I think I'm burdened in my own mind with making everything I do as good as it can be, so that now I cant just go down to the pub and play. Sometimes I wish I could, but then I think someone will look at it and say 'there's Manfred Mann, and he's playing crap.' When we do gigs I work and work and work to make sure they're as good as possible.
On recording techniques.
I really don't know much about the recording engineer's job. I'm too much of a musician to ever be really organised on that side. I find that no matter how much you do a thing properly or unproperly, if the guy doesn't sing right, you're completely stuffed. You can get everything wrong, and if the singer sings great, it'll live. The voice is the most important thing on the record. The most important rhythm instrument on the track is not the drum kit. It's the voice. I think people really miss that. 90% is the way the guy sings. I mean, use Peter Gabriel as an example. Everyone raves about his productions, which are incredible, but for me the really incredible thing, worth as much as any of his amazing production techniques, is the awesome way that he uses his voice. He sings great, and I think people underestimate the importance of that.
In doing arrangements.
Most of the songs I do are covers. Once I've decided on a song, I learn it, and then I stop listening to the original. I don't refer to it again. I play it over quite a long period of time. Weeks maybe. Fiddle about - Try to find a way of doing it that eventually appeals to me, that's different from the original. It's a very instinctive kind of process. I have a kind of pride in trying to make it different to the original. When I arrange the song, at the piano, or on the computer, where I do a lot of it now, most of the time I do the singing myself, and then just hope that when we get to the recording the singer will be able to fit his voice where it works.
Talking Technology .
The interesting thing is, we used to make records in three hours, in the early sixties. And now, everything's improved to such an extent, and it's all so much faster with Technology, that it only takes two months.
It's this thing of having control over every parameter.
I think the worst thing that's happened is that you've got too much control. It all needs thinking about. I'll use an example.
Some things that you do in your life, you don't really control fully. You should get instructions. Like - open the packet - lean forward - balance - move your arm toward the counter - breathe in. Many of the things we do are just not meant to be thought about too much.
Over the last ten/fifteen years there's been a kind of love affair with technology in certain areas, where everyone says 'Hey this is great'. Then when the next thing comes along it's 'That was crap, this is great'. It reminds me of the digital watch. Nobody wears a digital watch. It was a crap idea in the beginning. So if you look at those old computers people thought were great ten/fifteen years ago, they were impossible, really awkward ways of wasting time, and everyone was saying how great it all was. Like the digital watch, from a working point of view, they were out of touch with people.
I now like computers because you can treat them like recording machines. The mindless repetitive button pushing that you had to do to complete even the simplest of tasks, is no more.
So now it's all easier, and better, but what it's done is enable people to produce recordings on their own. The computer gives you the feeling that you can. So there's a lot more people making songs in isolation.
I enjoy some of the tremendous advantages of working on the computer. I do most of my sketchpad arrangements onto a C-Lab Notator, mostly in my home workroom. Being able to make changes to the arrangement so quickly is great, although when we get to the studio, I almost always replace all of it with live playing.
Since 'Davy's on the road again', although Manfred has not had a major UK hit, there have been considerable sales elsewhere.
There were the various Earth Band albums. 'Somewhere in Afrika' was quite successful in Germany, won their equivalent of a Grammy in 1984. The song 'Runner' made 22 on Billboard in 1984, and the Earth Band albums continue to sell steadily.
One recent project, "Plains Music" was a number one record in South Africa last year.
Currently I'm doing a new Earth band album, as a co-production with Richard Burgess. I haven't worked with any producers in this way since the early sixties. It's been an enormous relief for me to be able to concentrate on arranging and ideas, and leave Richard to get on with the things that he's really good at, which is really dealing with the practicalities of those ideas. Hours and hours of sifting through various takes, and deciding which is best. Seeing him work, I just realised that he is much better at that aspect of it than I am.
I feel much more optimistic with this album than I have done for a long time. Again, it's mainly songs that I have found. Some new ones by a South African writer, Cyril Schuman, that might surprise a lot of people, and others that people might recognise. I search in the most obscure corners for songs, but it's not always easy to find a great song. I'm the sort of person that whenever a band has a successful record, I go back to their earlier work and see if there's anything there that people might have missed. A good song masked by a bad performance. I also go through loads of indie compilations.
Wedded to uncertainty.
I think people always feel better when they have a strong definite direction. If you sit in a room with people who are undecided, everyone feels insecure. Then, when the decision's made, everyone feels very confident. At that moment the creative process ends. I believe in making that strong, powerful sounding, decision is actually a weakness. It's a weakness because we can't deal with uncertainty. So we're tempted to go with the power of positive thinking thing. This is the decision - bang - everybody feels better about it, but it may be the wrong decision.
I believe in putting off that kind of decision to the last possible second. I will constantly change things, changing my mind all the time, in what I believe to be positive creative thought. If I'm doing the last few songs on an album, and it's all definite, I'll still listen to tapes coming in. I'll still bear in mind the possibility that there's something that I've missed, right up till the last minute. It drives the people around me crazy. Even if it only serves to show that the original decision was the right one, I don't think indecisiveness should be viewed as a weakness.
I don't believe you should have set beliefs about things. It just means that when you're presented with a problem you know how to look at it because you have a belief that affects your response. Whereas each problem poses a fresh set of thoughts, and should be looked at clean, without the baggage of previous experience. Particularly in recording it's important not to be bogged down by how you did it before.
I don't believe that those who forget the lessons of history are condemned to repeat it. Obviously people will find parallels. It's the people who think history repeats itself always getting it wrong. Generals fighting the war like they did the last war. I mean, if history repeated itself, the Germans would have killed many millions of people in the First World War. They didn't. In fact there was so much British propaganda about Germans in the First World War that when the Second World War came, they didn't believe what was coming out. There was this feeling that history was repeating itself that blinded them to what was happening. The pacifists - totally right to be pacifists after the First World War, totally wrong to be pacifists faced with Hitler. These people basing things on previous experience just get it totally wrong. You look at the Second World War and say the war was worth fighting, and then become a warmonger in Vietnam. You can't use that experience. Every situation is different.
Reminiscing over afternoon tea.
In England there's very little commercial success for me now. I'm regarded generally speaking as a 'has been' by most people. They meet me and say didn't you used to be Manfred Mann. In fact Manfred Mann's Earth Band was the most successful period of my life in commercial terms. In hard market money terms. Unfortunately people here remember the sixties band very highly. Although it was a great band, incredibly successful, and some of the records are very very good, we never quite managed to make successful records out of the side of the band that was truly exceptional, and that is as a blues band, and a really good live band. Paul Jones - very good blues singer, but the songs we're remembered for are the more lightweight ones like 'Do wah diddy diddy', 'Mighty Quinn' etc. Bands like the Stones managed to make their best stuff, in one sense, successful. We never quite managed to get the blues stuff to be successful, and I think that is what happened to that memory of the sixties. I must say I personally don't bother too much about it. The sixties isn't a period I remember with any great affection. I have to be careful about what I say about that time because I have a great respect for the people I worked with in that period, and they're all very fine musicians, but somehow I don't think we ever produced the best that we could do on record. Maybe it was partly my fault because I was very much singles oriented.
I've not been tempted to do any kind of sixties revival thing with the sixties line up of Manfred Mann, partly because what I do in Europe is very valuable, and I think it would be muddied terribly. This year alone in Germany we've sold over 300 000 copies of the Earth Band compilation album, and just finished a very successful summer tour, so I wouldn't risk jeopardising that.
Apart from the fact that in that band, and the guys in the band themselves know this, you could get up and play without me. To the listener, it wouldn't matter if it was me or a session player, whereas with the Earth Band you couldn't put anyone else in there because the sound of the Moog, and the way I'm playing it, is actually integral to the whole thing.
The sixties band can play without me and sound the same. Mind you, apart from the voices, it's probably true of the rest of the band, because the success of those songs was more in the arrangement and the voices. I mean, Pretty Flamingo is still a lovely record, but I wouldn't want to do it again. I think the past is the past, and tomorrow is another day. The thing that keeps me going now is simple. Life and the force of life. Just a day to day thing. Survival and just be as happy as you can because you only live today.

Mann's Man
The following feature has been reproduced from the October 1998 edition of Guitarist, with kind permission from Guitarist magazine
As well as 25 years in Manfred Mann's ever-popular Earth Band, guitarist Mick Rogers has played with Jeff Beck, Frank Zappa and Joan Armatrading. Andie Cayne prepares for some choice anecdotes.
Mick Rogers' first guitar was a tenth birthday present from his Dad. Although he claims he found it difficult to play at first, he was encouraged by his musical family to persevere.
"I'd already messed about with my uncle's double bass for a while, so I taught myself some chord shapes and played in my dad's band. Dad was a drummer, and uncle Ernie, who also played electric bass and guitar, donated another guitar."
He's Cool for Strats…
"The first guitar I really loved was a Strat I got in the late 1960's. I also used a Gibson SG and then a Les Paul for a while but I went back to playing Strats. I guess you could say I was always a Strat cat."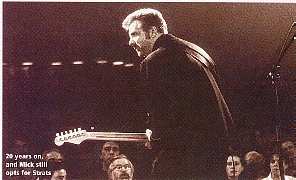 Mick currently uses a sunburst 1957 reissue Strat with a built-in Alembic Stratoblaster preamp, and a 1959 Strat with a Gresco preamp and Schecter tremolo and for acoustic stuff he's got an old Glen Campbell Ovation. Both Fenders have locking machine heads and Seymour Duncan Quarterpounder pickups.
"I bought my 1959 Strat in the early 1970's. It had a preamp which I thought was really cool because you could overdrive all the pickups by simply flicking a switch," recalls Mick of his favourite instrument.
"It used to be a Sunburst but I sprayed it pink so it would look more like Hank Marvin's. I am a great fan of Hank's."
Several years on, and Mick's first serious band was the ImpActs who backed Adam Faith and Gene Pitney. He was then asked to join Normie Rowe and The Playboys. Hesitant at first, he soon realised that it was the right move, and would propel him toward an upward career spiral.
"I was told they were big in Australia and I thought 'oh yeah' but when we arrived in Sydney there were about 2,000 kids waiting for us at the airport!"
Mick's next band, Procession, scored several hits down under and earned themselves a deal in the UK. Their producer Mike Hugg just happened to be Manfred Mann's drummer. Manfred himself went to see Mick sing, liked what he heard and called Mick back from Australia to front his new rock formation and the Earthband was born. Success followed swiftly with the album 'Solar Fire' (the Earth Band's answer to 'Dark Side Of The Moon') spawning a top ten single in 'Joybringer', and also including the first recording of their version of Bob Dylan's 'Father of Day, Father of Night.' Yet the popularity and assured longevity of Manfred Mann's Earth Band always had its basis in live performance, hence the recent release of 'Mann Alive', a live album recorded on the 1996/97 European Tour. It showcases Mick, Manfred and the guys in blistering form – the group were so regularly called back for encores on tour that they had to make it a double CD.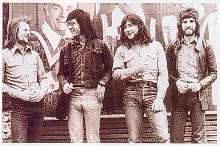 Anyone for tennis?
Besides his ongoing work with the Earth Band, Mick has performed with many famous artists, including Joan Armatrading and Dave Greenslade who, on a couple of occasions, used a very young Simon Philips on drums. In his spare time he may play a game of tennis or two, sometimes with very worthy opponents.
"About three years ago, I was invited to play a tennis tournament at Jeff Beck's house. Some of the other musicians were dressed up as women. Imagine these long-haired guys with their hair in pleats, hairy legs, wearing little skirts and playing the doubles! I actually beat Jeff and when he walked over and shook my hand he said 'well played… you bastard'. I almost felt like I'd upset him so I was going to leave, but luckily I stayed on and got a chance to jam with Jeff later. Jimmy Copley of Tears For Fears was on drums and I started to play this riff, an old Gene Vincent tune. Jeff came over, really pleased that I knew it. I guess I was forgiven."
Meeting Frank Zappa was another highlight in Mick's career.
"We were on a tour in the States supporting Zappa's band: George Duke on keys, Chester Thompson on drums and Tom Fowler on bass. I remember checking them out in rehearsal and being amazed at how all this highly complicated stuff was being played with such precision. Little did I know that soon it was my turn! Tom couldn't make one of the gigs, and they asked our bassist Colin Pattenden if he could stand in. I was a huge Zappa fan and knew most of the tunes inside out, so it was suggested that I join in too. We experimented with the line-up in soundcheck – the first tune was from 'Apostrophe' and I'll never forget Frank's face when I just started up with the riff! So that night I came off stage after our set, changed, borrowed Colin's Rickenbacker and played a two and a half hour set with Frank. It was fantastic. I had to busk my way through all the intricate stuff but it was great to be on stage with those guys. Zappa's manager approached me afterwards, offering me money for the gig! It was the greatest night of my life, I should have paid him! Even so, he insisted on giving me the money and so I bought a Les Paul with it."
In addition to his already impressive CV, Mick was once almost in Uriah Heep, but things didn't come together.
"I went to Ken Hensley's house and we wrote some stuff, but that was as far as it got, although I'd already been paid some publishing money. Those high rock vocals weren't really for me!"
Mick's great stacks of fire
"The first amp I owned was a Truevoice which I thought was massive, but compared to amps today it had the power of a radio. I really got intoAC30s after that, noisy little things they were. In Australia in the 1960's, the closest thing you could get to a Marshall were these stacks called something like Fane. They weren't the most reliable things."
It was during one of Mick's blistering guitar solos which were to become his trademark, that the amp exploded.
"I looked over my shoulder and one of my stacks was on fire. I do consider myself a loud player, but not that liud! At least the other stack managed to last till the end of the gig. After that I used Hi watts, which were pretty cool then, playing only though a MXR phaser. I then played through two Marshall 100w JCM 900 Superleads with two 4 x 12 1960 cabs. An Alexis Quadraverb assigned to the outer speakers run through a Marshall preamp and an ADA preset sounded great but it was all a bit too cumbersome, especially for festivals when there's a quick turnaround – it drove my guitar tech mad! I knew what I wanted soundwise and discovered a 50w version of Marshall's 1959 Superlead reissue and with a couple of 1987x 50w Plexi heads, they work like a dream. That's what I use to this day. On the floor I use a Rat pedal, a BOSS Digital Delay and a Dimension C chorus. That's really all one needs."
Guitar shop chops
Earlier this year, Mick was performing at the Hendrix Festival tour which also featured Steve Lukather, Pat Travers and Tony McAlpine.
"This was the first time I'd been out on my own and it was so much fun! I live Steve and we got on great. Every day was like guitar shop, we'd sit backstage exchanging riffs. All of us had a great time because we got off on each other's playing. Tony was the speed king, Pat did the most authentic Hendrix. Steve was great as always. What a player!"
Always busy composing and producing when he's off the road, Mick has just finished writing all the material for his forthcoming solo album and is now working on several ideas for the next Earth Band record.
"I've written so much stuff, the hardest thing was selecting the tunes but I've tried to be vigilant. Today TV exposure is also important, so who knows, you might see me on Top Of The Pops yet!"
Record Collector March 2000 - Messin' With Manfred Mann
Cohesion is reissuing the back catalogue of Manfred Mann's Earth Band. Tim Jones delves into one of rock's hidden treasure troves

Manfred Mann may be best known for 60's classics such as "Do Wah Diddy", but there's far more to the low profile keyboardist/composer than his swinging early days. In fact, ever since the beginning of the 70's, the bearded, bespectacled muso has been at the forefront of melodic prog and rock.
His relative lack of UK singles chart success (and interest in it) doesn't detract from his impressive album catalogue, which Cohesion records have lovingly remastered and revamped for the niche market of those 30-plus rockers tuned into the MMEB sound. Although Mann played very few British gigs during the 90's, by which time he was branching out from the Earth Band umbrella into ambient and world music, the 17 albums made since the MMEB debut in 1971 are all worth getting to know.
Some of the Earth Band repertoire has yet to be re-jigged, but the first 10 releases illustrate the time and care taken in the process. Each has an 8- or 12 page booklet featuring lyrics, background histories and rare illustrations. The music has also been digitally re-mastered and laid down on attractive picture discs, each with a number of bonus tracks. The first, eponymously-titled Manfred Mann's Earth Band opus, with Mick Rogers (vocals), Chris Slade (drums) and Chris Pattenden (bass), features three single mixes in addition to the ten album originals. The overall feel is of a bright and breezy soft rocking album, with hints of hippie vocals and Harvey Mandel-style period guitar. There are some typically discordant synth signatures too, and romping showmanship by the quartet, plus a couple of countrified laments. "Mrs Henry" boogies nicely with a glam-clap backbeat, and 'Tribute' is all instrumental relaxation.
The third MMEB album, "Messin" (from 1973), is as well known for its gas-mask sleeve as its musical contents, which is another blend of fuzzy, boogie rock and dreamy synthetics. The cover of Dylan's "Get Your Rocks Off" has a pulsing, proggy tone, and there are touches of blues, while one of two bonuses, a single edit of "Cloudy Eyes", has some chipper guitar work. 


Delicious 
A label switch from Vertigo to Bronze in 1973 brought a fourth album, "Solar Fire", and one of the great hardly-heard rock albums of the 70's. The seven song concept classic on the solar system is boosted to 43 minutes by two extra cuts, but the main course is still delicious. "Father of Day, Father of Night" has astral vocals over fulsome Floyd like instrumentalism, including stretched Moog notation and stepped key and drum scaling. "In The Beginning" features a great riff and awesome drum clack, reminiscent of Purple or Sabbath in full flow, juxtaposed with soaring female backing vocals and storming, rifled guitar bursts and key whirls. There's wit with "Pluto The Dog", striking top end interplay on the title track, and Holst's other planets never sounded so good as in the remaining reworkings. Intricate and bracing digit work from the main Mann and a tour de force backing set-up.
The fifth Band outing, "The Good Earth", focused on environmentalism, and even gave a way a title deed to one square foot of a Welsh mountain with each purchase! This was 1975 after all. The seven songs and three additions are an eclectic mix of perky prog, with hints of early BJH about the mid-tempo "I'll Be Gone", as well as a Goodies-feel, countrified mid-section! "Give Me The Good Earth" features distant vocal-megaphonics and raking guitar, while "Sky High" is forboding in its pompish glory. Add some Jarre-esque synth exploration, and it's an amiably rustic mix.
The last LP to feature Mick Roger's was 1975's "Nightingales And Bombers", notable not least for the Mann's first chart single – the punchy, Springsteen-penned "Spirits In The Night". Other numbers are equally well propelled by tough drums and restive guitar, while Joan Armatrading cut her writing teeth with the firm rockin' of "Visionary Mountains". "Fat Nelly" is, misleadingly, a gory and intriguing tale that, at once, builds and sparks, and the ivory work is of the usual laudable standard.
1976, and enter hairy New Zealand vocalist Chris Thompson, along with guitarist Dave Flett. "The Roaring Silence", with its dramatic ear cover design, roared to the US\top spot and No. 6 in the UK. This was largely to another Springsteen hit, "Blinded By The Light", with its sea-washed synth, cascading vocal overlays and uptempo riffing. There's another instrumental, "Waiter There's A Yawn In My Ear" offering a melange of synth sounds from the Pink Floyd shelf, and "This Side Of Paradise" pre-dates Marillion's early keyboard endeavours.

Mighty Quinn
Two years later, and Pat King took over on bass for the Earth Band's best-selling album, "Watch". Two of the seven numbers on the original set are live versions of the classics "Mighty Quinn" and Robbie Robertson's hit single "Davy's On The Road Again". The latter's church organ tones, emotional vocals and mountainous, building rhythm, sit alongside a couple of throwaway mid-tempo rockers, the Rossington-Collins styled ballad, "California", and hints of both Foreigner and Journey. Four bonus 45rpm alternative takes certainly boost the album's appeal.
By 1979, ex-Wings drummer Geoff Britton and guitarist/vocalist Steve Waller had joined the ranks for the Band's ninth album, "Angel Station". A more consistently upbeat effort than it's predecessor, it included an energetic and enthralling version of Dylan's "You Angel You", delivered with some superb synth sounds à la ELP. The vocoder and reggae-styled guitar of "Don't Kill It carol" also shine, while "Platform End" is a blustery instrumental bash. There were hints of the Cars, even Ultravox in the ultra-catchy "Angels At My Gate", and a couple of decent single mix bonuses adds up to a fine package. Ignore the Leo Sayer-esque vocals of "Resurrection" and enjoy an otherwise choice cut.
The MMEB merry-go-round continued to spin into 1980's "Chance", with Pat King and John Lingwood taking on rhythm responsibility, while some hot licks were provided by the likes of Geoff "Who?" Whitehorn (Family) and Trevor Rabin (later of Yes). A great guitar and throaty vocals mark out "Lies (Through The 80's)" and Springsteen's bracing "For You". A couple of pieces with broken synth patterns smack of the Alan Parsons Project, and Kokomo's Dyan Birch lends a forceful vocal to the pompish "No Guarantee". A couple of ordinary songs are boosted by some good extra mixes.
Trevor Rabin again played on 1983's "Somewhere In Afrika", along with bassist Matt Irving and vocalist Shona Laing. BJH are also thanked for their mixing assistance, but the 12 page booklet makes no mention of the writing credits. Pity, because what you have predates Paul Simon's "Graceland" popularisation of African rhythms and beats, blending Zulu/ Bantu chants and drums with Western rock music, producing some great songs. "Tribal Statistics" for one, exemplifies the racing beat and African chorale, while Al Stewart's "Eyes Of Nostradamus" and "Demolition Man" (later used in the film of the same name), harbour some excellent guitar and layered vocals. The chants and drum patter of the "African Suite" and the maelstrom of "Redemption Song", with Rabin's cutting guitar are supplemented by five bonus tracks, four of which are worthy additions.

World Music Man
Finally (for the time being), 1991's "Plains Music", extended the scope of MM's interest in world music, as he explored Amerindian rhythms and incantations, the skin hides, pipes and tag-along chorus of "Medicine Song" representing the most accessible of the nine tunes (and three extras). "Sikelele 1" went to No. 1 in South Africa and is reminiscent of Londonbeat gone native, while other pieces are synth led, film score like affairs, with hammocky-sway guitar, relaxing brass and brushed, ripply drumming. However, this is not an Earth Band project, and if you're not into world music, then don't bother.
With several other long(er)-playing gems awaiting the brished-off and burnished treatment, there's still plenty left in the Earth Band locker (not least the outstanding early 80's sets, "Criminal Tango" and "Live At Budapest"). But then, you could quite happily purchase a handful of the aforementioned albums and get bitten by the Earth Band bug. You'll never listen to "Do Wah Diddy" in the same way again.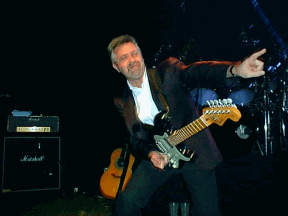 Interview with Mick Rogers - Feb 2002
What do you think you brought to the Earth Band when it was first formed? How come you got involved in the first place?
I first met Manfred at his house when he was trying to steal the drummer who was in the same band as me (Procession) for his band (Chapter Three)!
This was probably 1969. The second time was when I went to Olympic Studios in Barnes, (near London) and played bass on a jingle session that Manfred and Mike Hugg was producing. I actually used Klaus Voorman's bass! (Quite an honour at the time).
After that I went back to Australia to form my own band (Bulldog) which was very successful in Australia, but all the time I knew that I wanted to return to England to play because that was my home and that was where I felt that I was going to be able to play the music I wanted to play.
I was at a record reception for Bulldog and I received a call from Manfred's manager (David Joseph) who happened to be a past manager of mine, asking me if I would like to come back to England to maybe work with Manfred on forming a new band, which of course I was delighted to do. I arrived back in England on 1st January 1970 bloody freezing, still wearing my shorts and shades because it was mid summer in Melbourne!
We just got together around the piano at Manfred's house and tried a few tunes and things worked out fine. After a couple of weeks, Chris and Colin joined us and after much rehearsing we went to Rome for two weeks and played in a club, and that was the first time that we realised that the four of us had something that was a bit special.
We all remember that at the time we had to break down the barrier of Manfred Mann's music of the 60s in as much as a lot of the places we were booked into expected 'Doo Wah Diddy' and when we started to play rock music there was a lot of people who were very surprised. One of our first major tours was with Free and Deep Purple in Australia, which was a great success for us because we were able to show people what Earth Band could really do.
How would you describe your playing?
I always say my playing is based on a 50s sound brought up to date as the people who influenced me the most all come from the 50s. For example; Scotty Moore, (Elvis), Cliff Gallup, (Gene Vincent), Frannie Beecher (Bill Haley). I love to hear solos that have melodies and I find that the most creative thing about those guys is that they made more sense in sixteen bars than other guys can in sixteen minutes! I try my best to play something that the audience will remember rather than being a speed freak, although I do have my moments!!
My equipment has never been so simple in as much as all I'm using is a delay pedal and a Rat overdriver through a 50-watt Marshall. My main guitar is a 57 re issue Fender strat.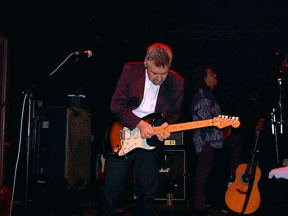 What next for Mick Rogers?
At the moment, I am improving my home studio and getting ready to start recording my own album for DMG – a small independent company who distribute through Sony. I have all the material together and it features my own songs plus songs that I have been interested in recording for a long time. The record company have asked me to do an up to date version of Father of Day, the popular Earth Band song which was originally written by Bob Dylan and so I shall be doing that, but this will be the only song that I also do with the Earth Band. I think most people will find it surprising that it's not going to be a totally guitar orientated album although of course there will be me doing my thing on it. I'm really interested in a lot of the modern dance music and I want to apply some of those grooves to the album, but knowing me there will also be some rock-a-billy on there plus some jazz tunes!
There is talk of me doing some gigs with my own band although Earth Band is really busy this summer so it will have to be planned very carefully and of course the record company will expect me to promote my own album. People will be able to buy it at the Earth Band gigs, so it will be nice to have some of my own stuff on the merchandising stand.
I am still in contact with my friend Steve Lukather and it has been suggested that there is a possibility of us doing something together gigwise which would be great if it all fits in with both of our schedules, because he is also busy with Toto.
What does the future hold for Earth Band
Looking forward to starting touring again, our first gig is in Germany on May 3rd. The crazy thing is, is that it doesn't seem long ago that we broke up for Christmas and were saying, "see you in a few months". Time goes really quickly.
We got together early this week to have some new pictures taken with new boy Pete May and I feel there is a general excitement about the gigs this year. Pete has been Cliff Richard's drummer for the past 13 years and has also worked with various other people, which I'm sure he will tell you about at a later date. Pete's a great player but the only thing he has working against him is that he is a Man Utd supporter - but we can't all be perfect!! One of the main things about Earth Band is that we always enjoy our live gigs and getting together to tour.
Manfred is working on the new album everyday. and we are very anxious to have new product out as we realise that it's been a long time since people have heard something new from Earth Band. The albums do take a long time to produce but that's only because Manfred wants to feel it is right, and you can't blame him for that. The band have all done their bits and pieces for the album apart from Noel and a few guests, but I don't want to give anything away at the moment! For my part I'm very pleased with the sound of the guitar and I think its some of the best guitar that I've played for Earth Band although it is different from the type of guitar playing that I did in the 70s, but then again my playing has changed anyway.

How important are the fans to you?
They are incredibly important because without them we wouldn't be touring or making records. It never ceases to amaze me that we can be 6 hours on our tour bus or a comfortable train, and then in the evening I'll look down into the audience and see the same faces as the night before!
I also love the fact that the age group of our fans ranges from teenagers right through to people in their fifties. Manfred, the guys and myself view the message board frequently and it's nice to see people asking questions and talking about the band and of course we look forward to seeing them again this summer at the gigs.

Do you intend to play any new material this summer?
We realise that one of the problems with the people who hear the same set every night is that it is frustrating for them not to see us play something different. We understand this but at the same time it would be impossible for us to totally change the set, and as Manfred always says, even if we learnt two new songs it wouldn't be enough to satisfy the people who hear it every night.
As far as this summer is concerned, I don't know what's going to happen regarding playing new material, as it's something we have yet to discuss but we will try and feature something from the new album as soon as we can.

Finally, what's your favourite song in the Earth Band set?
The truth is that I like playing all of the songs in the set as each has something that I like. I could be very selfish and say 'yeah Father of Day is the one for me' and obviously I do enjoy playing it, but I also like Shelter from the Storm. One of the things I am looking forward to is singing something new in the set which I hope will be soon, but I guess it would be something from one of the old albums. That's cool though because there are some great songs which still haven't been done.
Thank you for talking to us Mick, and we look forward to your article called 'The Nifty Fifties' which is all about your rock and roll years.

Interview by JAS
Weybridge
February 22nd 2002

Manfred Mann  another sign of life: "Man(n) (A)live"
Reproduced with kind permission from Eclipsed magazine.
Thanks to Annette Grah for translating this into English.  For the original article in German  - see below this article
The magnificent Earth Band live and Manfred's upcoming solo-album - once upon a time in 2006 ...
Manfred Mann made history with albums like Solar Fire, Watch, Angel Station and Roaring Silence. Now we've got news about the Master of Moogs.
Earth Band are regularly touring Germany, a grateful place for an old warhorse like Manfred Mann. The band is thriving from the fact that their fabulous mix of Good Old Time Rock and virtuoso Prog-Rock is still attracting a large number of fans even though they haven't released a studio album in eight years.  This is about to happen now.  But it transpires that Manfred Mann is still able to surprise everyone after all these years.  What will the new album be like?  We meet the Maestro in Nürnberg/Nuremberg, just before the concert, shortly after the soundcheck.  He's not easy to talk to, but it's an interesting conversation nonetheless.  He's sitting in the tour bus, giving surprising information - sometimes somewhat hesitantly.  And always insisting on making sure not to be misunderstood.  Or he's showing his special kind of intellectual humour, which might be English excentricism combined with influences from his South-African background.

Q. Manfred, what's the title of your new album?

A "I guess it's ... 2006".

Q. Why's that?

I think it looks strange, because we're in 2004.  Not joking!  It's supposed to look like a mistake.  An album called '06 being released in '04, that's interesting, isn't it?  

Greetings from Monty Python...

It's not going to be a genuine Earth Band-album.

Why?

Well, it is done with Earth Band, basically they all contributed to it, they are on almost 80% of the record, but there's a lot of stuff on it that's not representing what we're doing on stage.

What exactly are the differences?

On some tracks Earth Band were not involved.  On one track I used a sample of Russian monks, another song is pure Pop, and so on.  There's a lot of different material on it, I like that.  Like all my albums, it doesn't have a consistent style.  I have no idea if that's good or not.

Most Earth Band albums show an unusual mix of different styles indeed: Rock, Classical, Electronica, even Jazz. With his studio-work Mann has created a transcendent version of classic Prog-Rock, something that's timelessly covering different musical eras.  He continues:

On 2006 there are medieval songs being interpreted by classical vocalists.  Chris Thompson is also singing on a few tracks.  He is simply excellent in the studio.  We are still friends.

Earth Band fans will be happy about that.  Also, they'll be happy to learn that there's going to be a lot of Moog on the album, Manfred's trademark.  The press have taken notice of the fact that Thomas D. of Die Fantastischen Vier is on the album as well.

I definitely wanted Rap on the album, the record company suggested Thomas and he did the job very well.

Sounds like a strange idea: Earth Band going Hip-Hop?  Johannesburg-born Mann promises to play some of the new songs exclusively to Eclipsed after the concert.  But why did it take so long to record the album?  Manfred's answer is disarmingly straightforward:

Because most of what you try at first turns out to be bullshit.  We are not so good that everything we do is good enough.  The best tracks are the ones I didn't write myself.

But also, Manfred is known to be very indecisive.  How many tracks did you trash during the production?

Must be about five now.

On the question if there's tons of alternative versions of Earth Band-songs to be unearthed, there's a surprising answer from Manfred:

A lot of the master-tapes were destroyed in a fire at the studios.  And to be honest, I'm tired of recording Rock- and Pop-albums.  I find it exhausting having to work with vocals all the time.  I think after the new album I won't do any more Rock-albums.

Umph, that would be a blow to the people who like those wonderfully eccentric Pop- and Art-Rock albums.

I think I am going to record instrumental albums.  To get the vocals right on good tracks is no fun at all most of the time, it is so hard to do.  You are always completely dependent on singers.

What about the live shows?  Guess you have to do the same songs every time?

No, that's completely different.  It's an experience, it's exciting.  We've mastered the songs, we're really good live.  In the studio you never know if it's going to be any good.

There he goes again, the Great Wizard of Keyboards who tends to turn timid in the studio.  So next is an instrumental album, no straight Jazz, but similar to the wonderful Plains Music with the divine Barbara Thompson on saxophone.  Apart from that, successful Earth Band will definitely continue to play live shows.  Manfred has got his own theory on that.

I don't think anything will change on tour, no matter if there's a new album out or not.  People are coming to hear the old well-known songs. Well, maybe I'll change my opinion.

Manfred Mann likes his loyal German fans because they don't care about trends too much.  Of the new bands he himself likes Grandaddy, and Coldplay, although he thinks they are overrated as in the Golden 70s they would have been just one of a lot of very good bands.  He feels "awful" when he thinks about the whole Rock-biz in general.
But Pink Floyd never made me feel awful.

I agree.  Black artists like Macy Gray or Keb' Mo are also his favourites among contemporary acts.  Apart from that he says he is still stuck in the era of US-American Jazz, Miles Davis and Dave Brubeck.  Music has got to have a good groove, he says.

We talk briefly about the Funkstar Deluxe 'Blinded By The Light-RMX', which he thinks works very well, he also contributed to some of the vocals.  The funny Blinded-video is on the Evolution-DVD, which (the DVD) he doesn't like much.  Manfred thinks a properly produced DVD is a good idea.  (Meanwhile there's the Angel Station In Moscow-DVD to be ordered through the MMEB-website).

Which takes us back to the live shows.  Why doesn't he use those fantastic projections of animated cartoons and videos anymore, like he did in the 80s?  With a pleasant shudder I recall the pictures of an animated cartoon showing a man fighting with his own beard and finally - gulp! - swinging an axe, while the band played Martha's Madman.

We could, if more people came to see the concerts.  We could play larger venues, like we did back then.

I would have thought modern technology made such projects easier and less expensive.  I detect a slightly offended disappointment in his words, which I don't really understand.  How many of the old bands can still attract large crowds like this, with so many concerts every year like Earth Band are doing?  While I'm pondering that thought, 63-year-old Manfred leaves with his band, who have been waiting patiently, entering the stage of an overcrowded venue.  We're listening to an absolutely classic Earth Band-concert in Nuremberg's "Hirsch".  Especially Manfred's and Mick's notable solo-duels go off like fireworks tonight.  A very happy audience is leaving after listening to mega-classics like 'Spirits In The Night', 'Father Of Day Father Of Night', a very energetic version of 'Martha's Madman and the inevitable hits 'Blinded By The Light' and 'Mighty Quinn'. Oh yes, Manny's on the road again, no doubt about that.
With 'Mars' they have a new title on the setlist again at last, among those too well-known songs.  It appears to be a new version of Holst's Planet Suite, a life-long love Manfred has succumbed to yet again after 'Solar Fire' and 'Masque'.
Why isn't Chris Thompson touring with Earth Band anymore, I ask a much more relaxed Manfred after the show.
Well, we're still keeping in touch, but he is living in LA now, it would be too complicated.  But we're doing well without him, because Noel's doing an excellent job.  The current Earth Band is a very efficient team.

Right that's true...but pity anyway.  Now the tension is mounting:  Manfred is playing the new tracks on a portable CD-player.  He looks like he's not happy about greedy and critical journalists having a look at his new babies - his honour is at stake, apparently.

First one is a typical and really good Earth Band-Rocksong, only that there's Thomas D.'s rap-style on it as well.  Great chorus, cool material, could be a hit.  Second is a quite simple modern Pop number with girlie-vocals.  Next is something almost like an "Enigma"-cover, with monk-samples, unusual but not bad.  And finally, another Rock-song.
If you add up the live show and these new tracks, you can't help but think Manfred has something of a split personality.  He doesn't make things easy for himself, that's for sure.  Anyway, I'm looking forward to more concerts with that special Earthband-atmosphere and an interesting new album.  What will happen next is all in the stars I suppose.  I'm stepping out into a starry night, with Manfred asking me to send him the Eclipsed-edition with this article. "We gonna do that, man."
Written by Walter Sehrer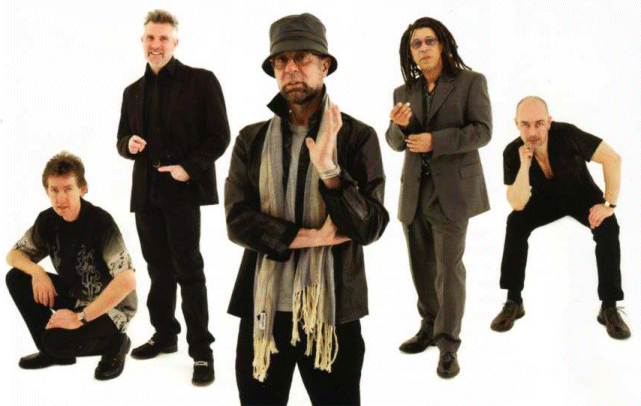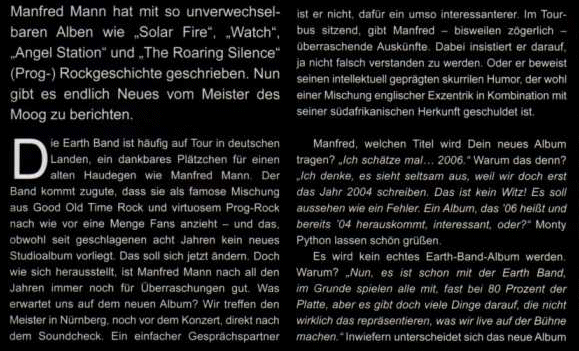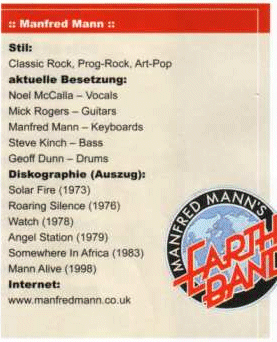 ---

Mann Overboard
With thanks for permission to reproduce this article from Record Collector (Aug 2006)
Manfred Mann's latest collection, World Of Mann , takes in his 60s group work and his Earth Band years. Tim Jones caught up with him on good form one morning in London and asked him over breakfast how the career-spanning 2-CD set came about...
"I had absolutely nothing to do with it and never do with anything to do with the past. I find it too difficult and time-consuming, and I can only concentrate on one thing at a time, which is usually what I'm doing at present. There are two DVDs in the offing, though, one of which is a collection of old footage, some of it from Australia in '71. And we're perhaps going to record another one later this year in Germany".
Are you working on new material?
For some time I've had an instrumental project in mind, orchestrally arranged, but it's taken me much longer than it should've, partly 'cos I've been doing gigs and partly 'cos I'm very slow and terribly fussy. If I'm at home for a time, I'll go to the studio every day and practise. And when I'm in France I'm very disciplined. But then at other times I'm not. Any musician is slightly mad - not in the sense that we're weird people. But a lot of us become dependent on work, and they work and sleep and sweat and strain, when you'd be far better off just to sit with a beer in your hand.
Is there anyone you'd like to work with?
People rarely ask me to do something, but I'd be happy to. I was on 'Look At Yourself' with Uriah Heep years and years ago, but I played horribly. I thought it was terrible.  Jerry Bron (of Bronze Records) said, "Oh, that's fantastic!" But I listened to it 20 years later and I still thought it was awful.
Do you keep a diary?
In the last five years I've been writing a memoir, when I'm sitting on a plane or bored at an airport. But I can't imagine it'll ever be published. I'm doing it mainly for my little grandchildren so that when they're 30 years old they'll wonder what I was like and they'll have it there for them.
I've remembered absurd things about being a pop star in the 60s. I recall being at a gig in America for about 15,000, and after the show, I was walking down a stadium corridor and this guy came up to me and said, "That was an amazing, stupendous performance." I said thanks, but he said, "No, that was fantastic, stupendous!" And each time I said "thanks", he said, "Incredible, stupendous." Anyway, we got to the dressing room and I didn't know what to say to him, so I offered him a sandwich, and he ate it and said, "Oh man, that's an amazing, incredible, stupendous sandwich!" (laughs)
Did you ever get any feedback from Bob Dylan and Bruce Springsteen on the covers that you've done of their songs?
I think Dylan really loved the stuff we did, and in the early-60s he said he preferred our versions to anyone else's. That's because we treated them with a lack of respect and changed things around. On 'Just Like A Woman', there's a middle bit with `amphetamines and pearls', and we thought, `God, no one's gonna play that on Radio One,' so we took it out. People said, `You can't take it out, it's Dylan.' And we said `Just watch us"'
I don't think Springsteen liked our Blinded By The Light, 'cos. we sang-`wrapped up like a douche' and it wasn't written like that and I screwed it up completely. It sounded like `douche' instead of `deuce'  'cos of the technical process - a faulty azimuth due to tape-head angles, and it meant we couldn't remix it.
Warners in America said, `You've got to change `douche', 'cos the Southern Bible belt radio station - think it's about a vaginal douche, and they have problems with body parts down there.' We tried to change it to `deuce' but then the rest of the track sounded horrible, so we had no leave it. We just said `If not it 's not a hit it's not.'
But in the end, it was No.1 in America, and so many people came up to us after and said, `You know why it made No. 1?... Everyone was talking about whether it was deuce or douche.'  Apparently Springsteen  thought we'd done it deliberately, which we hadn't, so if I ever saw him I'd avoid him and cringe away like a frightened little boy.
Is it right that Rod Stewart nearly joined the band in 1966?
Everyone tells me that but I've no recollection of it.  But if so, what a terrible mistake! Rod Stewart's a great singer. But when we had auditions, I rejected Huey Lewis as well.. And the reason is that on that day they weren't that good. If you've ever heard The Beatles' tape that the guy rejected; you can understand why. You should hear it!
Why was Jack Bruce only in the band with you for nine months?
He was just too good for the group - a great, great player. Mike Hugg suggested him and I was against it for that very reason - a guy who could play so well and we were just a straight pop band. 'He wanted to go to Cream and I had him under contract, and so I had him on the phone, cross with me for not letting  him go, and I realised the stupidity of having a contract with a musician who doesn't want to work with you. What's the point of having a miserable guy? You can't do rehearsals and everyone's unhappy. So I tore the contract up there and then, and I've never had one between musicians since. I still have contact with Mike Hugg, but he's the only one.
What did you think of The Manfreds (the band featuring Mike D 'Abo, Paul Jones and the other original members)? .
Well, the problem wasn't with any of the individuals, only with the name. I was very reluctant that they should use the name, as there'd be a degree of confusion with the Earth Band'. They wanted to use Manfred Mann and we had a legal dispute about that, which at the time was a bitter one.  But as time went by, in the end, I agreed to them using The Manfreds. There's no clash then, and it's all over now. Not a problem. After all, five of them were the original Manfred Mann, and they can't use the name 'cos that arsehole won't let us! Fuck! That's not reasonable! And then when you look at it from that viewpoint, you begin to see it. Grow up! For years I didn't, but I've realised, God, there's room for both of us in this big, wide world.
If you could go back, what would you change about our career?
I wish we could have had some of the songs we have now, to follow up 'Blinded By The Light' in America. We just didn't have anything, and that was really frustrating But I don't really go back and regret. Though Rod Stewart would've been good to work with -  though he probably would've left, wouldn't he?' He plays football and I don't like football! And I'm not that talented a person. I don't mean that to sound modest, 'cos I'm quite arrogant about my ability to recognise my own faults. But in terms of the middling ability I've got, I have wildly exceeded any expectations I ever had when I came to England.  I never thought I'd earn a living here at all I'd have been happy to do anything just to stay here. But to find that I'm still earning a living as a musician, while I'm carrying a freedom pass and getting on the tube free is amazing! The key was that I saw I wasn't a songwriter, and that I needed really good material to compete. So I never go, 'Oh shit. I wish I'd done that,' 'cos it all worked out. We still play to big crowds in Europe and, while I don't go around with a big happy grin on my face -'cos I'm a well known misery -  we're doing as well as we have for years.
Which band would you have liked to have played in?
I'd loved to have played in Mahavishnu Orchestra, but I just wasn't good enough.  Just to have their music around you.  God.  And I love Jan Garberek.  Or to play in a really good heavy metal hand - I love the sound and very cool synths can create space and merge into the distorted heavy sound - lovely. Like Lordi! I watched the Eurovision Song Contest bollocks and I really enjoyed it.  And I really liked the British entry!
The Good Earth album of 1973 had a novel eco-friendly free gift of a metre of Welsh hillside. Do you know what happened to that  scheme?
Everyone who bought the album had a legal entitlement to use the land, rather than owning it - it would've cost £50 a time just to register ownership.  But the land is still there and although I've never actually seen it, it's surrounded by forestry and no one does anything on it. So I thought it was a nice idea, yet at the time no one in the press thought so. Everyone said, `You're trying to sell records with gimmicks,' and that really coloured my view of journalists for about 20 years. The pervading cynicism was so depressing, and I remember thinking, `I'm never going to try to do anything like this ever again.' We bought the land ourselves and it was our idea, but we were constantly having to defend ourselves. Absurd.
Is there any unreleased material still in the archives?
There's always unreleased material, but it really is bollocks, a lot of it.  I don't even know where it is, and a lot was burned in a fire about 10 years ago, which is why I can't remix tracks or give B'linded By The Light' to DJs. Which is a bit of a relief, 'cos you keep having to go back in and piddle around with it. I didn't even want to do the 4-CD box set, but there are fans out there who go, `What a great track.' And there are probably bits you missed. I haven't even listened to the box yet. I should do, Shouldn't I?
What as the first record you bought? '
Something in South Africa - a jazz record or Fats Domino, I think.
What was the last CD you bought?
Granddaddy, or Bach.
Which album would you keep forever?
I've now got it all on iPod, but probably Art Of The Fugue by The Stuttgart Chamber Orchestra, or Dave Brubeck's Jazz Goes To College. Some early albums I never tire of, such as the early Brubeck, though I try to avoid listening to music as much as possible.  I don't even play it in the house, though I use my iPod at airports and in parks when I walk around. But while I have time to relax if I want to, I'm actually incapable of sitting still for too long. I go to Nice a lot and walk through the old town and sit and have a beer, but otherwise I have lists of things I have to do. Which is stupid, 'cos I should just sit in the garden and have a beer and a sleep!
What music would you like at your funeral?
At the end of a cremation, someone once had Smoke Gets In Your Eyes, which is wonderful! But I'd want something that made everyone as sad and miserable as possible. No happiness for me. I'm totally unreligious. So, I want a big religious ceremony and then get the preacher to tell everybody that I said, "I know, I'm just making you listen to this primeval nonsense to be horrible"!
What would you like to change about yourself?
Not that I have a big public, but I always like them to know as little about me as possible. Because the more they know, the more they can build this edifice of creativity around an ordinary wally. So I generally avoid any such questions, though I'd probably just like to be able to go and sit have a beer and relax a bit and not go, `My God! Another project!'
Do you have any unfulfilled ambitions?
I just wish I could play better and solve the problems with my fingers and the way they play!
---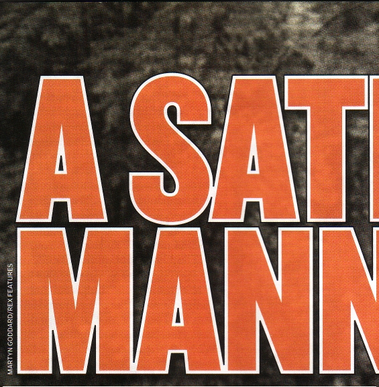 He's a jazz player who found fame via beat-pop, then prog-infused cover versions. With his Earth Band celebrating a 40-year run, the constant thread through Manfred Mann's career has been a brutally honest view of his own talent. 
Words: Malcolm DOME
It's probably fair to say that no prog musician has  had more singles chart success than Manfred Mann. Between 1964 and 1969, the band that bore his name had an astonishing 13 Top 10 singles in the UK, making them one of the most popular acts of an era in which The Beatles, Rolling Stones and The Who were all contemporaries. 
"It's not what I wanted to do," says the keyboard master now. "But it was a case of doing what was going to give me success at the time." 
Born in Johannesburg, Manfred Mann (his real name is Manfred Lubowitz; the stage surname came from jazz drummer Shelly Manne) had started off playing in South African jazz clubs, before relocating to the UK in 1961.  Over here, he began to write for the magazine Jazz News, and in 1962 formed the Mann-Hugg Blues Brothers with drummer Mike Hugg. 
"What we played was serious jazz and blues. But nobody wanted to know. We were getting nowhere, and decided to make the music more accessible." 
So, with a name change to Manfred Mann, the new-look band signed to RM] subsidiary HMV and went on that enormous run of success. But by 1969, the keyboard player felt it was time to get down to more serious music again. So, along with Hugg, he started Manfred Mann Chapter Three, the name reflecting the third phase of his career. 
"Mike and I were getting anxious not to be seen as pop stars who would disappear as soon as the wind changed direction. So we went back to our roots and pursued jazz again. Only trouble was that nobody else really got into what we were doing. After two albums which sold virtually nothing, I broke up Chapter Three. There's just nothing you gain from carrying on with a project that might be musically worthy, but is selling no records." 
This time around, he got together Manfred Mann's Earth Band, with a move into more clear-cut progressive territory, but with a distinct flavour for commercial songs. In fact, one of the defining motifs of the Earth Band has always been their tendency to record cover versions, some of which (like Bruce Springsteen's Blinded By The Light and Bob Dylan's The Mighty Quinn) gave them considerable chart success.

---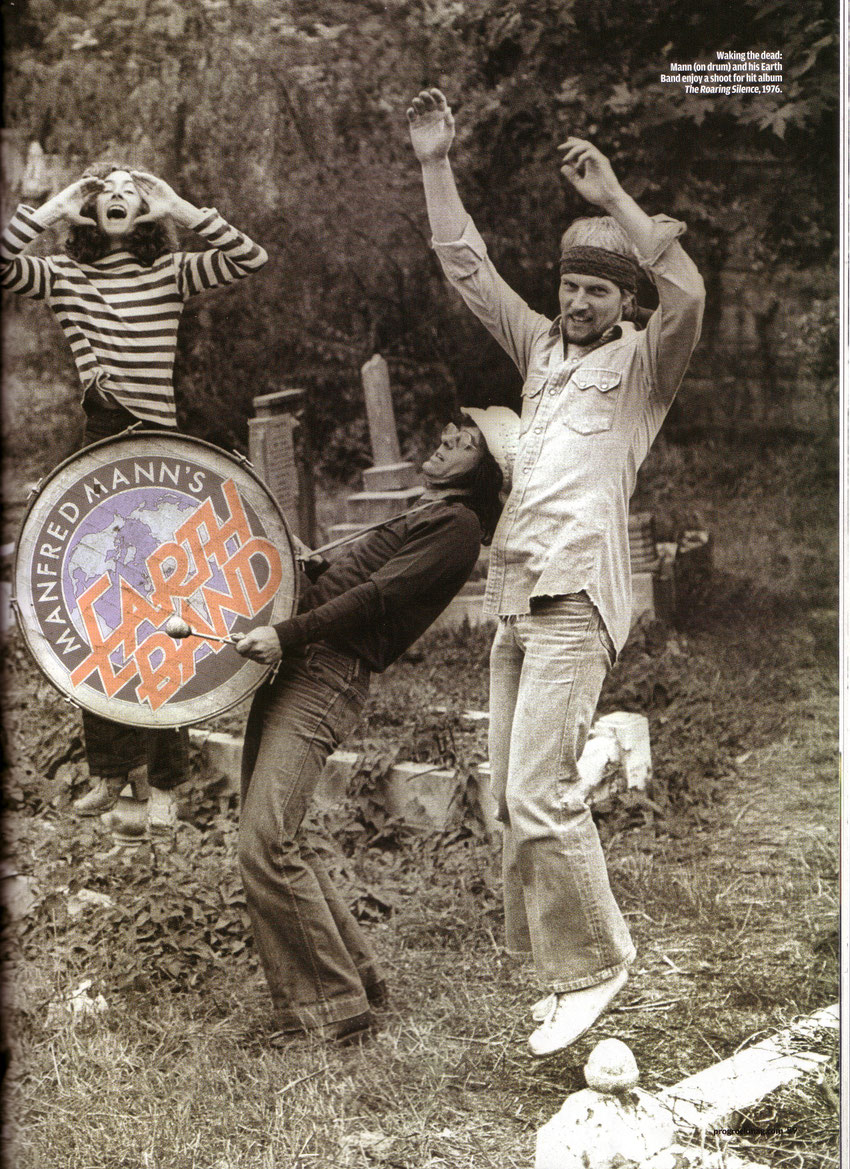 ---
However, it also led some people to ask why it was that this band seemed so reliant on other people's song writing abilities, at a time when most bands were keen to showcase their own talents. It's an argument for which Mann himself has no sympathy whatsoever. 
"I'm the first to admit that I'm just not very good at  writing songs. In fact, none of us in the Earth Band were  or are - very good at doing this. So, why should we write  our own songs when we could do so much better in taking other people's and adapting them to what we did? 
"All this emphasis being placed on writing your own material... why is that such an obsession for so many people? Why is it all that important? I don't recall people putting Frank Sinatra down for never writing his own songs. And the same is also true of Elvis Presley. And do you ever hear anyone having a go at a classical orchestra, because they didn't compose the symphonies they're playing? No. Everyone applauds the musicianship or singing with these people, and nobody cares about the lack of writing. Yet, when it comes to the Earth Band, it's an issue. All I would say to anyone who has a problem is that they should be grateful we don't write songs. They'd be terrible." 
Mann understands his own worth, and knows where his real strengths lie. 
"I know I'm very good at taking a song I hear on the radio and adapting it for the band. That's something I am confident I can do time and again. To be honest, the only music I hear does come from the radio. I listen to pop and jazz, and that's it. I have no interest in what some might call progressive music. What I get into is the melody. That's what catches my ear. It's why I've done so many Dylan and Springsteen songs, because they get my attention on the radio." 
The veteran keyboard player has never been afraid to give credit where it's due in the Earth Band. That applies to the origins of the name as much as it does to anything else. 
Klaus Voorman - a member of Manfred Mann in the 19603 and an associate of The Beatles - has always publicly claimed that he came up with the name Manfred Mann's Earth Band, as he tried to convince the band leader to go for a harder, more rocking sound as opposed to the pop style that had made their name. 
"Is that what he says? You know, I have no clue whether that's true or not. All I would say is, why would anyone make such a claim if it were untrue. So, if Klaus wants to take  credit for the name, then I'm happy that he should have it. I can't dispute his story, and I really have no interest in doing so. The origins of the name are lost in time for me, so he can take full responsibility - for better or for worse!"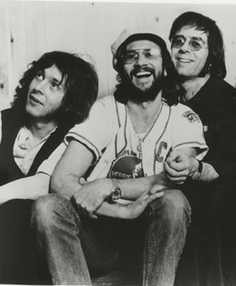 Another point of interest is that the band have had a  succession of quality vocalists go through their ranks over the years. These have ranged from current incumbent Robert Hart (with his melodic rock roots) to the celebrated Chris Thompson (who has worked with the likes of Jeff Wayne, Alan Parsons and Starship) and, perhaps most surprisingly of all, one-time Go West frontman Peter Cox. But while the mere mention of Go West is likely to send shudders of horror down the spine of most prog fans, once again Mann sees no reason to have to defend his choice of singers.  "What's wrong with people? Do they have to make up their minds as to whether someone is a good singer solely based on what bands they've been in before? I'd say that every vocalist we've had has done a very good job in presenting our music in the best possible manner. And is anyone going to argue that Peter Cox wasn't an appropriate choice at the time for us? I don't recall people turning up to our gigs with huge banners in protest.  "I find vocalists through various means. Sometimes I hear a singer on the radio and think they can do the job. On other occasions, they're recommended to me. All I'd say is that you should make up your mind about whether someone is good or bad only through their voice, not through their past. But  maybe the Go West connection with Peter means more to people in Britain than it does anywhere else..."  All of which is a slight dig at the fact that, these days, Manfred Mann feels there's little support for the Earth Band in the country where he's made his home for over so years.  "We tend to avoid playing here, because nobody appears at all interested. We have four shows lined up for May, and we'll see how they go down. If enough people turn up and make it clear that they'd like to see more of the band, then of course we will come back and book some more. But if only two people and a dog are there, what would be the point? We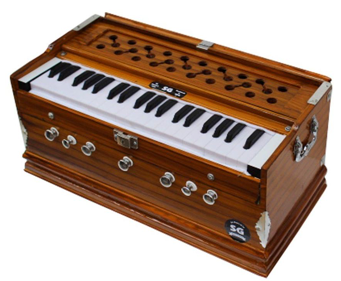 PICTURES OF A MANN
How Manfred tried (and faded) to rip off Paul McCartney, and other  strange tales from a lifetime in music. 
One of the most interesting aspects of the recent box set was the inclusion of short stories from Manfred Mann, in which he chronicles some of the things which have  happened to him over the years.  These are amusing tales, and sometimes paint the man himself in a less than favourable light. Given the way that he has always seemingly jealously guarded his own reputation, this is a side of the keyboard player that many will be surprised to see exposed. 
"If you are shocked by what I write, then you don't know me. These are honest stories which I find humorous, and I'd hope they make the same impression on everyone else".
These are all true, so when I write about how I tried to rip off Paul McCartney when he wanted to buy my harmonium, and how I ended up with him pulling out of the deal, I'm doing it because it's an entertaining tale. The same is true about the story of how I couldn't play Burt Bacharach's My Little Red Book. Of course I was embarrassed, especially as Bacharach had to show me how to play it, and I still couldn't get it right. But the interest these stories hopefully have for everyone far outweigh any dent to my ego."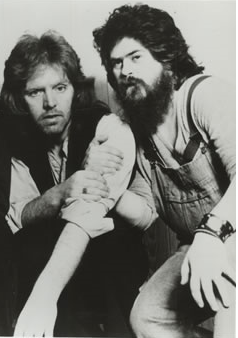 don't want to go where we're not wanted. That wastes everyone's time. This isn't about our sort of music being  in vogue or not. As far as I'm concerned I have no idea where we fit. Some people call us progressive. That means nothing to me. So any changes in the way that genre has been received never affected what we did." 
While UK tour dates have been at a premium, the Earth Band have been consistently successful in Europe, with Germany a major market for them. 
"Don't ask me why they like us there, but we have always been able to tour and attract large crowds. The same is also true in other parts of Europe. Maybe they're not so led by trends and listen to us for who and what we are, rather than anything that they read about us in the media. I'm not knocking the UK media... they've rarely said anything bad about us, because they've rarely said anything about us!" 
Now with a 40-year history, which was recently celebrated with the release of a 21-CD box set, the Earth Band have never been afraid to be innovative. Their use of classical themes, even adapting Holst's Jupiter from The Planets Suite in surprise hit single Joybringer, has also been one hallmark of the band's approach. 
In 1983, they went out on a limb by releasing Somewhere In Afrika, which used indigenous South African musicians and sounds to highlight to evils of apartheid. It predated the celebrated Graceland by Paul Simon by more than three years. Yet it's typical of the Earth Band's profile that such musical innovation seems to have been ignored over the years. 
"That's because Paul Simon did it better than we did," shrugs Mann. "I chose to tackle apartheid because it is a subject close to me, having grown up in South Africa. I was even refused entry to the country at the time, because of my views, but the other guys in the band went out and got a lot 6 local musicians involved. Yet what ultimately mattered
to me wasn't making any political statement, but how these sounds worked musically.
"In the end, I messed up this so-called concept album, because it has got a cover of Bob Marley's Redemption Song in the middle of the second side, which was supposed to be all about South Africa. I do ask myself why I did this. It's the usual thing with me: how to take a good idea and dilute it. So, if anyone says Somewhere In Afrika deserves more respect, I just tell them that it doesn't, because it's not good enough."
Manfred Mann has little time for his back catalogue.
"Have we done a classic album? No. People mention Solar Fire or The Roaring Silence. But are they really classics? At best they're half decent."
Perhaps that's what keeps Manfred Mann active even now: the search for an album he"ll be proud of?
"No, I just enjoy playing. Even if nobody else cares, then I'm happy playing for myself."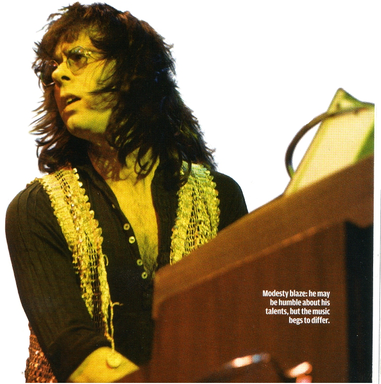 ---
The Nifty Fifties
I think most people will tell you that the music that was around when they were teenagers (or even earlier) was the music that influenced them the most. For me that was certainly the case and I am talking about the 50s. Manfred has always said that he thinks people always remember the music that was happening when they first had sex. Well I was about ten when I first heard the wonderful Elvis record 'Hound Dog' so I'm not sure where that leaves me, although Manfred never mentioned if he meant having sex with another person, so I guess anything is possible. The great thing about the fifties was that everything in music terms was new, when you heard a rock n' roll record for the first time you could never say "oh, I've heard that before" because there had never been anything like it before. When I first heard Scotty Moore's guitar solo on "Hound Dog", I wondered what the hell it was, I couldn't figure it out and even today it still gets me. The Elvis 50s CD Box Set was bought for me as a present from the Earth Band and I carry that around with me on tour so I can listen and still learn, as well as of course loads of other stuff like Peter Gabriel, Prodigy and some Jeff Beck, but my 50s rock n' roll is fantastic.
I heard and read interviews with people like Beck, Clapton and Cliff Richard and they were kicked into gear by the same stuff. Little Richard, Gene Vincent, Jerry Lee, Buddy Holly and of course Elvis. I will never forget seeing the first picture of Presley, not only was his music great but the look of the guy was amazing, the clothes, the duck-tail hair with the quiff, we all wanted to be Elvis and to this day the image of him still lives. I could never understand why people, when they impersonate Elvis, always do the horrible 70s image of the cloak and belt etc, but I guess its easier to look bloated then how he did in the 50s. I think Shaky Stevens captured his vibe great and made it his own. Cliff Richard saw the same piece of film on TV that I did, it was Elvis on the Ed Sullivan show doing "Heartbreak Hotel"
It didn't take long before some British rockers emerged and although they were copying what was happening in the states, there were some pretty good stuff around. Although he didn't take long to become a "family entertainer" (I would rather use the word "naf" to describe it), Tommy Steele did some good stuff like 'Rock with the Caveman' and his band the Steelemen were all studio musicians but really had a great feel and sounded very much like Bill Haley's Comets. I think the first British record to have the most authentic sounds and feel of American Rock and Roll was Cliff Richard's 'Move it' – great guitar and great rockabilly type vocals from Cliff.
British Rock n Roll was really captured a couple of years later on TV by a programme called "Six Five Special". The great TV producer Jack Good really produced on TV the feeling of what was happening in England but it was the States where all the ideas and sounds were coming from.
The feeling from the records was great, I remember seeing Bill Haley at the cinema and when he started up the whole place was rocking and its true, people were dancing in the aisles, it was an exciting time and I was truly hooked. Where I was born in Dovercourt (a coastal town in Essex), we were lucky in having two very important places, one was the newsagents by the train station and the owner used to get all these wonderful American magazines and comics and I was able to check up on what was happening in the States regarding the music and movies and of course any pics of the American rockers were great and I will never forget seeing the first Elvis mag, well man that was great. The other important place was of course the local record store.
I will never forget that place, and it was amazing that the owner (Mr Tumilty) also used to get all the rock n roll stuff, so I was in heaven.
I remember every Saturday rushing down to the shop to see what new records had been delivered during the week and I never came home empty-handed.
Of course Teddy Boys were the happening thing and most of my friends were teds, but not of a violent nature, just the look. I remember a famous shop window that we all used to stand in front of, it wasn't a great shop, in fact I can't even remember what it sold, it was just one of these window that was great for checking out your hair, very important I can tell you! In part two of this, I will explain how I started playing an what it was really like to play at that time, and yes folks I can remember all of it.
Mick Rogers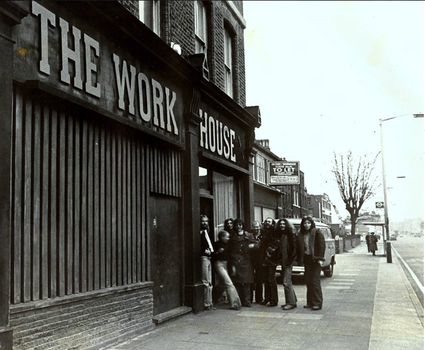 Farewell To The Workhouse
By the time this article is published, The Workhouse, the recording studio inextricably linked with Manfred Mann's Earth Band may be no more, bulldozed to make way for a supermarket. It therefore seems a suitable time to look back on the history of the studio.
Beginnings
In the mid 1960's Vic Keary (who currently runs Chiswick Studios) set up his own studio in London's West End called Maximum Sound. Due to lease problems he was forced to move to new premises in South London on the Old Kent Road, again under the title of Maximum Sound. Over time it was expanded from 2 track to 3 track and finally to 4 track at which point the studio was bought by Manfred Mann and Mike Hugg. Even prior to this however Manfred was familiar with the studios having recorded and produced albums at the studios.
Between the late 60's and 1973 Manfred recorded a number of albums at the then still Maximum Sound Studios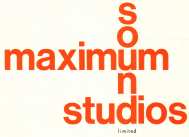 MM ChIII Vol 1
MM ChIII Vol 2
MM ChIII Vol 3 (unreleased)
MMEB – Stepping Sideways (unreleased)
MMEB - Eponymous
MMEB – Glorified Magnified
MMEB – Messin'

The Name Change
In 1973 Mike Hugg sold his share of the studio to Manfred and it appears that at about this time the name was changed to The Workhouse.
Pete Hammond (of PWL) bought a 50% share in The Workhouse in 1982 due to his increasing workload and the need for his own studio. In late 1987 he sold his share in the Workhouse to Pete Waterman (Stock Aitken Waterman). The part sold to Stock Aitken Waterman was the area which includes the now rehearsal studio (see pics) and it was in this area a few months later that part of The Workhouse was gutted by fire, leading to Manfred's master tapes held in the other part of the building being damaged and lost.
In addition to MMEB albums a wide range of other musicians made use of the studios excellent facilities.
UK No 1singles produced/ recorded at The Workhouse:
Musical Youth 1982
Wherever I Lay My Hat – Paul Young
China In Your Hand – T'Pau
Hit Me With Your Rhythm Stick – Ian Dury & The Blockheads
and of course not forgetting the US No 1 record 'Blinded By The Light' - Manfred Mann's Earth Band
Mellotron
Maxium Sound Studios had a Mellotron in 1970, Manfred had previously used one on 'Ha Ha Said The Clown' and 'Semi Detached Suburban Mr James'.

Manfred & The Workhouse
The following Earth Band albums were recorded at the Workhouse:
MMEB – Solar Fire The Workhouse
MMEB – The Good Earth The Workhouse
MMEB – Nightingales & Bombers The Workhouse
MMEB – Roaring Silence The Workhouse
MMEB – Watch The Workhouse
MMEB – Angel Station The Workhouse
MMEB – Chance The Workhouse
MMEB – Criminal Tango The Workhouse
MMEB – Masque The Workhouse
MMEB – Soft Vengeance The Workhouse
Other Bands
Ian Drury & The Blockheads – New Boots & Panties
The Shakin' Pyramids – Celts and Cobras 1982 (part recorded at The Workhouse)
The Shakin' Pyramids – The Shakin' Pyramids 1984 (part recorded at The Workhouse)
Adam Wakeman – Neurasthenia 2002 (mixed at The Workhouse by Ian Tompson)
Advertising 1979 (recorded a couple of tracks at The Workhouse – Mike Hugg producer)
Paul Roberts (Sniff'n The Tears) – City Without Walls 1985 (part mixed at The Workhouse, features Noel McCalla on backing vocals)
War Child Charity Album Help 1995 – Track 10 Stereo MC's – Sweetest Truth (Show No Fear) recorded at The Workhouse
Squeeze – Cosi Fan Tutti Frutti 1985 (part recorded at The Workhouse)
Motor Boys Motor - Motor Boys Motor 1982
The Long Ryders – State Of Our Union 1985 (part recorded at The Workhouse)
Kaleidoscope 21 Dec 1968 – recording session for Radio 1 jingles (Maxium Sound Studios)
Lo & Behold – Coulson Dean McGuiness Flint – Maximum Sound 1972 (Produced Manfred Mann)
Mike Hugg – Somewhere 1972 Maximum Sound
The End
Meera Fe is probably on of the last artists to record at The Workhouse, for those lucky enough to have see the Earth Band's UK tour, they will have seen Meera playing support.
The pictures below show The Workhouse in its final days before demolition to make way for a car park for a new Asda supermarket.
International Musician and Recording World
Manfred's New Studio
Manfred's new studio - The Waterworks is on the banks of the Thames in Greenwich, hence its name. From the outside it appears to be part of a new office block, on the inside it is a small but perfectly formed recording studio. And it has the advantage that the neighbours can't complain about the noise - after all directly above are the recording studio architects who designed it!
The final picture below shows the mixing console at The Waterworks.
---