Platform End No 21 - Summer 2000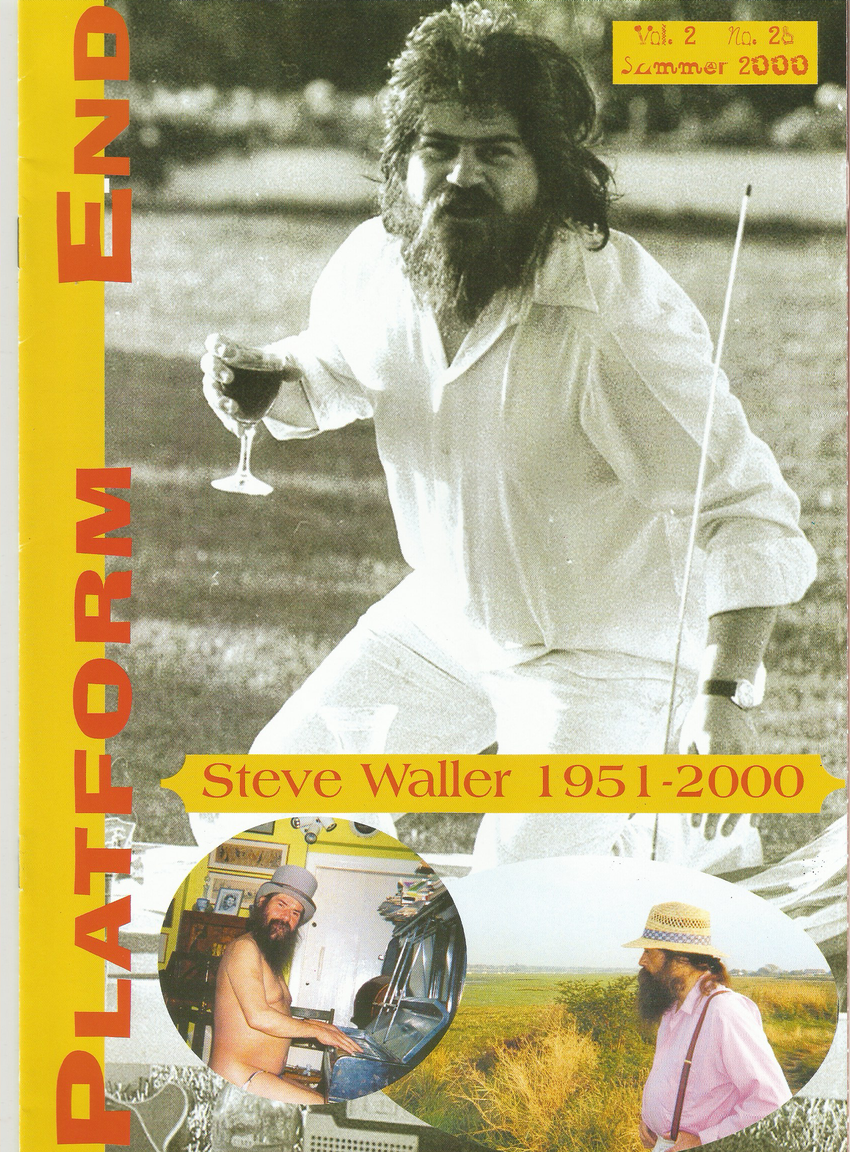 ---

Contents
A Yawn in Your Ear.....................….2
World Service News .................…..3
Manfred Mann Story Teller...........4
Barry Winton Steve Waller Tribute …………………………………………………........4
Letter from Mel White...............…..5
Earth Band New Year Karen Sonntag ...……………………………………..6
C.T. news and concert review......8
Portugal by Chance - Pat King......9
Frei-phone Freiburg-Simon Rickman...…………………………………….10
New Year in Pictures...................11
The Earth Team
Editor ..................……….Andy Taylor
Secretary 8 Desrgn .....Carol Taylor
Treasurer...............…….Graeme Yates
Desrgn / Typesettrng..lan Scott
Master of Envelopes ..Thomas Taylor
Web Master .................Ron Clint
Front Cover Main Photo: .Pat King
Inset photos: ...............Mel White
Web Site:
http://www.manfredmann.co.uk
E Mail:
mantred@manfredmann.co.uk.
Printed by: Penketh's Print Limited
Bassendale Road, Bromborough, Wirral
Merseyside CH62 3QL
Steve Waller may have passed away but his memory will continue to bring warmth and good humour to anyone he touched as a person or through his music. If you have any articles, pictures or views you would like to be considered for inclusion in our next issue, send them along to Andy & Carol Taylor to the address below, together with a stamped addressed envelope for return. All articles, stories, pictures, etc. will be returned safely.
The Manfred Mann Fan Club,
C/o Andy & Carol Taylor,
29 Lyndhurst Road, Wallasey,
Merseyside. ENGLAND CH45 6X8
Tel:,(44) 151 639 7057
e mail: endy@globalnet.co.uk

A YAWN IN YOUR EAR
Steve Waller was larger than life in more ways than one. l have just been watching some bits from the Afrika tour and there is no doubt that Steve was both a great guitarist and a great entertainer. Whilst there is no doubt that Steve's illness for that is what Alcoholism is, sometimes caused problems fer the rest of the band particularly in the last few weeks of that tour.  For the fan in the sixth row of the Dominion Theatre who was blissfully ignorant of backstage shit all Steve ever did was knock me out With his laid back bluesy guitar 5 and make me laugh. I was, and am a true Steve Waller fan never met him, never spoke to him and from that point of view sad that I missed the chance to do so; i have chatted at length to both his brother and his girlfriend, both of whom talk about him with  deep- warm and affection. When they have had chance to come fully to terms with their loss there is much they have promised to tell us about the original Demolition Man. There may even be a  chance to make some of his last recording available to fans."Very sad after hearing the news that Steve had passed away the artist in me took over, picturing dark and moody black and white Photos on the cover, a. sombre. tribute to the musical clown. if the picture we have used makes you  smile then that is for me the biggest tribute you  can ever giye Steve.  Above all else he spent his  life making people smile. From what those who  knew him well tell me he would see no reason for  that to stop now.
John Trotter joined MMEB in 1996 for the start of the marathon Soft Vengeance Tour, beating some serious competition for the gig. As most of you will now know John left the band earlier this  year.  John Could be very demanding especially on himself and I never saw him put less than 125% into a  gig. Towards the end of his long association with M.M.E.B. it became clear that John wanted to go in directions that his fellow band members did not.  He was always busy when not touring with the band doing a wide variety of T.V. session work and with a young baby at home,
I guess this will suit John better for the time being.  On behalf of all the new friends and fans you have made we wish you well John.  All the best for the future. The new drummer is Richard Marcangelo and early reports from fans around Europe suggest that whilst John is a difficult act to follow Richard is doing a bloody good job of it. There is a brief introduction to Richard later in these pages and I hope to catch up with him for an interview very soon.
Platform End has been very fortunate over the years in getting additional financial support from Petbrook Ltd and Creature Music.  This was always going to be a short term thing to help us establish ourselves and has been a lot longer short term thing than any of us could have hoped for. Now we have to pay our way we are thinking about making some  changes.  Rather than reduce the quality of the Mag we are thinking of just doing two a year plus four simple newsletters.  (We only managed two mags last year anyway), let us know what you think.  One thing is for sure, we aim to make sure that Platform End continues and we are hoping to do a Web Site version as well if and when we get the time.  Last, but by no means least, l am working  on a mini book" about Manfred and M.M.E.B. to form part of a major back catalogue release later this year or early next. If anyone out there has some interesting stories, memorabilia, etc, I  would love to hear from you.  ln particular I could really use some pics of Chapter II and the first M.M.E.B.  Hope we might bump into you somewhere in Europe this year.

See you next time. Carol and Andy.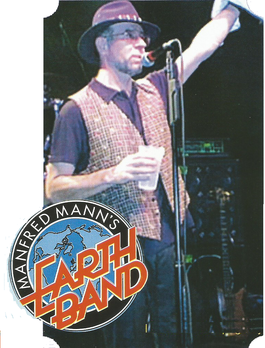 ---
PE#21 - Page 3
WORLD SERVICE
Richard Marcangelo is the new MMEB drummer man who clearly takes himself far to seriously to have any hope of a meaningful career in music.  He claims to come from Fishguard, South Wales where he also claims his father worked for the secret police which is a secret, so for goodness sake don't go telling anyone.
Richard also states that he escaped political chaos by fleeing to London where he has worked with the likes of David George's Cinerama, Wilko Johnson, Desmond Decker Robert Plant, Mica Paris, Eddie Reader, Sniff'n The Tears, Allison Limerick, Chris DeBurgh, Gilbert O'Sullivan and Bradford Marsalis.  He attributes his phenomenal success to having kep a clean U.K. driving licence throughout his entire adult life.  He has been involved with Manfred before on the Plains Music remixes and some tracks on Soft Vengeance.  He has know Steve Fernie for many years.
My thanks to the Web Master for most of this info.  I have not has a chance to talk to Richard yet but he sounds like he could be the maddest yet, which takes some doing and has got to be a good sign for the future.
On a footnote on the Web Site, we are also told that this is his first connection with the band was in 1970 when (and I quote: he knew albums then that even the loyalist of fans knew, or Richard can also time travel.  No wonder his Dad made it into the secret police.  Now Richard, maybe that explains those ceilings you painted in your spare time.
A change in line-up can be a difficult time for the band.  All the reports, phone calls and letters tell me that the new drummer id great and that the band are playing really well and really fired up.  Those who have met Richard tell me he is a very very nice chap and a gentleman.  Well you know what they say, there is a first for everything.
CD News
Work continues on the new album which is still on target for release next year.  No news on a release date for the 'Best Of Volume II' as yet.  I have now started work on a new boxed set featuring music from the start of Manfred's post pop career, through to the present day.  It is hoped that this 4 CD compilation will contain more than just the big hits and all time classics, and could become one of the most exciting back catalogue releases ever.  I will tell you more as things start to happen.
BACK IN THE TOP 40
In the May issue of top selling music mag 'Q' they took a gently humorous look at some of the more unusual things Rock Stars have got up to over the years.  The Top 100 'When Rock Stars Go Crazy' included many of the worlds most famous rock legends.  Including Liam Gallagher, Madonna, Posh Spice, George Michael, Blue, The Clash and of course The Beatles who manage not surprisingly a few entries between them.  John Lennon is for example No.9 for his sheer genius!  No.1 is Michael Jackson for his giant statue floated down the River Thames.  At No.40 Manfred Mann gives away a mountain.  There is a colour picture of Manfred (and the mountain) and quite a nice bit with it from a short interview I did for the article. 
Also in Record Collector there is a very positive review of some of the re-masters a month or two ago.
For all you 60's groupies out there.  I hear that Paul Jones did a fantastic job entertaining the crowds at one of the BBC music day concerts and lead the crowd in the song 'Perfect Day'.  It was much to the annoyance of people who attended the gig that when the BBC transmitted the Perfect Day, cutting to people all over the UK, the ex-Manfred Mann singers version of Perfect Day had been replaced by an inferior version by Jools Holland, recorded, or so they say, after everyone had gone home!  That was everyone except the large audience he seemed to have behind him.  Source of this was the BBC Radio Merseyside phone-in.
TRIP TO GERMANY
With Manfred Mann's Earth Band currently on tour I have often wondered if it would be a good idea to get a fan tour together to perhaps see a handful of gigs in Germany.  My wife Lois and I have now made three trips in the last few months and have enjoyed every aspect of the visits.  The Germans are most hospitable and enthusiastic both about the Earth Band na d meeting new friends from England.  Obviously at this stage I have no idea of potential numbers of fans who would be interested so I can not estimate the cost for the trip.  However, based on recent discussions, a nights accommodation can be obtained for about £35 (at today's exchange rate) and a flight from London in the range £80/ £100.  Flying to Germany from London and hiring a coach or mini-bus once there is of course one of many variables that can be part of this equation.  Bearing in mind we are now into the month of May, August may be the most practical of months to look at.
I realise this is of course holiday time and some of you may have made plans already.  There is always the prospect of the tour being added to so a later date may be a possibility.  The purpose of this posting is just to see if there is any genuine interest in this proposal and whether or not it is worth pursuing.  Please feel free to either e-mail me or write if you are interested and if you have a preference for dates or travel arrangements
Regards Graeme Paylor
---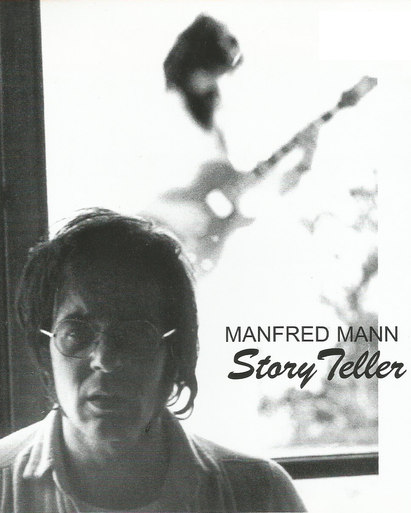 THE ONE ABOUT STEVE WALLER
Steve Waller had a characteristic, that many people have, but Steve had 500 times more than anyone else I've ever met.
Steve was a Giggler a laughter of huge and infectious proportions.
I remember quite clearly a number of incidents. The most ridiculous and surreal happened at a railway station in Germany.  We were at the bottom of an escalator, mid- morning, and Steve started giggling and laughing. At the sight of Steve losing control of himself, most of the local people stared with a degree of apprehension, because someone was breaking the calm and sober atmosphere of the railway platform, where people gather quietly going about their business, with emotions under control, and Steve was breaking that mood. They looked at him, and then avoided looking at him, but Steve's laughter just gathered pace, fuelled, if anything by the respectable atmosphere around him. He just went on and on, till he could not even stand up, he was falling all over the place, even falling on his suitcases. I began to notice that the local sober Deutsch citizens started laughing along with Steve, (it  was impossible not to), this just went on and on until the  whole place was in hysterics. When Steve had almost worn himself out, and finally got his suitcase on the escalator, he turned and waved to people, and they all waved back, as if they were saying goodbye to an old friend. It really was an amazing thing to see. The power of laughter. The Power of Steve's laughter. One other thing I wanted to say is that the very best music that Steve ever played was always in rehearsal. l was always slightly disappointed, at the gigs. I really am not quite sure why this was, or indeed if I am right about this, but it is what I remember!
STEVE WALLER 1951 – 2000 By Barry Winton
It fills me with great sadness the passing of Stephen Charles Waller on 6th February, 2000 from a long-standing illness. I knew Steve well from 1979 to 1988. He was an extremely endearing, humorous, warm and generous man who never had a single bad word to say about anybody. Above all he was an extraordinary gifted musician and performer, certainly one of rocks, great unsung heroes, (the original Demolition Man). Born in south London on 3oth June, 1951, Steve was destined to entertain regardless if there were two people in the living room or 4,000 in an auditorium, you could always count upon him to give 100%.
It was his great love for the Blues, especially BB King and later Frank Zappa, Jeff Beck and the incredible String Band which inspired him to take up the Guitar at the age of 11. It was no surprise that within a year he was a dab hand, soon teaming up with school friend, Harmonica player, little Stevie Smith. The two Steve's in later years went on in later years to become two of South London's most popular players. Aside from this Waller was also a much in demand session man playing on early reggae, singles on the Trojan label, as well as recordings by Roger Ruskin Spear of the Bonzo Dog band, and later Zute Money and Kevin Coyne. ln the mid-1970's Steve joined soul, jazz funksters, Gonzales best known for the their hit single 'Haven't Stop Dancing Yet'. His big break came in 1979 when Pat King then bassist with MMEB sought replacements for Dave Flett and Chris Slade. King recommended Manfred to check out the popular guitarist at the half moon pub in Herne Hill. Manfred, well known for always having a knack for picking good players, instantly recognised Steve's huge talents, and promptly invited him to audition for the Earth Band. Steve once humorously told me that he thought Manfred Mann were a cabaret act, before accepting his future employer's invitation. Over the next five years Steve was a vital band member, musically and visually. He could certainly hold his own, adding a colourful and exciting dimension, always winning over the hearts of the audience, with his good humour and friendly banter. Sadly Steve's overfondness for alcoholic beverage was his downfall. It was with great regret that Manfred had to dismiss Steve from Band duties in 1983 following the Somewhere in Afrika tour. Steve was always very complementary about his days with the Earth Band, although never readily admitting it to me, l think he missed not being a further part of it. He soon returned to the obscurity of the South London pub circuit in a variety of acts, jamming with the aforementioned, Stevie Smith (and who could ever forget Zippy and George), before auditioning and declining and invitation to join Whitesnake. The last time I saw Steve was in 1988. My friendship with him never really ended, it simply faded. In the following year he moved to Stroud in Gloucestershire where he was reported to be doing well and was continuing his musical career. As well as doing cameo acting appearances and TV work. It would appear ironic that Steve had just finished recording a CD that he had been working on for the past five years the day before his untimely death. i will always remember Steve Waller with tremendous affection and not for once, being the guitarist in my favourite band. His kindness and warmth was second to none, I will always be greatly honoured to have once been a friend of his.
Steve Waller R.I.P.
---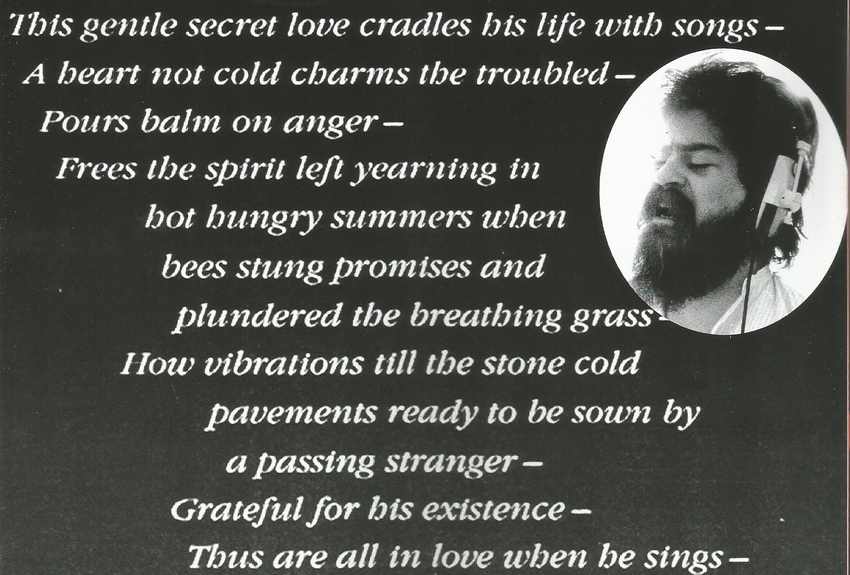 Dear Andy,
The photo's show Steve at his best last August in Sussex when he came to visit  me. I was acting House Keeper at a B & B (and for cats) at the time. It proved an interesting exercise as Steve began to dry out naturally, on beer only. His skin cleared up as if in a five-minute miracle, hence the rude pics, Monty Python style in the-garden and at the piano! The music room in the house was encouraging, also we did things together like writing, going to the theatre, outside things like walking and going into Portsmouth for jaunts onto the Victory and around the harbour. This time in Steve's life, was his real big chance to recover. If we could have carried on like that I am Sure he would still be with us, I have to keep reminding myself that alcoholism is mental disease, unfortunately Steve went back to Stroud on his own only to revert to his excessive habits, neat Vodka. He came back to Sussex to join me on my second placement, whilst I worked he went through "major withdrawal symptoms, it was a living nightmare, a Doctor came but Steve wasn't admitted into hospital.  I eventually got him back to Stroud and stayed with him for three weeks whilst he began to recover. All the fear and terror of death knowing he could not afford to take another drink ever  again, made me believe that this was the cure! Unfortunately I didn't realise what an obsession drinking is to long term alcoholics.  Steve lost faith in scare mongering Doctors whilst leaving an alcoholic on their own to recover is fatal, they all need help.  All the responsibility of caring for Steve was mine, but lack of help and finance took me back to my job.  I was convinced that Steve had learnt from his close shave with death, imagine my feelings when l realised he was drinking again.  In effect the system colludes with Alcoholics, they label them disabled, pay their rent and put a weekly wage in their pockets.  Steve is not alone, paying alcoholics to destroy themselves is a short- term investment.
Meanwhile all those who loved Steve are suffering.  If it were to happen to the nasty people of this world no one would care, but to have it happen to somebody like Steve is unforgivable.  Basically Steve and those around him should have been offered more help and he should never have been left on his own whilst he was suffering.  Someone should make a film, show the world what really happened to this genius Steve Waller.  I was lucky to meet Steve, I met him where everybody met him in Stroud, busking in the street. I hadn't a clue who Steve Waller was his unkempt Rasputin like appearance belied the person within.  I wondered what this obviously talented musician was doing busking in the street.  Our theatrical conversation became the catalyst to a rather hairy relationship of writing and recording, spiced up of course with a fiery love of each other which continued for the next four years.  l discovered a very sensitive person.  Steve showed a very vibrant personality together with a kindness, which shone through his appearance.  Steve also thank god, had a sense of humour, which married with my own, carried us through difficult times. We spent many a happy hour in DV studios Stroud, where thanks to Andrew Butler's genius, much was produced.  The gem of Steve's arrangements being the track 'Qualified' (the words are mine the rest is his).  Steve Waller, this loveable rogue, with a Peter Pan outlook on life, became an Unfortunate Victim of the System, yet there was always a glimmer of hope in Steve- "The town of Stroud offered him sanctuary for a short time, yet Steve Waller possessed a quality which cannot be bought, neither can it be taught, begged or borrowed.  Steve was qualified in talent he also had a generous nature, sharing his knowledge of talent with us all, a catalyst inspiration for any and l am sure he will continue to be so. His music and writings live on.   I miss him so much.
Melanie White
---
PE#21 - Page 6
WITH THE EARTH BAND INTO THE NEW YEAR By Karin Sonntag
It was an old dream for us (my husband Thomas and l) - to get a New Years Eve party with a great band, not only a disco party as usual. And when lan told us in September that there is an Earth Band gig planned for Munich, 3lst December 1999 I first couldn't believe it. As the finale of a great MMEB tour season '99 our dream would come true!
Our English friends Graeme and Lois Paylor decided to come over again for the three December gigs, and so we could meet them in Augsburg to see the last two concerts together.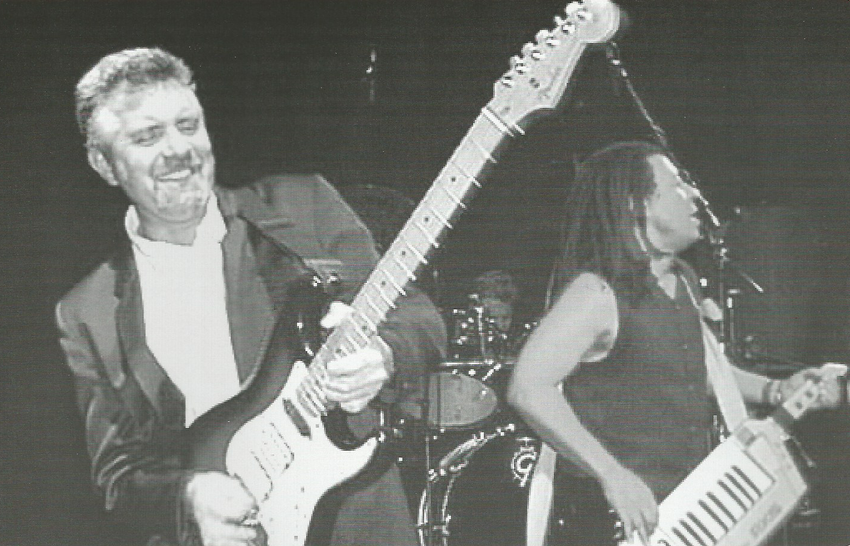 Augsburg Spectrum 30th December 1999
December in Germany: snow and cold as usual. Graeme and Lois were not very pleased about my suggestion to go to the hall already an hour before the doors open - an hour in the cold night?  Brrr! But I couldn't wait any longer at the hotel, I was so much looking forward to the gig and we knew the hall was sold out - so we all took a taxi and arrived at the Spectrum very early.  Walking around the hall I saw a nice woman looking out of the window and waving to me: 'Come in!' I shrugged my shoulders: 'How shall we get in, when the doors are closed?' Suddenly Pat King appeared behind her, smiled and waved again.  I waved 'hello' to him and returned then to the people who were waiting in front of the doors.  Just in time, because suddenly the doors opened, we all could get in!  Was it the result of our 'talk' through the window?  I don't know, but we enjoyed it very much!  The Spectrum is a nice hall for around 700 people and with a very nice crew.  Near the entrance Pat and his family sold the new fan t-shirts, and Noel and Simon sat there, too - another chance for me to talk about the "Earth Band News" with them!  So the time passed very quickly, the hall was well filled with people who were all looking forward to a great night (most of them seemed to be "old" Earth Band fans) - and then the gig started!  We enjoyed it from a very short distance, of course from the front row as ever.  The band was in top form.  Manfred said in an interview in Mindelheim that the band was looking foward to playing live again after two months in the studio we could see that, they played very relaxed and with a special feeling.  The audience was enthusiastic, too, we had a fantastic mood in a great concert.  I cannot tell you a highlight, there were so many of them, and all the songs were played in perfect quality - let's pick out "Shelter" (great version!), "Don't Let It Bring You Down" (When will you record it, Manfred???), "Martha", "Father of Day", "She Was" and Mick's and Manfred's intros for "Redemption Song" and Mighty Quinn"... wow!  The band didn't leave the stage before they gave us the encores - that was new for me.  With a real mighty choir of the audience in "Mighty Quinn" the band said goodbye to us - what a fantastic gig, and we knew we could get another one the next day!
---
PE#21 - Page 7
MUNICH, TOLLWOOD, 31ST DECEMBER 1999
Full of enthusiasm we drove in the next morning together the short way to Munich - thanks to Graeme and Lois for taking us with them in their car! In Munich we met in the late afternoon the other fans: Reinhard and Erika, Angela, Iris and Thomas, later at the venue also Christiane, Heiko, Wolfgang and Jenny... So we were a couple of fans arriving at the Tollwood Festival, as ever much too early because we all wanted to get our places in the first row. But first we looked at the ruins of the Tollwood tents - a big storm on 26th December had destroyed all five tents. I saw it on TV and got a bit of panic, but the Tollwood team did a great work and organized two new tents in only a day. Many thanks to the team for giving us that great night in spite of the terrible storm! And now we had to wait again in front of the doors - about 100 people were freezing and cursed and more and more people arrived there. But the doors were still closed, then the band arrived with their families, we had to wait and to wait ~ at last the run to the front row of the big tent was opened - l was the proudly winner! inside of the tent it was warm enough, I guess there had been around 2000 people at the area. But it's hard to estimate because the visitors could go to both tents, both with a stage and stands for food and drinks. In the bigger one Willi Astor, a German comedian, and the Earth Band should play till midnight. But Willi Astor, supported by two members of the well known German band Spider Murphy Gang, started his show very late, and so Reinhard said to me: "Let's hope that the Earth Band won't cut the setlist!" As ever he was right, it was a real pity, we missed later "Redemption song" in the Earth Band program!
The Earth Band started around 10 pm, the band gave us a perfect show as the day before. The audience was of course "mixed" this evening, not only Earth Band fans like in Augsburg. But the mood was fine, the people around us enjoyed the gig very much and sang well and loud. The whole big tent full of people seemed to swing... ln front of us, between the fence and the stage, the children of the band were sitting and playing during the concert.(We had much fun with the question: ho's children are they?) On stage the band seemed to have much fun, too - great solos and an impressive Noel as "Demolition Man". And a very good light-show we immediately saw that Simon did the lights. He always shows us the difference between lights and light-show! l was impressed of the professional way how Mick managed a technical problem with his guitar he got during "Carol". He tried to repair it while Manfred, Steve and John started to play "Angels at my gate", was back on stage in time for his part, played the song very well and gave us then a real great "Father" although the problem seemed to be still there. But l'm sure, nobody in the tent heard something of problems in his music! While the audience celebrated him after that song he changed the guitar definitely. So we got a rarity that night: I never before heard "She Was" and "Demolition Man" live with the other guitar.  The band got a great finale with "Mighty" (as ever) at half past 11. We fans waited with some disco music for the big moment, had of course a glass of champagne or wine then and looked at the firework over the skyline of Munich. Then we returned to the tent and danced a bit to the good music of the next band "The Munich Stones".
The Earth Band stayed at Tollwood, only Mick and Manfred were leaving very quickly. The others had backstage a party with their families but Thomas and me got later the chance to say "Happy New Year" to Noel, John, Simon and Ian. So that great night was over much too soon - we will never forget these two gigs and hope the band will keep on rocking many many years...
---
PE#21 - Page 8
CHRIS THOMPSON IN OSLO, NORWAY
Chris Thompson participated in a sold out concert in the memory of the late Norwegian guitarist Marius Muller on the 14th. March 2000 in Oslo, Norway, one year after the young guitarist's tragic death in an automobile accident. 'Marius Muller was a world class guitarist' says the MMEB veteran in a local newspaper interview. Chris has played and written music with Marius Muller over the years, and at the show in Oslo, Chris performed an English version of Muller's 'Engel' (Angel), which also will me on Chris' next solo album.  Marius and l have written several 3ongs together' says Chris in the same interview. 'At the moment I'm working on the lyrics for another song we wrote together called I'm over you'. The show at Rockefeller Music Hall in Oslo included all the major national artists of Norway in addition to Chris.
Chris received tremendous response from the packed venue, and fans were singing along when he finished his set with 'Blinded by the light'. The very talented local band Lava, who has supported artists like Chuck Berry and Randy Crawford when they have toured Norway, gave Chris a steady and compact backing, true to the original MMEB sound. MMEB have a big support group in Norway, and they have included Norway on their European tours on several occasions in the 90's.
Tore Blaker,
Oslo, Norway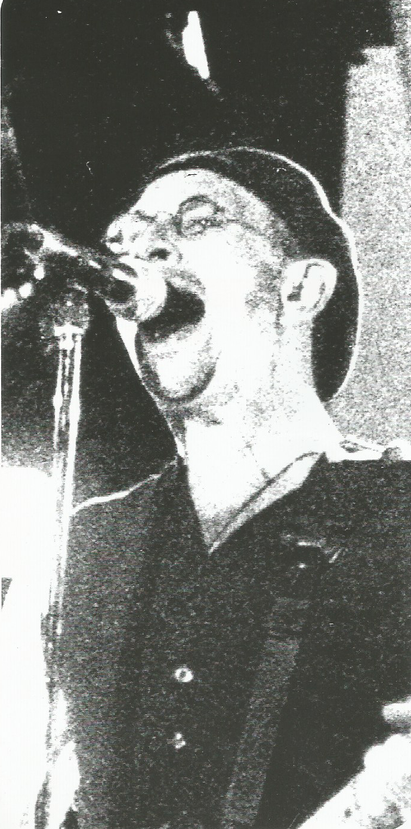 C.T. NEWS
Chris Thompson s new album 'Won t Lie Down' with ex-City Boy virtuoso guitarist Mike Slammer is scheduled for release later this year. In the meantime check out CT 3 web site on http:llwww.1212.comlalthompson/chris.html to see how you could win an 11 track rough mix of the album.
Look out also for the new SAS Band Live CD and Video for which Spike is currently finallising art work. The CD contains two Chris Thompson led tracks, Blinded and The Show Must Go On . There are also contributions from Mark Shaw, Paul Young, Leo Sayer, Arthur Brown, Tom Robinson, Stevie Vann, Fish, Roy Wood, Tony Hadley and Roger Taylor to name but a few! All the material is taken from the Shepherds Bush Empire gig back in February. If you want copies the SAS Live CD and video are £16.50 sterling each, or a Live CD signed for £30.00 sterling. if you want a copy then contact Jill Davies on PO. Box 8658, LONDON SE27 9ZT. Cheques made payable to SAS Band or full details of your VISA, MASTERCARD or SWlTCH, please also include a telephone contact number, allow 14 days for delivery. Postage, packaging etc is included in the above prices. Or telephone 020 8761 2329 Mon - Fri. There is an SAS style finale at this years Party in the Park, for the Prince 3 Trust on Sunday 9th July. The bad news is there are no tickets available for this gig as they have sold out all 100,000 of them, however, the concert will be broadcast live on London 5 Capital Radio and in the UK on Channel 4 TV.
Other dates for the SAS Band include 22.07.00 on a beach in Malta, a gig in Norwich on 19th August, 2000 and the Gosport Festival, August Bank Holiday weekend. Make sure these have been confirmed before travelling.
You might like to know that Spike is touring with 10 cc in the Autumn.
---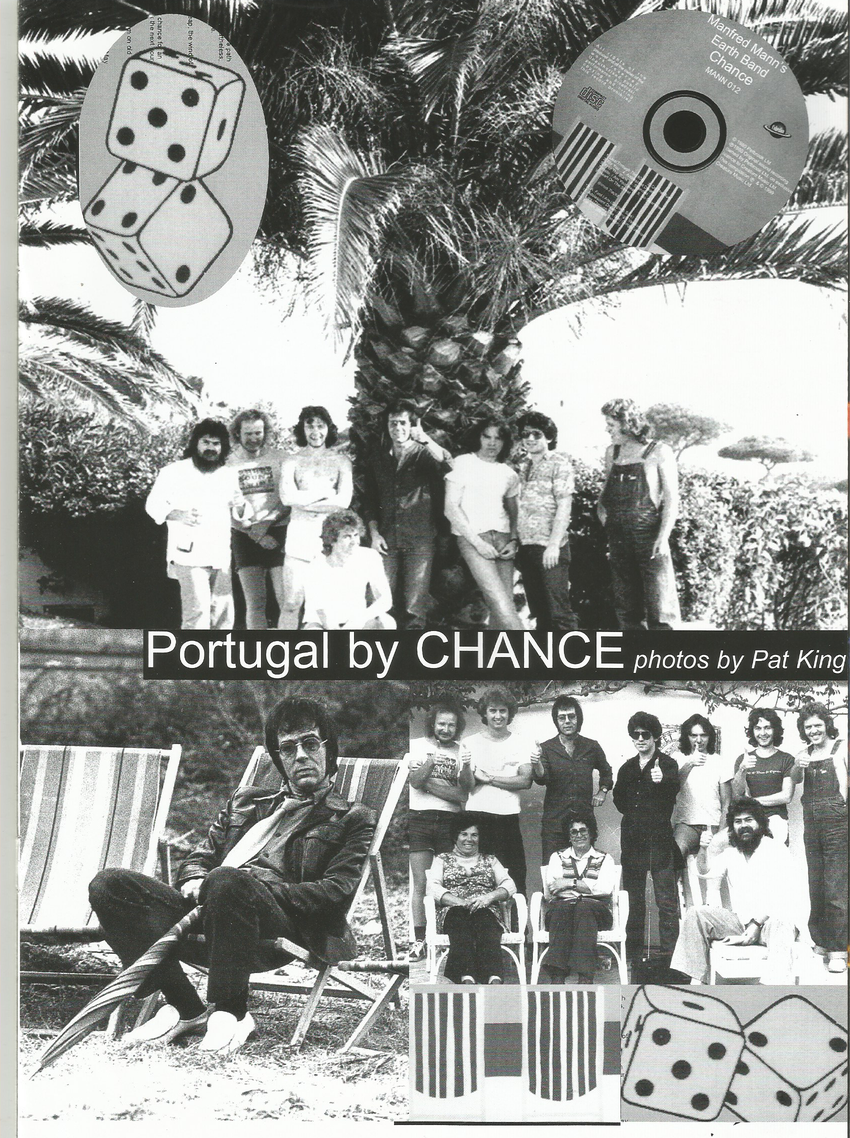 ---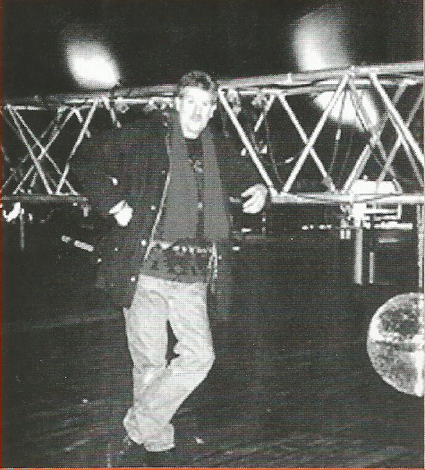 PE#21 - Page 10
The Rickman Files
FRED – PHONE FREIBURG
By Simon Rickman
Come on, admit it, you to.  Who hasn't made a long-distance phone call on someone else's bill hoping they'll never know?  I have, just the once, way back in the mist of tours forgotten and fog-machines rusted away.
It was a frosty Earth Band morning, the truck was being unloaded into the Stadthalle, and I was looking for my breakfast.  Having tried most of the locked doors back-stage, I found one open.  An Office.  With a Phone.  Which Worked!  All right!  Now who to call?  I'd spoken to my wife the day before, so I thought I'd surprise my folks.  My Dad answered.  "I thought you were on tour?"
"I am – I'm in Freiburg in the Black Forest." 
"Freiburg – I'll tell you something about Freiburg."
And he did.  Bear with me now; wake up, no slouching.  Tompson!  Put that away!  McCalla come back here!  Now listen!
Back in the thirties some of my Dad's school pals were taken on a trip organised by the school walking in the Black Forest, and Freiburg was the base camp as it were.  Hiking, walking and cycling holidays were very popular then and to go abroad was a huge exciting adventure for a twelve year old.  Mt Dad's family couldn't afford the cost though, so he didn't go.
One day the walking party got lost, the weather closed in quickly and by the time they were found the next day some of the boys had died of exposure.  The locals erected a monument to mark the tragedy, which was known as Der Englisher Denkmal (monument).
Well, all this took a while to tell and aware not only that I might get stung for the cost of the call but also there was a load-in going on at which I was supposed to be, and more importantly I still hadn't found my breakfast, we would up the conversation and off I went to eat and work.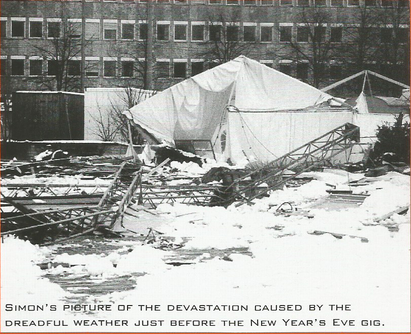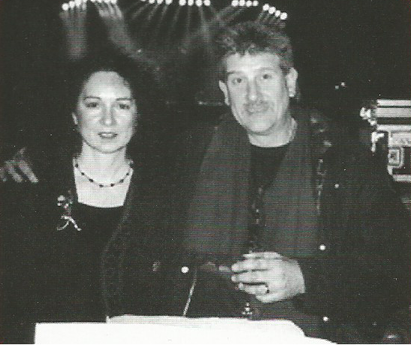 I couldn't get the sad tale off my mind and then I had an idea, I'd go and find the monument.I related all this to the local promoter's representative who's name sorry I can't remember so lets call him Bernt.  He picked up my enthusiasm and made some enquiries to the Burgomasters office about the location of the monument.  Meanwhile, I supervised putting out lighting rig together in double quick time so as to have an hour or two in the afternoon to go out and explore. 
But no one had heard of the English monument commemorating that long ago incident.  I was quite dejected, having been looking forward to getting out on an off the cuff mission.  Every day in this business is an adventure in itself if you maintain a level of awareness and this would have been a great bonus.  Instead I was bummed out.  As a last resort I suggested to Bernt that we drive to the best bookshop in town to look in the local history books or even find a postcard.  He agreed but we found nothing there either.  By now it was getting on for six o'clock, dark and beginning to snow.  AS we drove leisurely back to the Halle in the end of day traffic I watched the good people of Freiburg, Earth Band fans one and all, hurrying to their places of warmth and light and my mind ran on into how the day might have turned out.  "Hey Bernt" I said, "Imagine if we knew where the monument was and we'd gone up there, parked the car, walked into the wood and found it.  Then the weather turned bad and we had got lost and died too just like those boys year ago."
He thought for a moment, staring ahead at the red traffic light blurred by the falling sleet.  Then he turned to me and said, "Ja okay, but look on the bright side, at least there would already be a monument!"
---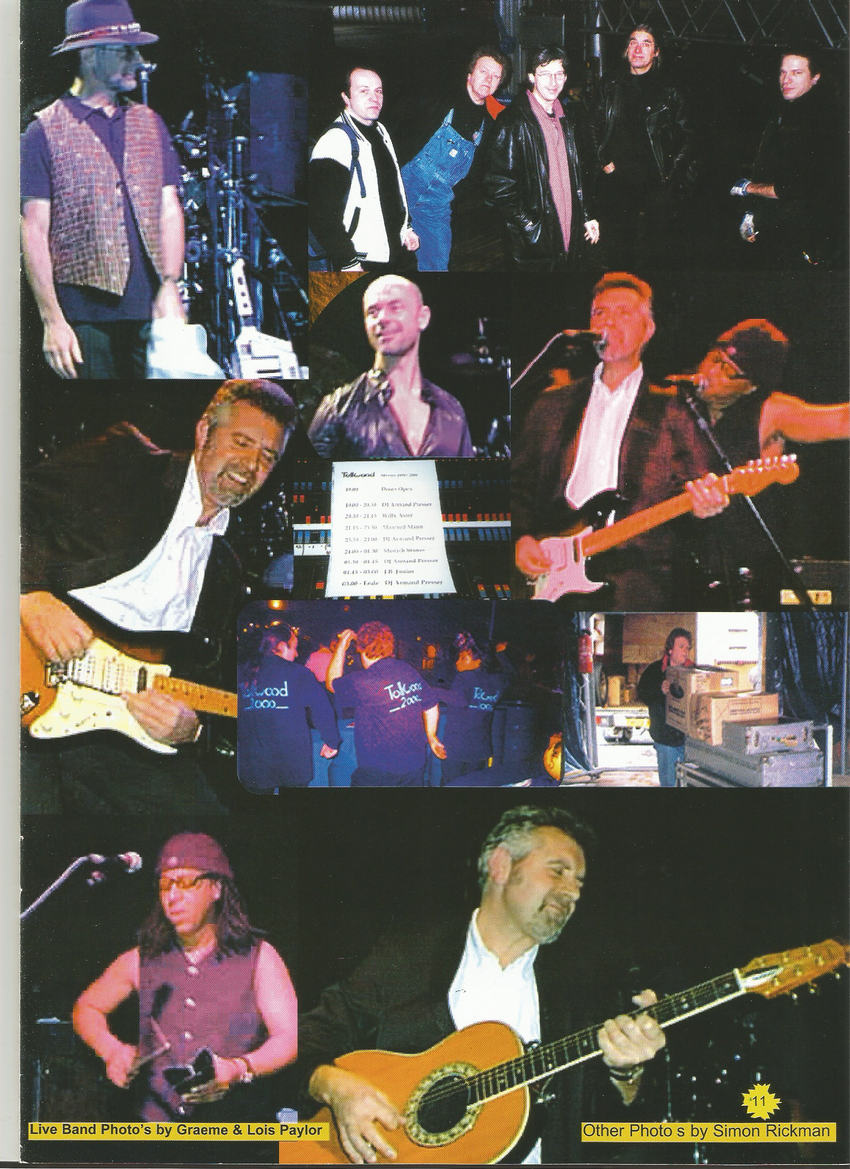 ---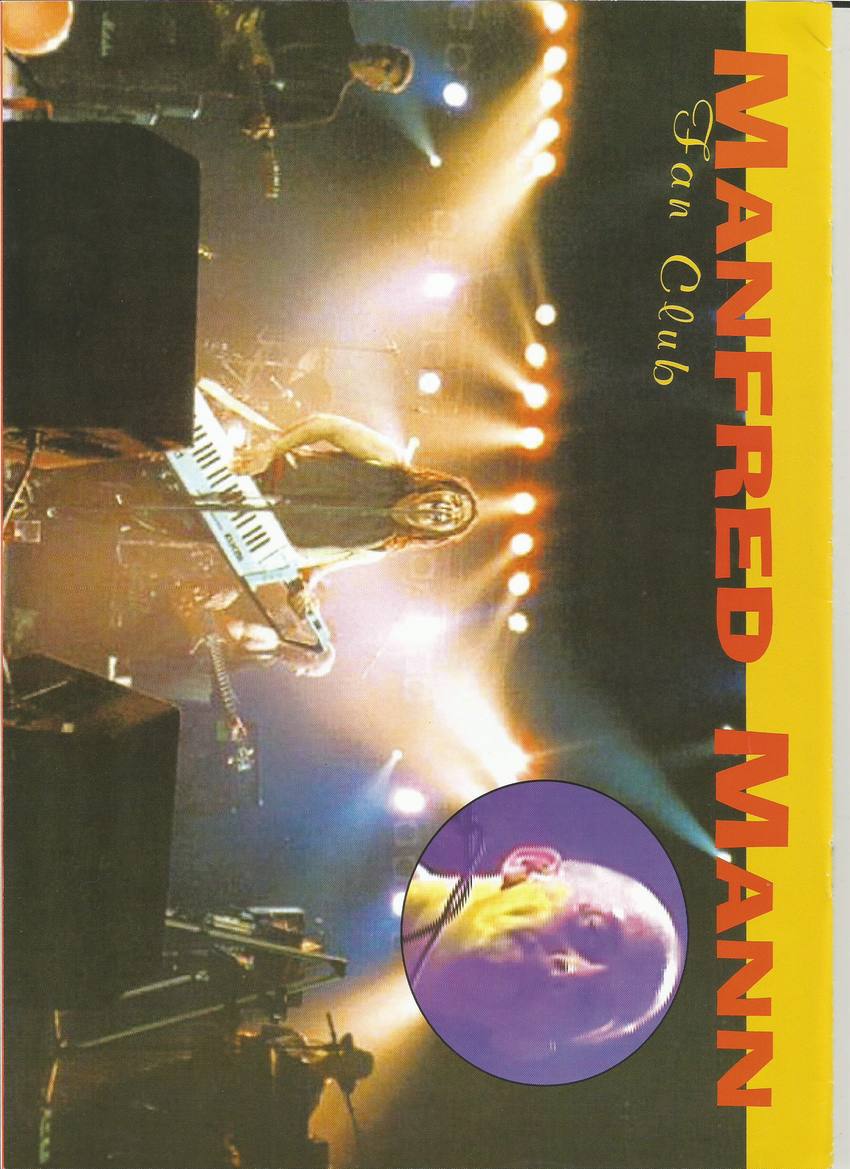 ---
The Official Manfred Mann Fan Club Newsletter
WORLD SERVICE
A YAWN IN YOUR EAR
So here we are then the first in what we hope will be about four of these quick (and cheap) newsletters per year. What I hope to do is about one a quarter (ism), but we will always try to get one out when there is lots going on and boy is there lots going on just at the moment. So what I hear many of you scream is, what has happened to that much loved smooth and sophisticated tome Platform End. On a serious note I would like to thank all of the fans that have written to say how much they would miss PE if we killed it off altogether. On a personal note I do believe that PE has done much to promote the cause over the years such as T.V., Radio and various magazine appearances. I am amazed at how many people write in asking us how to get hold of new CDs or back catalogue stuff so I believe we need to keep it going. The simple fact is we can no longer afford to produce a magazine of that quality more than once or twice a year, so that is what we hope to do.
I will start work on the next PE soon so if you have anything you want to go in, send it to us as soon as possible. I hope to have an exclusive chat with John Lingwood and we have been promised some work from Steve Waller's brother. We haven't of course finished Barry Winton's major and very personal history of MMEB yet, which has been a very popular feature of recent magazines. I will also be catching up with Chris Thompson in December too.
I was back on the road with MMEB in the summer for three large open- air gigs and the band were on great form. Circumstances prevented them from changing the set much this year but I don't think this matters to the loyal band of regular supporters who seem to follow the band round Europe, because there is so much that does change from gig to gig if maybe only in subtle ways. Arrangements seem to change all the time, whilst as far as solos go anything can happen and usually does. Of course if you only get to a gig once a year or even less you may not notice this as much and go home thinking its exactly like last year. Take my word for it its very different. Only the songs are the same. That isn't to say I wouldn't like to hear some new material and I am sure we will next year. New Drummer Richard (another jolly nice bloke), has settled in well and must take a good deal of the credit for giving the band a new fresh feel. Richard has also promised some nonsense for a future Platform End. So all Carol and I now need is an extra few hours a day and all will be solved. Until then keep rocking and Carol and I hope to see you at a gig somewhere soon especially Dudley, which is lets face it a half way point!
Record News
All kinds of compilations have been released over the years particularly with regard to the sixties band. The latest in this relentless outpouring of nostalgia comes from Australia, it's a two CD set and rejoices under the title 'All Manner of Menn'. It differs from many previous compilations in covering not only the Paul Jones and Mike D'Abo periods, on the same CD, but post Manfred Mann offerings by some of his 'Menn'. So there are solo offerings from Paul Jones, Mike D'Abo and Mike Hugg as well as McGuiness Flint. Perhaps the most obscure track to be included is the 'Ski Full of Fitness' song, probably the last thing Mike Hugg and Manfred did together and given away free with yoghurt tops. The single I understand is now very sought after and collectable if not a high point musically in Mike or Manfred's career. This set is inevitably a mixed bag but there's some good stuff included and some nice liner notes from Tom" McGuiness. It is a cut above many of the recent 60's compilations and if you have an interest in this time period or want to get a feel of what led up to MMEB then you should get yourselves a copy. I have seen it on sale in HMV but you can also get it Mail Order. There have been a couple of other repackaged sixties compilations as well as a mid price MMEB compilation similar to the old 'Spotlight' but with nice cover artwork, called 'Blindin'.
For the future Manfred is now working very hard to get the new album finished. 'I have no idea as yet what the timescale is going to be but hope to bring more news next time.
'Won't Lie Down' - Chris Thompson/Mike Slamer
Most of you will by now be aware that Chris Thompson has a new album on the way, a few lucky ones may even have heard some early rough mixes. The album is heavy guitar based and on the latest mixes sounds mouth-wateringly good. I probably shouldn't say this but in places it reminds me very much of 'Night' at its raunchiest. I wasn't sure at first about the heavy rock bit, but shit I love it. The songs are really good too and on the latest mixes Chris sounds"... well like Chris, and there is absolutely nothing wrong with that. You will need a copy for the house, one for the car and one for your personal stereo!
Thank you if you have sent me stuff for the boxed set you will get a mention. I still desperately need photos of Chapter III and MMEB Mark1 in particular. The proj ect is coming along slowly at the moment and I doubt will be out before next year but if you belong to this fan club you must have learnt patience a long time ago! I am also doing another compilation which is top secret but any good pictures of Bob Dylan would be very useful! I am not sure exactly what's happening with the Best Of Volume 2, but it now looks very likely that it will be the next back catalogue release, and yes the single 'I Who Have Nothing' will be there.
On the Road
Manfred Mann 's Earth Band play a handful of small venues across the U.K. in November and December. The ones I managed to drag out of somebody, (its easier to obtain classified information from the Ministry Of Defence than confirm MMEB dates!) are listed below. Please check with the venue before going to be sure the gig is on. Carol and I will once again try to get to Dudley by mid afternoon, and would love it if as many as possible could try and meet up with us there, it's a kind of tradition nowadays.
November
Thursday 23rd - Brook, Southampton
Friday 24th - The Centre, Bridge End
Tuesday 28th - Witchwood, Aston Under Lyme
Wednesday 29th - Penningtons, Bradford
December
Sunday 10th - Robin, Dudley
Thursday 14th - Broadwalk, Sheffield
Monday 18th - Blues Club, Chidingfold, Guildford
The SAS Band
Spike's All Stars, kick off a UK tour on Wednesday 6th December at the Brook in Southampton, where they will also be playing the following night the 7th. They will be at Chiddingfold, Guildford on the 8th and 9th: London's Shepherd's Bush Empire on the 10th, Cambridge Corn Exchange on the lid", Liverpool's Royal Court Theatre on the 12th, York Barbican on 13th, Edinburgh Usher Hall on 14th, finishing with a special tribute show to the late Paul Young at Manchester Apollo on 15th. 
Chris Thompson will of course be at all the gigs, and he tells me that Spike's other stars for this tour include, Fish, the other Paul Young and Madeline Bell. If you haven't seen the SAS Band before they are great fun and apparently will be changing the set every night!
'Trot' along to Greenslade
Ok so I admit it, I am a big John Hiseman's Colloseum Fan, and you could easily excuse me for that reason alone for plugging a handful of Greenslade gigs in late November around the UK. However, if I was to tell you our Old mate (sorry young mate), John Trotter has now joined Greenslade, and is touring with them then you will probably understand why I am plugging the gigs here! They kick off at Wavendon, London 22"d November, The Robin Hood II, Bilston 23rd November, The Astoria, London 24th November, The Brook, Southampton 25th November and they are also playing in Tavistock, Devon on the 26th November (venue not confirmed).
---